Reading Time:
11
minutes
While currently mourning leaving Dinsey World this morning on the plane, I want to share what changes we noticed at Disney World due to COVID over our three days at the parks.
Let me first say it was still tons of fun. If you are longing for that Disney fix, don't let COVID stop you from coming (unless COVID is a reason not to come for you!). Things are a bit different, but the Disney magic still flows and will leave you with that post-Disney glow.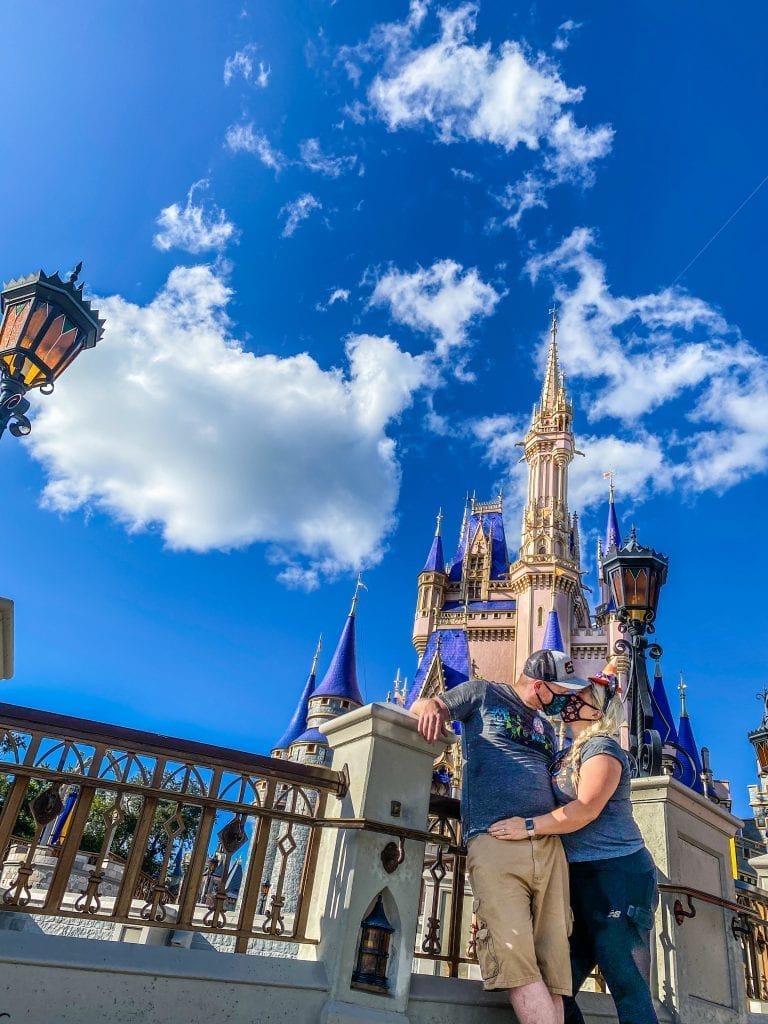 We loved it enough to book two more trips back to Dinsey World in the next three months. We've been missing Disney something fierce!
We visited all the Dinsey Parks in the world through our world travels and WDW was to be our capstone adventure! Things didn't go exactly as we originally hoped, but I'm so grateful Disney World has re-opened.
I'll keep updating this post with more changes I see during our upcoming visits as well.
Flying During COVID
Let's touch first on flying during COVID. We've taken several flights on several airlines since the start of the pandemic and there are changes you can expect:
Bring a few masks. Face coverings are required for the entire flight. Bring at least one backup. A sweaty towel stuck to your face makes you want to wretch and a sweaty face mask is basically the same thing.
Don't expect anything on the flight itself to eat or drink. Some airlines are handing out bagged water bottles and/or snacks (either as you board or during the flight), but many are not doing anything. This is probably more of a cost-saving tactic, honestly, but forget meals! We did get meals on our one international flight from NZ to LAX, but that was from a country with (then) no COVID at all.
Pack what you'll need. In addition to limited or no service at all, don't expect to get any amenities otherwise. No earplugs, blankets, etc. If you do happen to get one, bonus!
First-class is different too. We've never flown first-class before this trip. Thanks to COVID, it was a cheap upgrade to first-class, and what a fun splurge! The seat size is amazing, but we didn't get many services there either. We did get a snack box on American Airlines, but you have to request any drinks you might want and they don't use the cart.
Flights are FULL. Some airlines (like Southwest) are blocking that middle seat if your party doesn't use need it, but big airlines are not. Our current United flight is jam-packed and probably was even a little oversold. So much for social distancing!! Note: our flights on Southwest in January 2021 are now booking middle seats also.
Airports are limited also. Many shops and eateries are closed. Sometimes there is only one option. It seems like convenience shops have re-opened, but designer stores have not.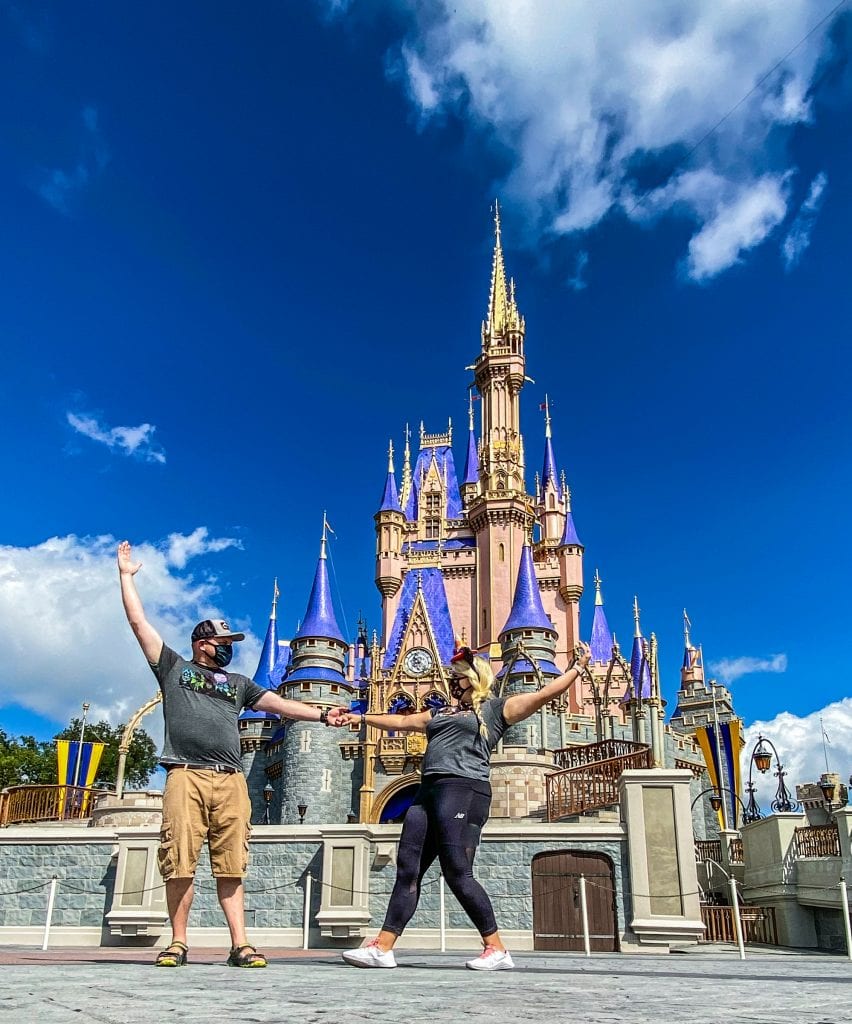 Booking Your Disney Vacation
Booking a package to Disney World fulfills your magical dreams. It is my favorite way to visit Disney World! Staying on property at Disney World qualifies for us as "worth it". Why?
Disney World spans miles and miles. It can be a 30-minute bus ride from park to park. That's a long way! It is much, much nicer to stay in a Disney property and utilize their bus system. This is not the case with Disneyland in CA where you can get an Airbnb within walking distance. We love that option!
Read my guide to Hotels vs Airbnbs here.
Thankfully, Disney World has 33 properties to choose from! They also partner with more hotels in the area. You can find many options for many different budgets.
Magic Bands
When you book a package, you book your hotel and tickets together. Sometimes you also book your dining options. You get a magic band, which is SUPER fun and SUPER convenient!
We love magic bands. They open your hotel room, act as your park ticket (no more fumbling with 7 tickets around my pockets!), and can be linked to your credit card with a PIN you chose. You really don't even have to carry your wallet with you. That's nice for your bum on all those rides.
Magic bands are still happening with COVID and still ship to your house. In fact, with your magic band and pre-checking in, they now have an option to go straight to your room. No need to even check-in at the desk on arrival.
No Dining Plans
Sadly, dining plans are not happening during COVID. I can't figure the logic on this one beside just cutting staff and costs. All the resuratants are still open and everyone is still eating at Disney!
Dining plans can save you a lot of money if you plan to eat in the park or on property. You can also save loads of money by hitting up a grocery store off property and figuring out your own breakfast and snacks.
You can still make dining reservations 60 days in advance and they are definitely worth the effort of making. The only decent food (besides snacks) is found at the restaurants and they are packed. Fancy restaurants, like the Cinderella and Belle restaurants are booked well in advance as we couldn't get any. I think they do have same-day reservations, which also book out almost immediately.
I'll touch more on eating at Disney World right now below!
Character Events
Another fatality of COVID-19: character meet-and-greets and character dining. It's not happening at all. In fact, the only characters I saw at all during our visit were Chip and Dale on top of a building dancing.
Arriving At Disney World
When you fly into the Orlando airport you can head down the Disney Magic Express for an included ride to your Disney hotel. This applies when you've booked a package.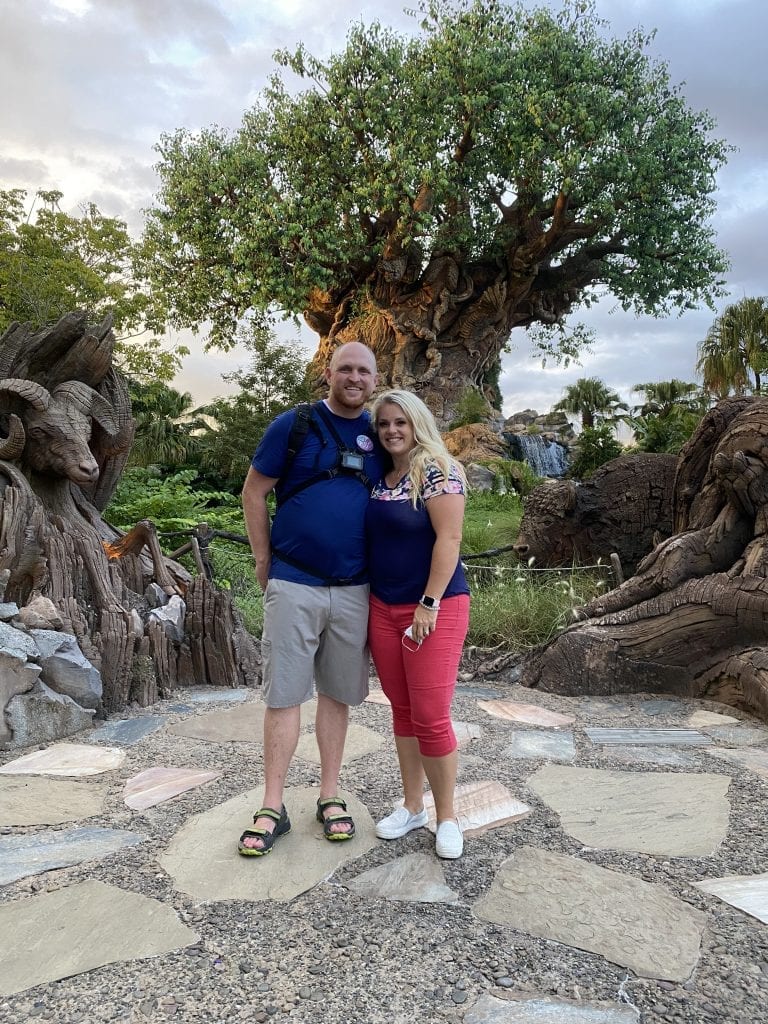 They are doing socially distancing in the lines, but seating wasn't really spread out on the bus much. Our bus was full. The driver did put in our luggage (which the airport shuttle driver didn't due to COVID)
Checking In
Again you'll find lines to check-in socially distanced and spread out. There seem to be extra cleaning measures taken on the rooms themselves. For example, TV remotes in multiple hotels we've stayed in now have a plastic bag covering. Room services come more limitedly and didn't make the bed, but did replace the towels. You can read more about the differences of hotels stays during Covid in my separate post.
I just booked another trip for Lucy and I to go to Disney World again and was able to do online check-in. We are cleared to go straight to our room and not even visit check-in at the hotel. I'm not really sure how this will work, so I'll keep you posted!
Visiting the Parks
Park Reservations
In addition to a valid Disney World Ticket, you now need to have a park reservation as well during Covid. You won't be admitted without both and both are linked to your magic band.
You can also visit only one park per day. This has it's positives and negatives. One thing I noticed is most people are getting there early to enjoy the full day. Ride times seemed to be the longest in the morning.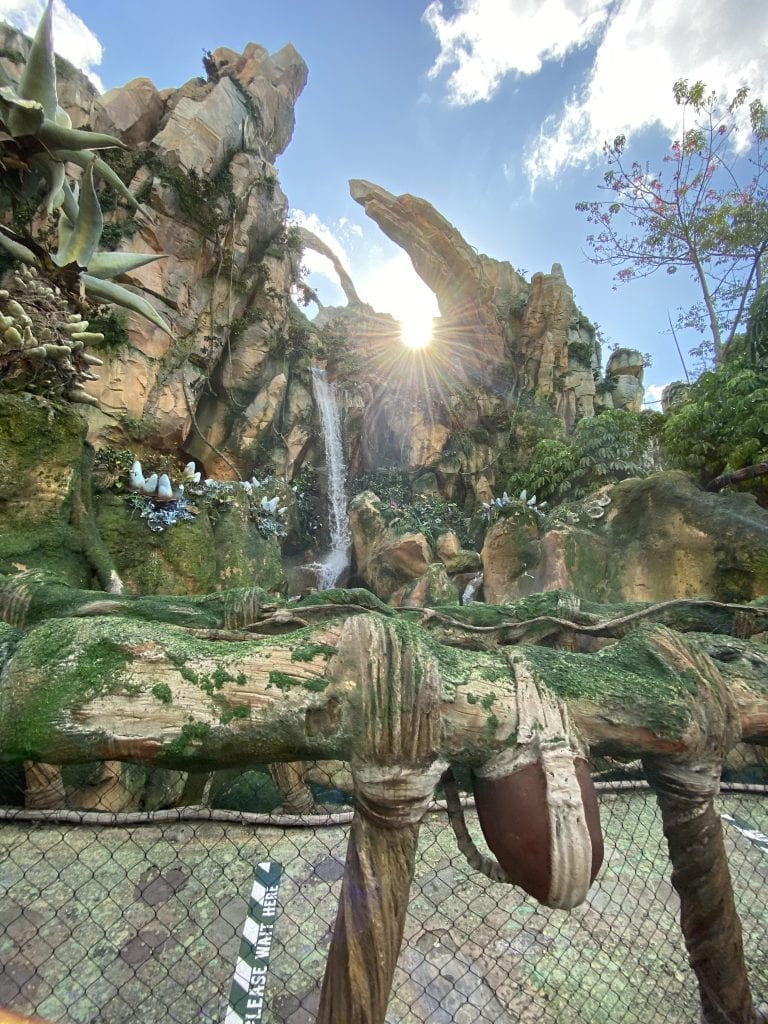 Hours
Disney World parks have reduced hours and don't stay open late anymore. We look forward to the 11 pm closing, but our first park, Animal Kingdom, closed at 6 pm. Check closing times here. On weekdays, some parks close as early as 5 pm. My guess this is more of a cost-savings measure than anything related to COVID.
Decorations
We were so looking forward to Halloween decorations and disappointed to find almost none! We saw a few wreaths in Magic Kingdom that were Halloween themed, but nothing else. We will be going back in November, so I'll be curious to see if there are more for Christmas time.
Again, I think this is for cost savings more than anything else.
Parades and Shows
Parades are still happening with some changes. Dancers and characters do NOT have to wear masks, thankfully, but are kept 6 ft apart. The overall amount of people and floats in the parades are really small. Due to the reduced number of people in the park, it's not hard to catch one and a decent spot as you hear the music going by. They only last about 2-5 minutes.
All shows are cancelled, sadly. No Fantastmic, Frozen, Beauty and the Beast, or any other shows that I could find.
Fireworks
Fireworks are cancelled. It's so sad!!
Taking Photos
One VERY important rule to remember right now is you are now allowed to take off your mask, even for photos. You are allowed to take it off to eat (while sitting still), so I guess grab that churro if you want a picture with your face.
This is policed pretty seriously around the rides, in line, and in front of common picture areas like the castle. However, we did take a photo at closing and slipped our masks off 🙂
Photographers around the park are still taking photos and linking to your profile, but you have to keep masks on.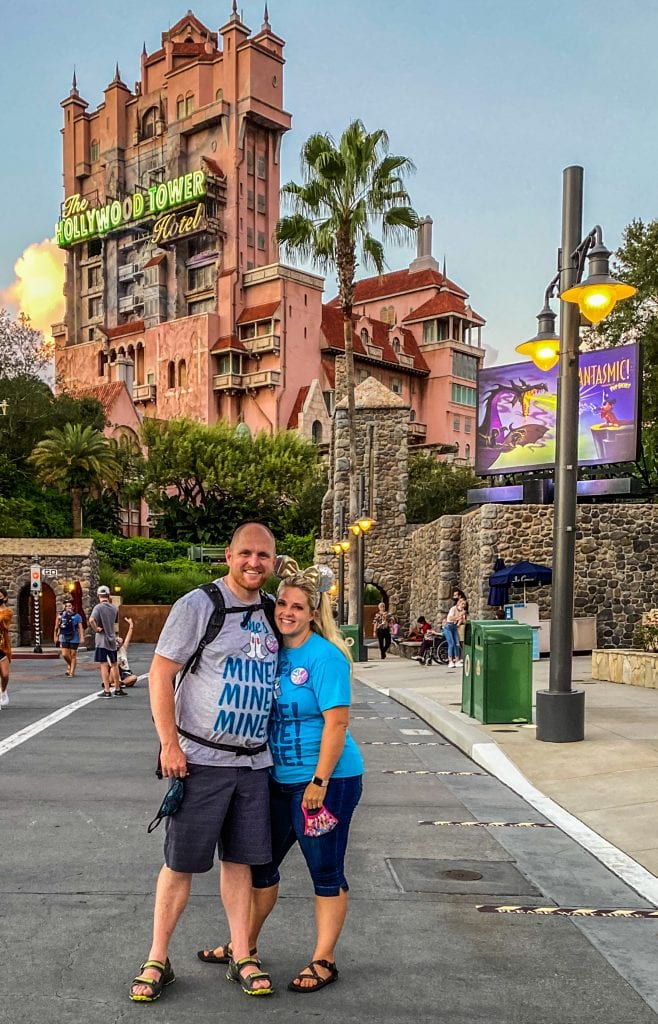 Riding Rides
Line Queues
Lines are socially distanced with markers every 6 ft. This means you spend little time in line in the actual line queues of the ride and instead are waiting in the snaking, twisting, distanced lines outside of the ride queue. Lines can extend a quarter mile away from the entrance to the ride line! It feels very long, but moved at a decent speed.
Staff are in the line queues and walking them constantly to ensure you are distanced and wearing your mask over your mouth AND nose. The one exception is eating and drinking.
Ride Distancing
Although park attendance is reduced, this doesn't help you get on the ride faster necessarily. Each ride is socially distanced, so only a fraction of the people get on each time. For example, at Splash Mountain, we had the entire log to ourselves! Normally, this ride fits 6-7 people on each log.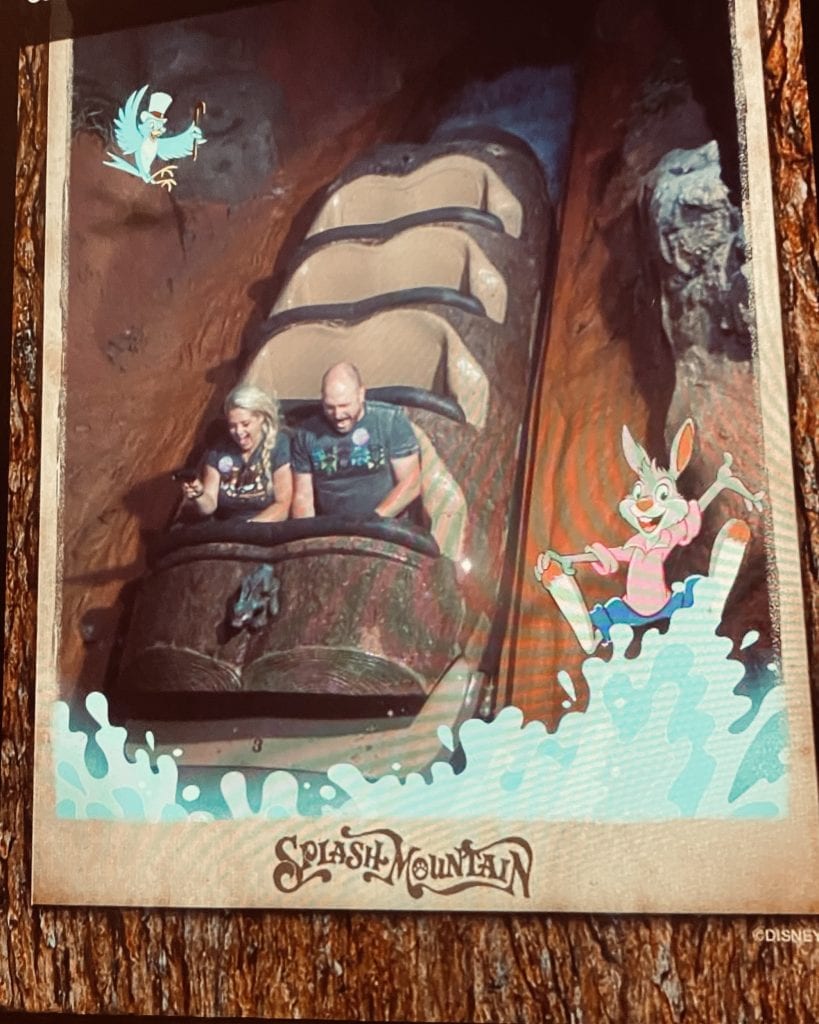 Unless you have a large party, expect lots of empty seats around you.
FastPass
Forget about gaming the Fast Passes right now because they are gone. You will see a "return Fast Pass time" on some rides, but I was told by several staff this is for persons with disabilities only. If you have a disability, you can visit guest services to see if you qualify for these Fast Passes.
Star Wars Ride
The one exception to this Fast Pass is the Star Wars: Rise of the Resistance ride. You don't get fast passes, but there is a reservation system for riding this ride.
We didn't really know this until we went to the ride. We were told most slots book out first thing, but they do release more tickets at 10 am and 2 pm.
The cast member at the ride told us she recommended having our phones with wifi off and to be IN the app at 2 pm. We did those things and still couldn't get tickets!
I've since learned the tickets book out SUPER fast, like within a few minutes of park opening. People line up before opening and book them out. Honestly, it's probably not worth that to me, but good info if it is for you!
Masks
No surprise that masks are requires park-wide. It's good to note also, however, that masks are expected on rides as well. In all honesty, we took our off on some of the fast or outdoor rides. You are already socially distanced ON the ride. We needed a break from our seaty masks.
We were chastised a bit, however, about taking them off even ON the ride.
Sanitizer Stations
Staions are available throughout the park in general, but are also at the beginning of each ride queue, right before the ride itself, and after you get off the rides.
Ride Cleaning
Each ride shuts down a bit every two hours for santizing. Some ride announced this to the line, others didn't.
Eating at Disney World
Disney food can be it's own attraction! Did you know there are several social media accounts I've seen only about the food at Disney?
In case you haven't been to Disney before, I'll be honest: the food isn't amazing. Some of the snacks and comfort foods are amazing, but quality is little above a theme park in many places. There are some exceptions in the nicer restaurants.
My favorite game plan when it comes to food is:
Figure out breakfast on your own. Make it in your room, have cereal, pack it in your suitcase, skip it, whatever
Book one really nice meal each day. For example, the Brown Derby in Magic Kingdom. It's NOT cheap but has really yummy food. We also loved the California in the Contemporary Hotel.
Have cheap, quick snacks until dinner. These could be pretzels, popcorn, Dole Whips (a must), churros, cupcakes, cookies, etc.
Bring an insulated water bottle full of ice. You can refill around the park from water stations. They can be tricky to find, but I found quite a few in the lines of newer rides, like Avatar and Star Wars. Worst case, ask a cast member.
Bringing Your Own Food/Drinks
Thank heavens Disney has not followed the model of many other theme parks and banned all outside food and drink. You are more than welcome to bring your own snacks and water. I'm not sure about other drinks as we've never tried.
According to Disney's website, "Guests are allowed to bring outside food and nonalcoholic beverage items into the park for self-consumption, provided they are not in glass containers and do not require heating, reheating, processing, refrigeration or temperature control and do not have pungent odors."
Eating in The Park
Dining at Dinsey is it's own game. There are a few things to note, especially now.
Mobile Ordering
A lot of the faster, cheaper restaurants are doing mobile ordering. Do it through the Disney World app and you'll get a time to show up. You will then wait, again, while your order is prepared and then pick it up.
Note: I tried to get a lunch "to-go" from the mexican restaurant in Magic Kingdom and quickly realized this isn't meant to be "to-go". It was served on a tray and we had to eat it there.
Dole whip is even doing mobile ordering, which is so fun!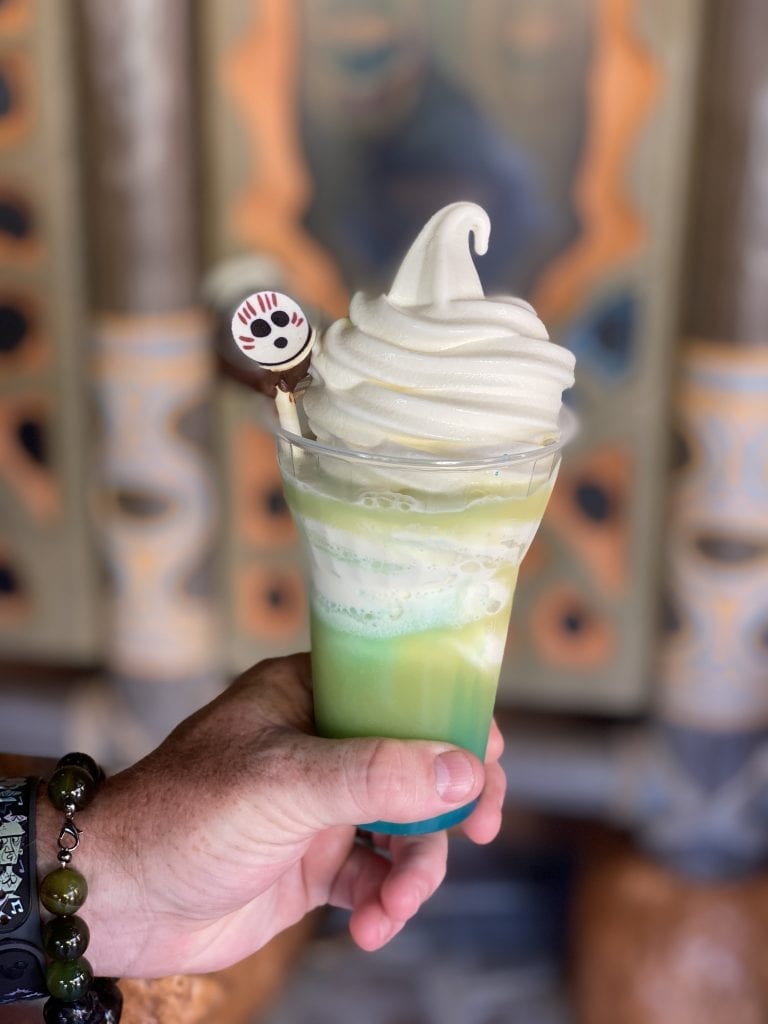 Dining Reservations
For your best chance at dining reservations, you'll want to call well before your visit to make reservations by phone. You can book these 60 days out and they fill up fast!
You can also do it online, but honestly, it overwhelms me. I find it easier to just call.
Tables are being socially distanced and seating can be limited. This can be tricky if you don't plan ahead.
Other COVID Changes
Pool
The pool at our hotel, The Contemporary, was still open. Lifeguards do wear masks, but thankfully it's not being enforced in the pool, hot tub, or really while walking in.
Hotel
Masks are required in all areas outside your room and everyone is wearing them.
Buses
Seats have been sectioned off into "groups" and your bus driver will assign you a number as you get on. This can mean less people on the buses.
Monorail
The monorail is also being socially distanced, so only a couple of people in each car. Be prepared to wait longer.
Disney IS Doable During Covid
Overall, I'm so glad we went to Disney World. The fun, fantasy and excitement of Disney were a welcome break from life back home. I'd recommend going! You can totally navigate your way through Disney during COVID.
Xoxo,
Leslie