Reading Time:
5
minutes
Bring the taste of Thailand home to your kitchen. This fresh, tangy, crunchy, and spicy salad is a staple in Thai cuisine.
Who's ready to bring the heat? Papaya salad traditionally includes hot peppers and usually brings a sweat to my brow! However, it can be easily adjusted to not be as spicy.
As I sit in lockdown, I often dream of Thailand night markets. If you've never been, let me try to paint a picture for you.
Smells: The scents are overwhelming first. You'll catch delicious food, the tangy musk of many bodies in the heat, the slight undercurrent of dirty streets. Your nose might send off a few alarm bells until you start to look.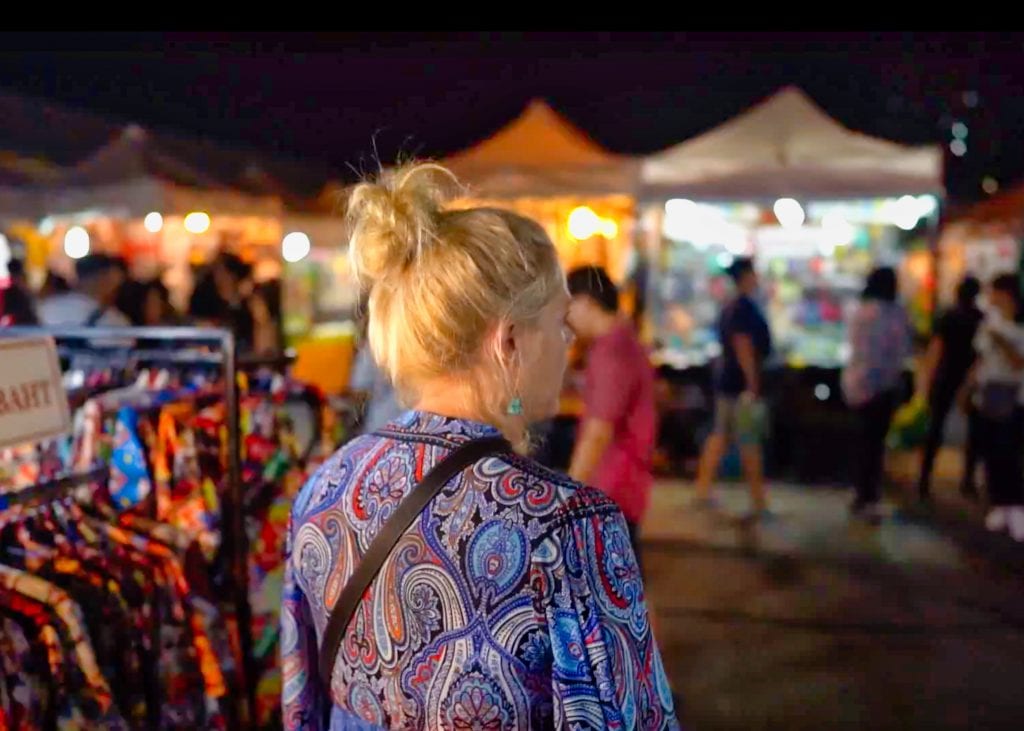 Sights: The visual sensations of a night market brighten up the dark. Colors are plentiful, from neon signs to simple bulbs overhead brightly colored umbrellas. Fresh fruit and vegetables are everywhere, in every color. Want some fresh mango? Watch as the vendor grabs one bigger than you've ever seen and you watch as they slice that sweet, yellow fruit. You make your way to the fresh fruit smoothies and see cups full of all colors of the rainbow: strawberries, banana, mango, orange, kiwi, and coconut.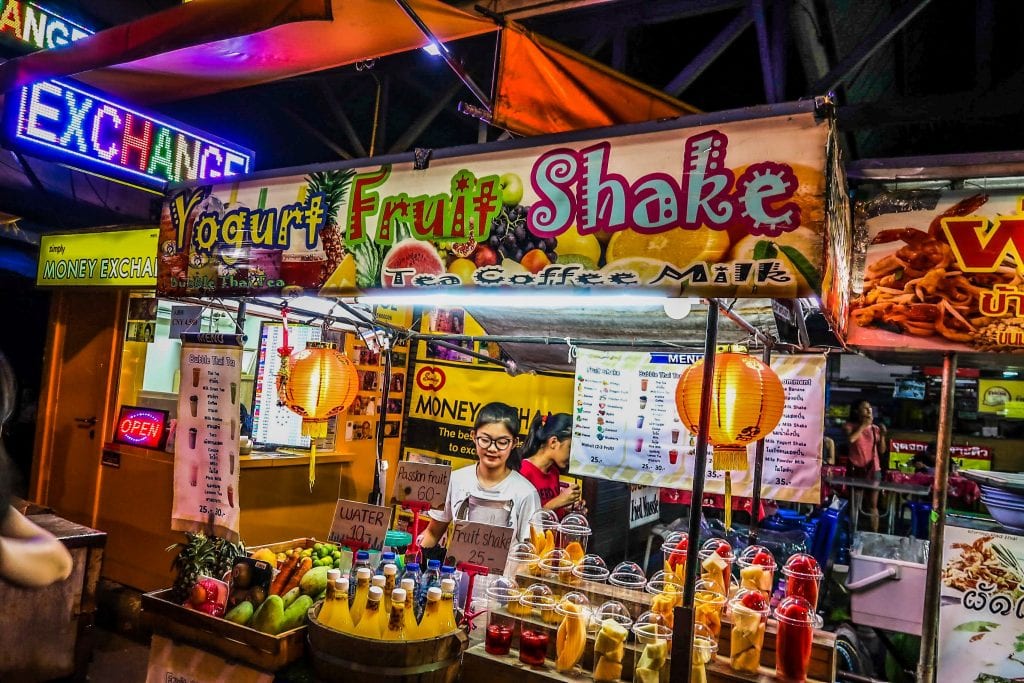 Sounds: Night markets are parties every night! Traffic buzzes by, people barter and call out to each other and food sizzles as it cooks and fries. Live musical performers are common as well as American music plays at bars.
People: The people are the cherry on top for us. They are, simply put, the kindest people we've met worldwide. You are greeted with huge grins and broken English. If you stop to chat for a while, you might even get a hug or your toddler might get a kiss on the cheek. They truly LOVE.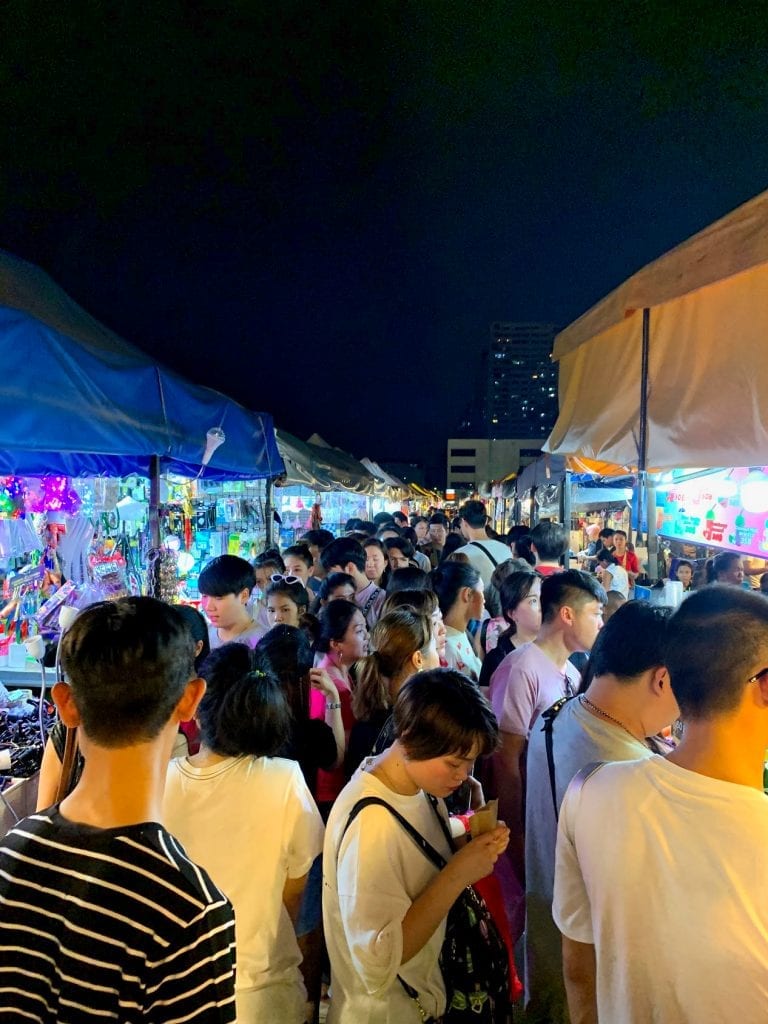 When we spent a month in Chiang Mai, Thailand, our Airbnb was down the street from one of the main night markets. I like to cook and often we cook in more than we eat out. Not in Chiang Mai, however.
It was cheaper to eat out than it was to buy food! By a large margin. Our family could eat for $7-10, including several courses and trying many different carts. Every night, we gravitated to the same dishes. For me, this was often Green Papaya Salad.
I love the tang, the spice and the crunch. For me, it's a fantastic combo.
A word of warning: they combine the ingredients and smash them together! Even in our cooking class we smashed and smashed. My kids took out frustration on that salad!
Watch the video:
Ready to learn how to make papaya salad? Let's go!
Spicy Thai Papaya Salad Recipe
Prep time: 30 minutes
Cook Time: 10 minutes
Tips and Substitutions
Green papaya is the main ingredient, but can be hard to find in the USA. Your best bet will probably be an Asian market. If you've never been to one it can be a fun day trip by itself! I grew up with my mom trucking down to the Asian market about once per quarter and loved it.
Your papaya should be very, very firm and have a tangy, sweet sour smell on the outside. Green papaya is essentially raw papaya!
Sometimes your papaya might be green on the outside and orange on the inside! This might be from a papaya on its way to ripening, but it was kept cold somehow during the importation/storage process. Sadly, most of us in the USA don't have access to papaya like in Asia!
In a pinch, substitute green papaya for shredded green cabbage or shredded carrot. These can be found at most grocery stores already shredded and save lots of time.
Cucumber can also be a good substitute! Peel the cucumber and then with a cleaver or long knife, and with a lot of care, smack the cucumber lengthwise with the cleaver, penetrating maybe 1/4″ into the cucumber on each smack. When you've done half of a side shave off the long threads and then do the same with the other half. Discard the core remainder when you get down to the seeds.
For shredding, you will want a shredder. There are many available, similar to this one. DIfferent shredders will give different textures to your salad. There are also tons of electric shredders, spiralizers, etc that can do the trick for this recipe.
This recipe calls for dried shrimp. The smell of this alone takes me back to Asia! They are so common there. This give A LOT of the flavor of this salad. You can use canned baby shrimp, but you will lose a lot of the flavor. Instead, I would use fish sauce or shrimp paste.
Palm sugar is a sugar from the palm tree. It is similar to coconut sugar and brings it's own, unique flavor. It can be found at Asian and India markets. If you want to substitute, brown sugar or molasses are good options.
Tamarind paste can be found at Asian markets, Indian markets or online!
Ingredients
1 green papaya, shredded
1 carrot, shredded
1 long bean (typically found in Asia, use fresh green beans)
4 cherry tomatoes
2 red chili (if you want to cut the spice, leave this out!)
2-5 cloves garlic
3 1⁄2 Tbsp palm sugar
3 Tbsp fish sauce
2 Tbsp tamarind paste
1.5 limes, juiced
Dried shrimp (found at your local Asian market). Add to your flavor preference, but start with 1-2 Tbsp. This is a topping!
Roasted peanuts (optional) as topping and extra crunch
Directions
Smash peeled garlic cloves and chili in a mortar and pestle or in a bowl with your creative instrument of choice :). I have been known to use my mead tenderizer! You want to really smash these up and get the flavors mixing and juicing.
Add long bean and keep smashing. Build those biceps!
Add fish sauce, palm sugar, tamarind paste, and lime juice. Mix until sugar is dissolved.
Add papaya, carrot, cherry tomato, and mix well.
Add peanut and dried shrimp on top.
Enjoy the taste of Thailand!
Want to pair these with two more recipes and make a true Thai experience? Check out my Pad Thai and Mango Sticky Rice recipes. Who knows, after a while you may not need to leave your kitchen at all!
Remember to tag me @7wayfinders with your pictures!
XOXO,
Leslie