Reading Time:
3
minutes
Welcome to my Travel Series during the Covid-19 lockdown! There are lots of options to travel digitally at the moment, but for me, traveling through food is my favorite. I'll be sharing a few of the recipes I've gathered in authentic cooking classes around the world!
If you haven't had a good, authentic, grilled chicken satay, it is something to be admired. Satay is very popular in Asia and appears to be quite simple. It can be chicken, pork, and beef, although pork and chicken are definitely the most common in Asia. As you'll see from this recipe, it is not as simple as it seems when you are going for that rich depth of flavor.
A little background: we delighted in this cooking class from Food Playground in Singapore. The instructors are stay-at-home moms who are sharing their family recipes. We had so much fun with the other couples in these classes!
Check out our video here:
I will say the Chinese, of which much of Singapore hails from, spend an incredible amount of time cooking. Seriously! They can cook and prep and cook for hours every day. I joked every day is like our Thanksgiving dinner in the US. It makes it delicious when you take the time to do it. I'm afraid most of us are the "heat and serve" variety in the USA, but I promise all the steps are worth it. The flavors in this were incredible.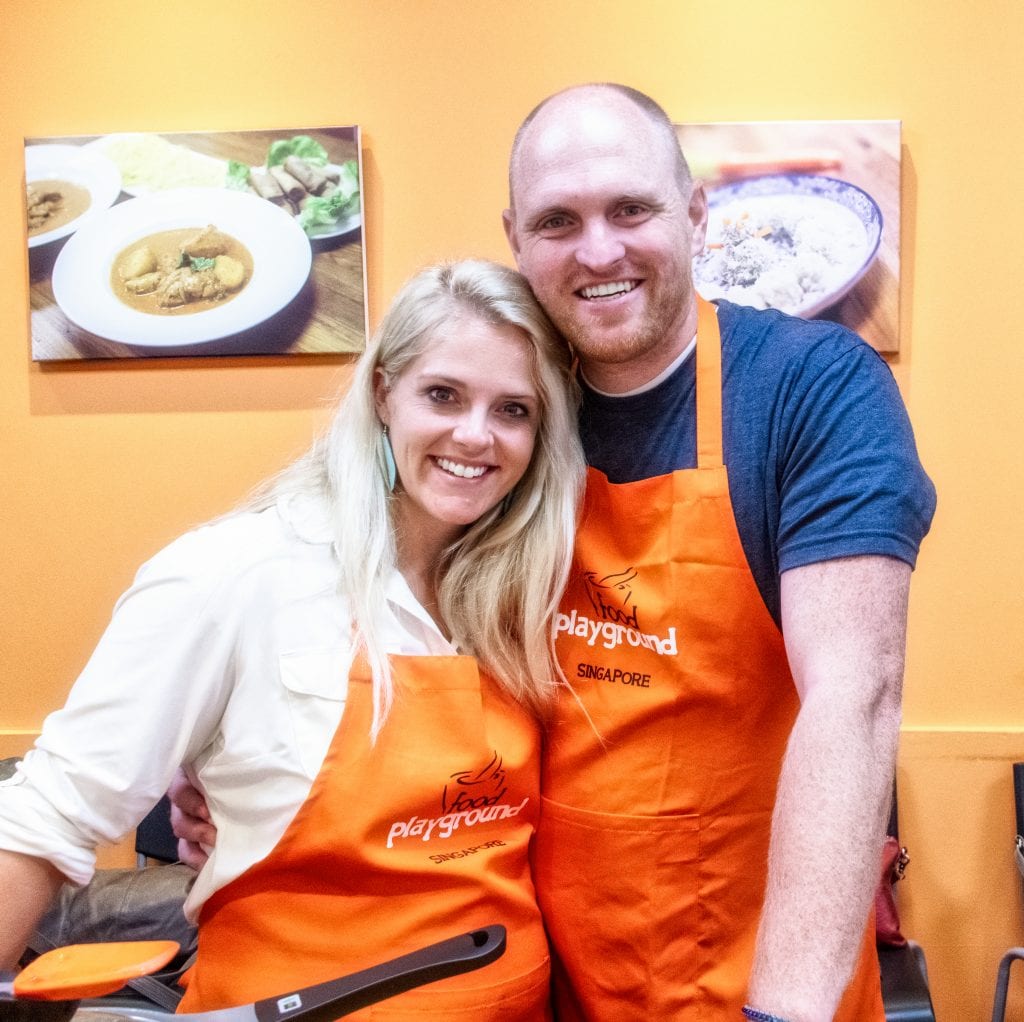 Authentic Chicken Satay Recipe
Serves 2
Spice Paste:
11⁄2 Lemongrass stalks (did you know you can get this on Amazon??)
3 slices galangal (you can substitute fresh ginger here, but only use 2 slices as they are not quite the same)
5 shallots
5 cloves garlic
4-5 dried chilies (soaked and deseeded)
11⁄2 candlenut (again, not something easy to find in the US, so use macadamia)
Other ingredients for the sauce:
3-4 tbsp roasted peanuts, pounded roughly
Tamarind juice (3/4 tbsp tamarind mixed with 3/4 cup water, strained)
A few drops of kecap manis. (This is thick, sweet soy sauce. You can use soy sauce and brown sugar, but it may be a bit thinner as the original ingredient does add consistency)
21⁄4 tbsp sugar or more to taste, pinch of salt to taste
For the Satay:
250g Boneless skinless chicken thighs, cut into bite sizes
Bamboo skewers, soaked in water (about 10)
Marinade for chicken (let sit overnight in fridge):
1/3 tsp tumeric powder
1/3 tsp coriander seed (this is the seed of cilantro!) powder
1/3 tsp fennel powder
1/3 tsp ground cumin
1/3 tsp kecap manis
1/3 tsp salt
21⁄4 tsp sugar
Other Ingredients Needed:
Oil for brushing satay and for frying spice paste
Cut Cucumber and shallots (optional)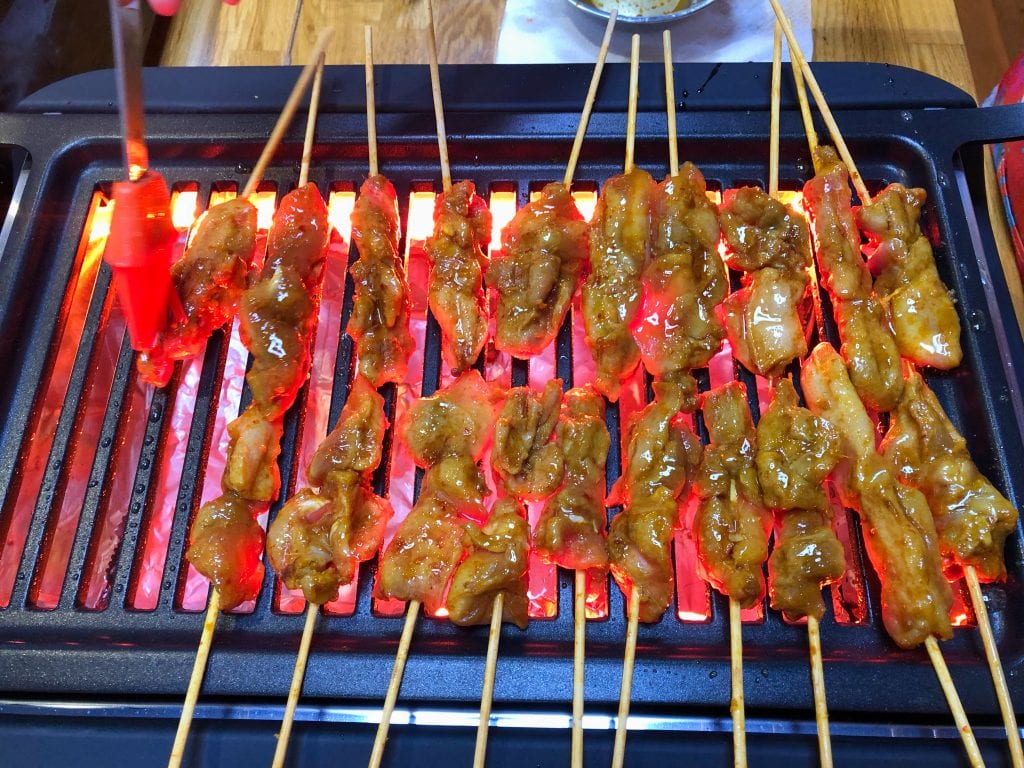 Method:
1. Prepare spice paste by grinding all of the ingredients together to for a paste. You'll need a mortar and pestle, ideally, of you'll have to get a bit creative! You want to grind it all together until it is consistent and like a thick sauce or paste.
2. When paste is ready, add 1 heaped tsp of mixture to marinated chicken. Mix well and set aside.
3. Add sauce paste to a small saucepan with 2-3 tbsp of oil on medium. Heat and stir until aromatic and spice paste is 2-3 shades darker.
4. Stir in ground peanuts, tamarind juice, kecap manis, sugar, and salt. Let the sauce simmer for a few minutes before turning off the heat.
5. Take about 3 – 5 pieces of chicken and skewer them onto a bamboo stick. Continue until all the chicken pieces are skewered.
6. Set grill on medium high heat, place satay on grill and lightly brush with oil. Grill the skewered chicken about 6-8 minutes on each side until they are cooked and slightly charred.
7. Serve satay with sauce alongside cut cucumber and shallots.
This makes me hungry just remembering the smells of this kitchen!
Enjoy,
Leslie