Reading Time:
5
minutes
Yesterday we had a simply magical day, the perfect version of a Belgium trip with kids. Well, let me preface… we had a magical day after 2 pm. Before 2 pm we were homeschooling, or "worldschooling" as we term it, and that is a painful process for everyone.
Once we got out and got to Ghent, the magic began! We tend to do lots of day-trips as we travel the world with our kids and this was one of our best. Next time you are on a Belgium trip with kids and thinking of Ghent, be sure to go!
We met a local at church who offered this advice on where to go in Belgium: if you can only see three cities in Belgium to do Brugge, Ghent, and Brussels. Skip Antwerp (he says). Since this is a short stay for us (only 12 days versus our usual 30+), we will be hitting these three.
Belgium Trip with Kids: Things to do in Ghent: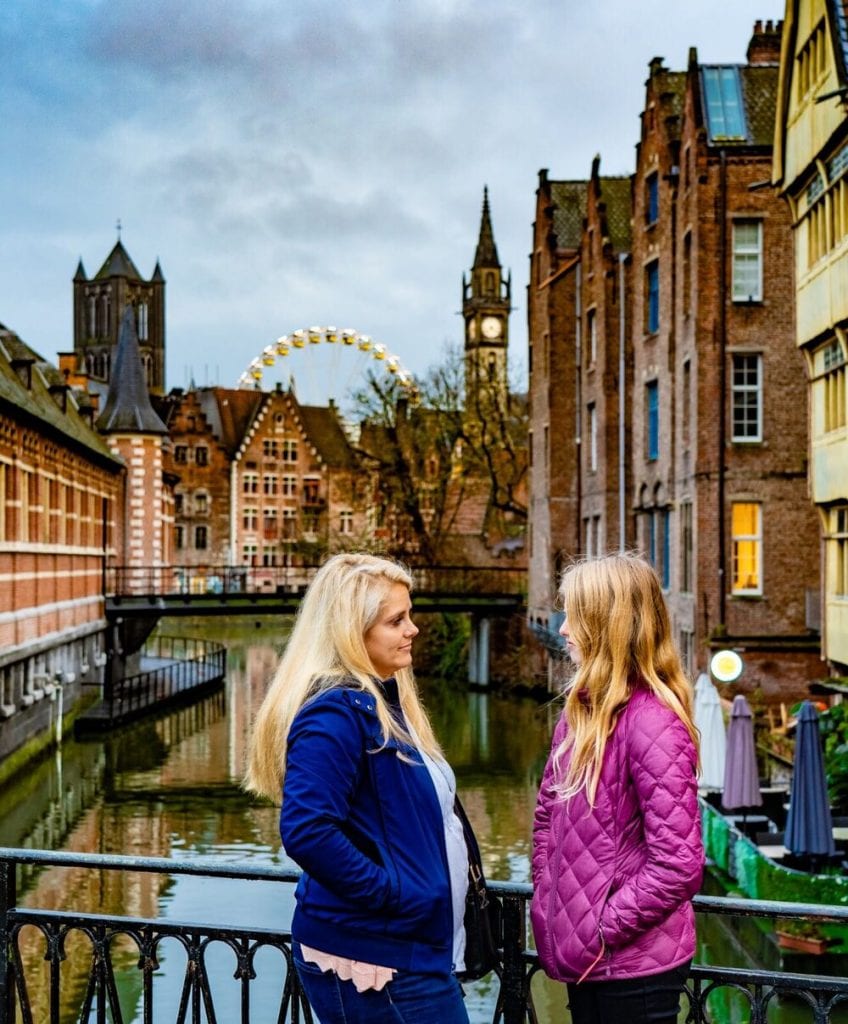 1. Castle of the Counts. It is also called Gravensteen and is one of the best castles we have ever visited. After six months in Europe, we've seen our fair share! What we loved about this one: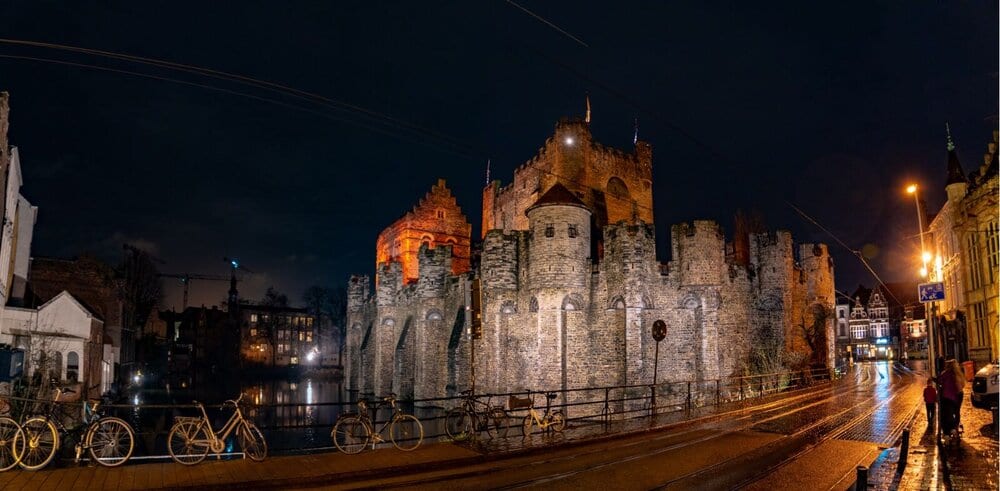 The admission price is great! Only adults 19+ have to pay (that's a steal with five kids), so it was only 20 Euros for our family of seven.
The audio guide is not only included, but it was also the best we've ever had. I had read reviews that many liked it, but some found it crude and too sexual for kids. I was a bit nervous. After touring so many museums, castles, and churches, our kids have come to really enjoy the audioguide and we get it whenever we can. It makes an experience about 1000X better to have some background on what you are looking at. My review: it did have some adult references and language, but we warned the kids ahead of time and I just skipped them ahead if I heard it first. Otherwise, it was very entertaining.
The castle is totally rebuilt. This means it is NOT original, which seems to bother some people, but I personally like it. I want to see and tour the castle as it probably would have been.
The gift shop is great! We really wanted to buy some items but ran out of time and they closed for the day. Note: they do close right on time! For our visit, that was 6 pm.
While the castle is big and has some steep, spiral staircases, it was totally manageable with our five young kids.
The views from the top were amazing. We arrived almost at dark so we saw Ghent at night and it was stunning.
They have a huge Viking ship in the "basement" and a torture chamber. This makes it really fun for kids and perfect if you are a traveling family. (Hence why it made it on my Belgium trip with kids MUST DO'S)
We caught the end of the Christmas decorations. Not sure how it is regularly decorated, but the Christmas decor was beautiful.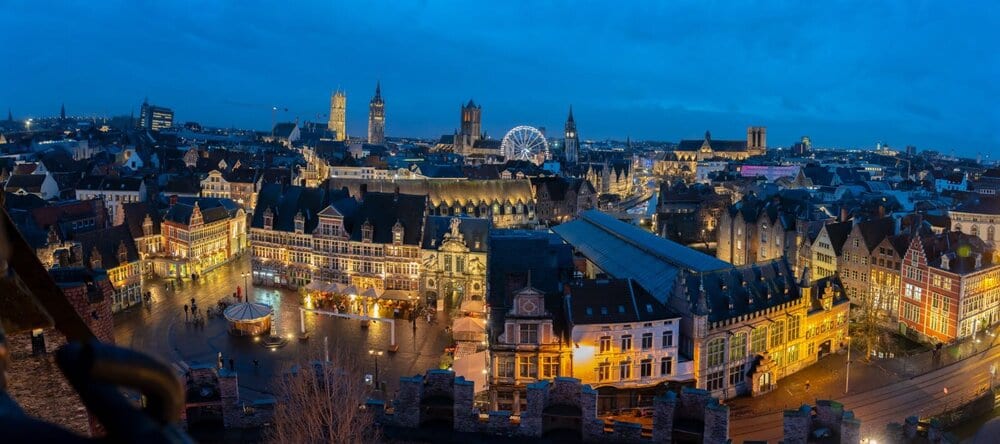 2. Comic Sans. This is actually a bar. Doesn't sound too friendly for kids, right? Well, it is geared towards the 20+ crowd, but there is a real kicker… They have an amazing alcohol-free butter beer recipe! It is a comic fan's dream world and has pinball machines. It was actually closed for us (just for the week), but came HIGHLY recommended by our local friend and I think we will go back next week for a quick drink before we leave.
3. Walk the city. Like many darling town in Europe, this one is very walkable and pedestrian-friendly. There are not many cars, actually, so our kids running around like wild animals is not a big deal.
4. Grab some food. Belgium is known for chocolate, waffles and fries. Did you know fries were not invented by the French, but actually in Belgium? We are going to visit the Friet Museum in Brugge tomorrow, so we are going to learn all about it! Fries and various kind of mayo (what they prefer on fries) are everywhere. Try them!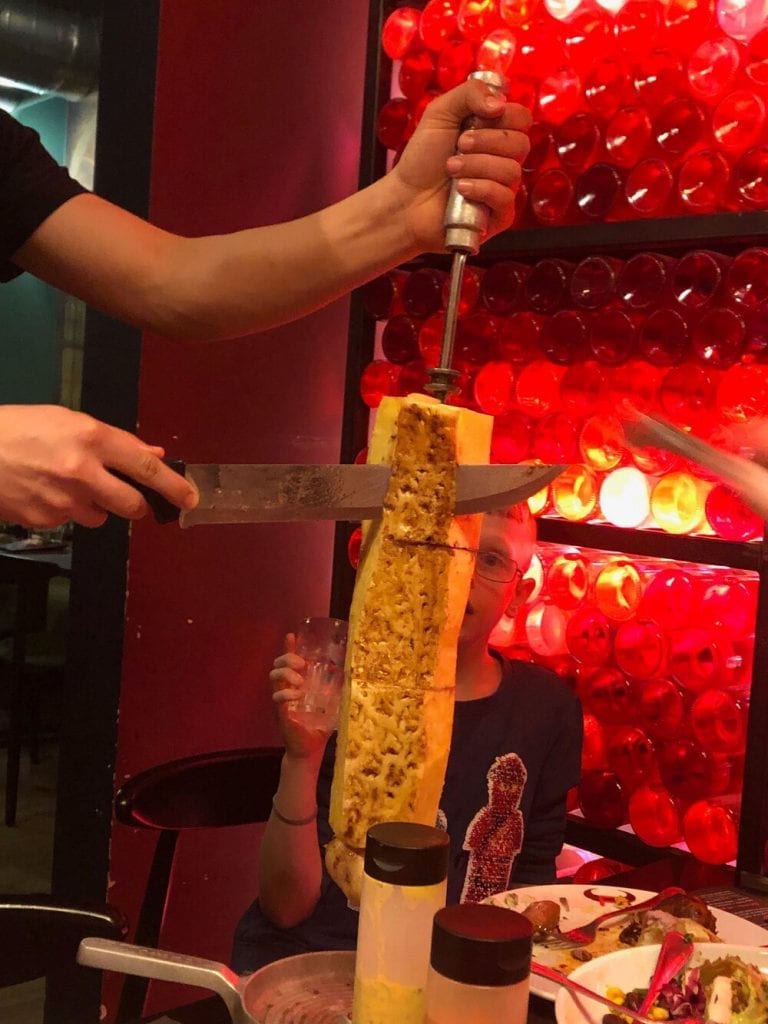 We had dinner at a Brazilian rodizio restaurant called Pampas. It was literally one of our best meals, ever. We've had a LOT of good Brazilian cuisine and the seasoning and cooking of this meal were above all our expectations. We all left way too full and talked of the deliciousness for hours.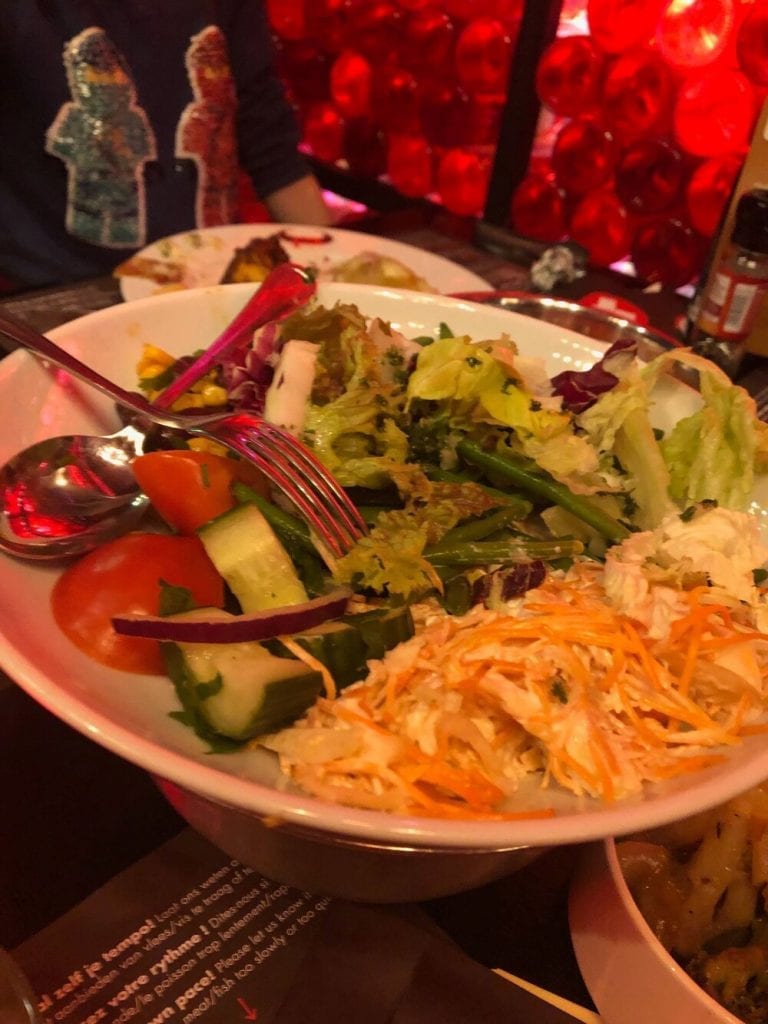 5. Walk the Korenmarkt. This is the city square and where all the action happens! We found a Ferris wheel form the Christmas market and had a great time seeing the city from above. They were also taking down an ice-skating rink.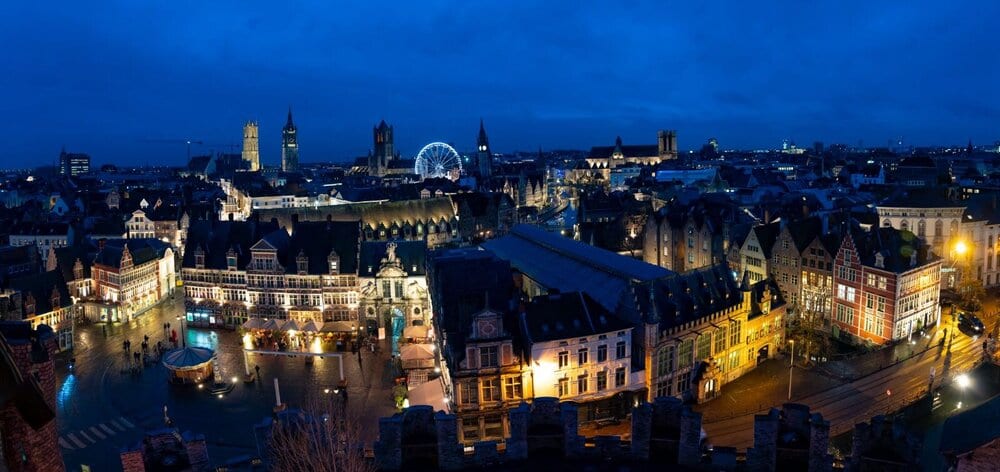 Thinking of spending Christmas in Europe? Be sure to check out my post on Christmas Markets in Europe!
This made for a perfect Belgium trip with kids. We went home happy and loving our day.
Looking for more things to do in Belgium? These are ones we found from local friends!
2. Het Belfort van Gent (Bell Tower). You can get a great view and learn some history as you go up. It also has an elevator: bonus with small kids!
3. Play places. If you are like us, sometimes the kids need to burn some energy AND have a ton of fun. A couple hours at an indoor play place in the winter (or park in the summer) goes a LONG way when traveling with kids. We found online Pretland Gent and Play Beach. In the summer, visit Speeltuin Zudipark.
4. Boat ride! This city is made of canals and you can take a fun boat ride for a different view.
Enjoy your travels and your Belgium trip with kids!!
XOXO,
Leslie