Reading Time:
4
minutes
Dating is our favorite hobby. 🙂
Chris is making it a major priority that we date at least twice a week. If our relationship isn't strong, we really can't parent five monkeys all week very well. We work SO hard and push SO hard in this experience, it takes a lot of planning to keep up strong.
This is challenging in each new location since we have to scramble to figure out our plans in general, when we will be with just the big kids and the babysitting situation. I'll be addressing babysitting while traveling in a different post, so watch for that very soon!
Thankfully in Bali, we found a wonderful nanny service and they let us sign up for a "flexible nanny". With a deposit, you basically got a nanny dedicated to you for the week (or however long) and you just had to schedule a certain number of hours. Score! Since Bali is also very affordable, it was under $10/hr USD for five kids. Incredible. In Hawaii, we were getting quotes for over $50/hr!!
There is SO much fun in Bali. I already addressed some of our favorite activities, but want to focus on date night specifically. If you are lucky enough to be traveling without children and every day is date day, combine the two posts 🙂 Here is my list of the best date nights in Bali…
1. Go out to eat! As I mentioned in our post about favorite eats, restaurants take a long time in Bali. Use Trip Advisor and search up a fabulous place to eat! You'll be enjoying each other's company for a few hours (like that or not- haha!), so find something affordable and delicious and enjoyable. After, walk the shops. There are loads of little shops with whatever trinkets you want to find. The "department stores" are fun to wander through. We had Hardee's next to us and it was fun to wander through. For some reason, SE Asia has penis bottle openers everywhere ?? It's both embarrassing and hilarious to find the different varieties.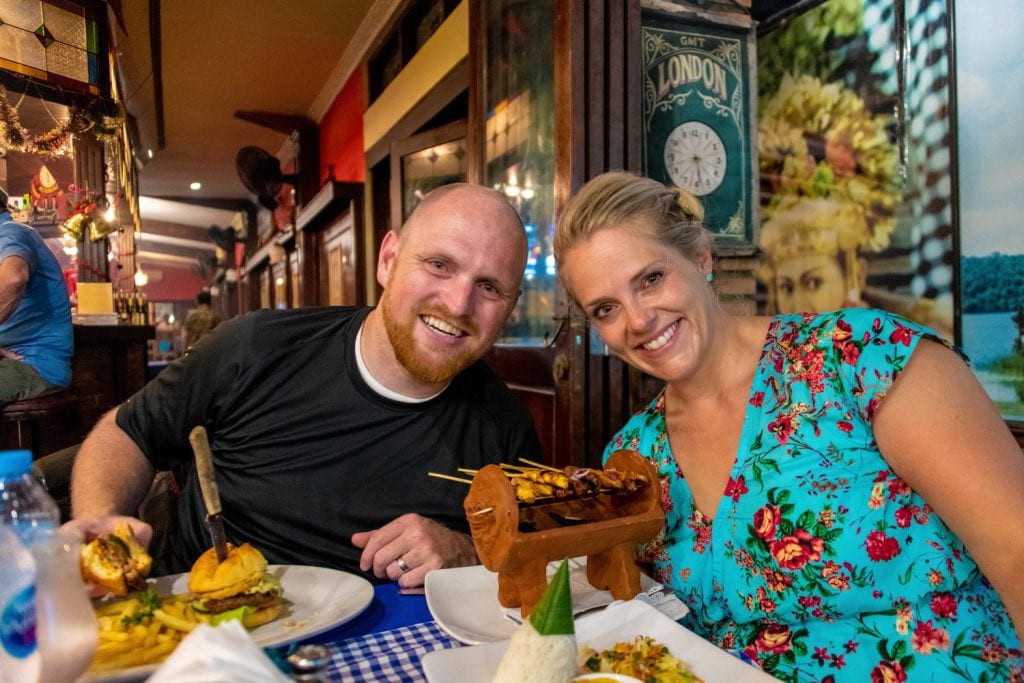 2. Get a massage after! It's pretty romantic to get naked together, so embrace it and get a full-body massage. You'll probably spend less than $10 each for an hour or more- we averaged about $6 USD each. One thing about Bali massage- wear cute underwear! They want your underwear (bottoms only) on and will make you wear a disposable one if you aren't properly prepared. So pull out those sexy undies. You'll get super relaxed, you can talk during your massage before you drift off into dreamland. I caught Chris snoring a bit 🙂
3. Go swimming! Speaking of getting naked, most villas come with a private pool. Even our villa in our resort had a small, private pool. Use that to your advantage if you've got one. :). Or maybe skip down to the beach if you are close!
4. Do an overnight trip to a neighboring island. Whether you take the public ferry or a private boat or tour company, it's easy to spend a night or two on some of the gorgeous neighboring islands. Sure, they are remote and you'll have to unplug a bit. We only were able to do a day trip to Nusa Pedina with the kids. I sure wish we could have escaped to that beauty alone for a few days. It's still incredibly affordable and, depending on your lodging, may not be much more than an average date night back in the states.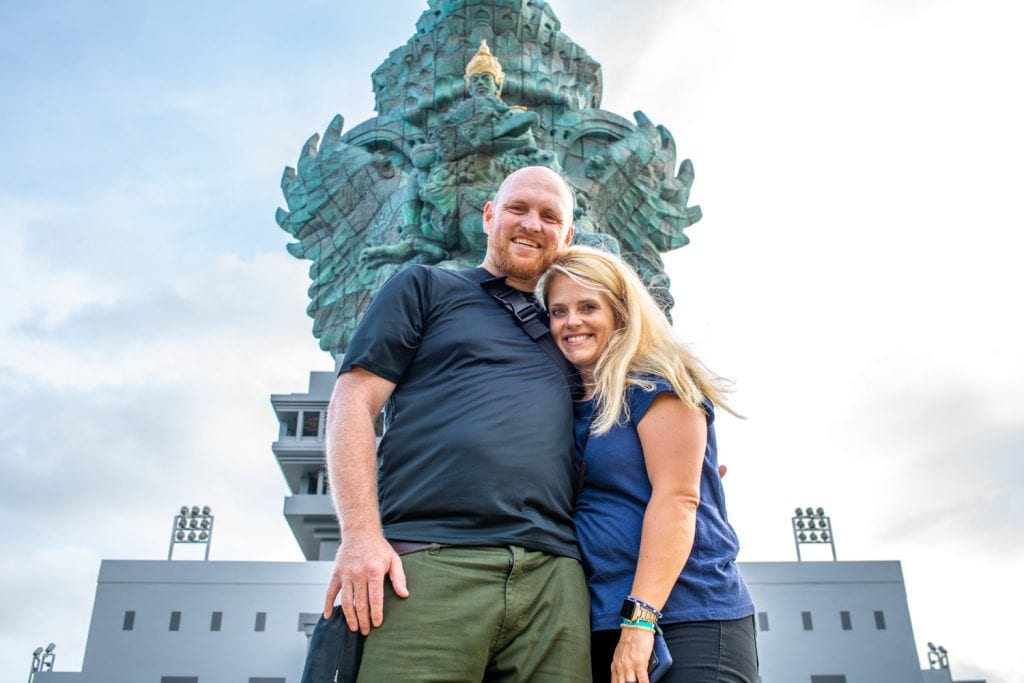 5. Go somewhere for sunset. Jimbaryan Beach has seafood restaurants right on the beach where you can pick your dinner out of a fresh tank. The temples can also be incredible at sunset: Uluwatu, Tempah Lot and Ulun Danu to name a few. All are near water and the views are incredible.
6. Do a "normal date". One day we headed to the mall and went to a movie! We'd been adventuring so much it was magical to do something so normal feeling. We giggled at the difference in stores and fast food menus. Did you know movies are edited in Indonesia? We didn't! We saw Aquaman and even the kiss and CPR scenes were edited out. It was hilarious! Something else to note if you want to bring the kids along 🙂
No matter what it is, get out there alone without the kids! Any time alone is going to do wonders for your relationship. It sometimes feels like moving the titanic to get out alone, but we never regret it.