Reading Time:
7
minutes
Paris Lemon Macarons Recipe
By Les Secrets Gourmands De Noemie
Welcome to my Travel From Your Kitchen Series! As we are all enjoying COVID-19 lockdown at the moment, I wanted to share ways to travel exotically through food. Hopefully I'm not the only one eating all my lockdown feelings over here 🙂
Of all the places we want to go back to, Paris holds one of the top spots every time. When it comes to food, it always holds #1!
Paris is replete with amazing food and even more amazing desserts. Every corner has a boulangerie with pastries that could be classified as works of fine art. It's the city to get fat in and enjoy every last bite!
I took TWO macaron classes in Paris and loved them both. Macarons are always gluten-free, which can be a bit hard to find otherwise in Paris. Plus, lemon macarons are the perfect mix of sweet and tart and chewy and crunchy. At least when done right!
The are not easy to make, but you can do it! Take some self-isolation time to perfect your recipe. All part of this recipe are delicious, so enjoy eating the fails too 🙂
If you visit Paris, be sure to take a class from Noemie. She is amazing!!
Video tutorial will be on our YouTube channel soon! Make sure you subscribe and have your notifications turned on!
Tips
All macaron shells are the same recipe and flavor! The only difference is the color of the food coloring.
It's very important to measure out your ingredients! True baking enthusiasts don't use measuring cups but weigh ingredients for more accuracy. I use a little travel scale found here:
You can make your lemon filling ahead of time and store it in the fridge. I'd recommend making, cooling completely in the fridge, and then storing it in the piping bag.
I always double recipes. I figure if I'm going to make the effort, I might as well get double the result! This does make it more difficult in process, so start with a single recipe first.
The warmer the batter for the macarons get and closer to the end of the piping bag, the airier it will get. This means cookies that don't look as good. Refrigerate the batter in between batches, if possible.
Macarons taste better with time, so they MUST sit in the fridge for at least 4 hours before eating. IT's even better if they are frozen and thawed again. Otherwise, you'll have crumby cookies and not the soft, chewy macaron you want.
You need to make a template for your cooking. To do this:

Find heavy card stock in the size of your baking pan. Use your #8 tip and trace cookie outlines or about 3 cm diameter circles. Offset cookies on the template and you should end up with about 36 circles, but this can vary.
You'll put this template under parchment paper on your baking tray and pipe your cookies onto them. REMEMBER to remove this template BEFORE putting in the oven!
I tape two pages of card stock together in a pinch and it worked fine! I had to buy a cheap compass at a French grocery store to get this done since I didn't have the right size tip. It's a bit tricky, but you'll get it. It helps a ton when piping our cookies!!

When piping your batter, you need to stay perfectly perpendicular to the template and do not lift up in between circles. Instead, release the pressure of the top hand and quickly move over to the next circle. See my video to better understand.
Your oven matters! Noemie said to NEVER use a gas oven as they create steam and this will mess with your cookies. If it's all you've got, just try your best!
If you have convection, which all European ovens do, you can cook more than one tray at a time. If not, stick to one.
Do not store macarons in the fridge or freezer in an air-tight container. They need the air to circulate so they don't get soggy! Best to store in a small cardboard box.
Macaron Shells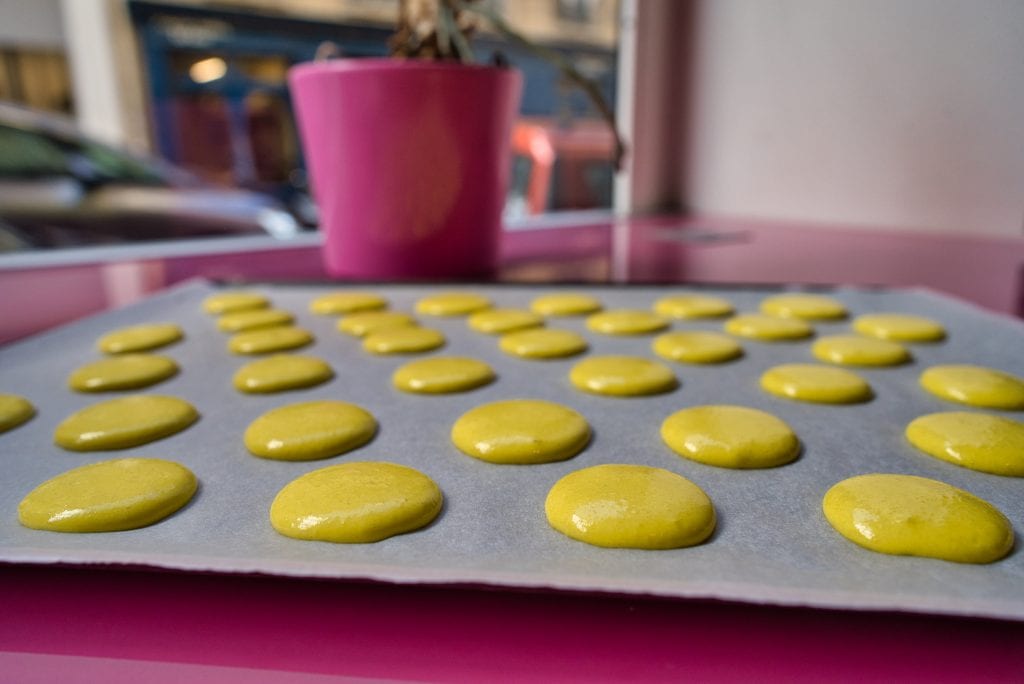 Ingredients
150 g Almond Flour (Meal)
150 g Icing Sugar (Powdered Sugar in the USA)
50 g Egg Whites *
15 g Granulated Sugar
50 g Water
150 g Granulated Sugar
50 g Egg White*
Food coloring ** (Optional)
*Egg Whites need to be separated at least 1 day in advance and left to sit. This breaks them down. You can measure out and store in the fridge, covered, for up to a week. Or freeze egg whites in this weight amount as well.
**Food coloring needs to be either powdered or gel. NOT liquid.
Equipment Needed
Candy Thermometer
Mixer or Hand Mixer
Whisk
Saucepan
Various mixing bowl
Scale
Piping Bags (at least two)
Piping Tips: #6 (6 mm diameter) for the filling and #8 (8 mm diameter) for the batter
Hand-made Template for Cookies
Parchment Paper
Directions
Preheat oven to 150 degrees Celsius or 300 degrees F. Set out your trays with your template and pre-cut parchment paper to fit within the lips of your tray.
Measure out all of your ingredients in separate bowls or containers and set aside.
Sift together almond flour and icing sugar into a large bowl.
In a small saucepan, combine water and 150g amount of sugar. Turn to medium to high heat and stir. Measure temperature with a candy thermometer and get temp to 112 degrees Celsius.
While the syrup is heating, get your first batch of egg whites (50g) and half of your 15g of sugar into your mixer (or big bowl and hang mixer). Mix on low until many small bubbles form. Add the remaining half of the 15g sugar and increase speed until soft, white peaks form. Don't overbeat! If the syrup isn't ready, turn off the mixer.
When the syrup is ready at 112 degrees, pour slowly over egg white peaks with low speed on your mixer. Increase speed when all syrup is combined and mix until cooled (when you can hold your hand to the side of the bowl.
Add food coloring and the second 50g of egg whites. Mix very briefly until just combined, about 5 seconds.
Turn off mixer and remove. Mix in by hand the almond mixture or pour in at once into the mixer and mix until combined, briefly. The meringue should be smooth and glossy.
Get your #8 piping tip into your piping bag, twist near the tip and put it into a tall glass or container. Fold the plastic over the sides of the container to fill it with batter.
Spoon batter into a piping bag. Twist at the top and hold the top with one hand and tip with the other.
Pipe batter onto parchment paper following circle templates. Remove the template and use it on the next tray. Be sure to remove before baking! (Although I forgot at least twice and it was OK).
Bake tray(s) for 14 minutes. I always followed this and DID NOT open the oven to check!
Macaron cookies are done when you touch them and they don't wiggle. See my video tutorial!
Remove and let cool for a few minutes before sliding off the parchment paper and letting cool completely.
When totally cool (within an hour), peel off the parchment paper and line up similar sized circles side-by-side.
Pipe on filling (a dollop about the size of a quarter) and gently wiggle the two cookies together, smooshing out the filling to the ends.
Pack up on their sides and get into the fridge or freezer.
Store at least 4 hours and then ENJOY! You've tasted the best of Paris in my opinion!
Lemon Filling
Note: This is the same as the filling for a lemon tart and is absolutely, addictively delicious. You SHOULD NOT suck the filling directly from the piping bag into your mouth. I mean, only the weak steep to such measures….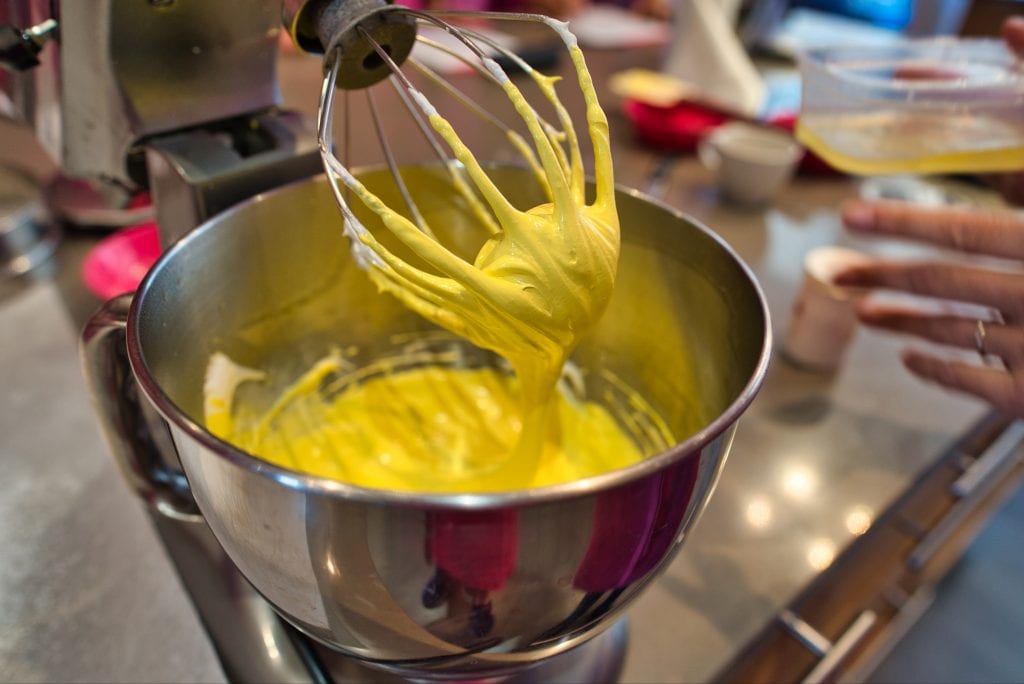 Ingredients
Zest of 1 Lemon
Juice of 1 Lemon
2 Eggs
70 g Granulated Sugar
80 g Unsalted Butter*, cut into even, small cubes
1/2 Gelatin Leaf**
*Unsalted butter is a must and is the best for baking. The salt draws our moisture and can ruin your recipe! This took me a long time to figure out, but now you know. It can actually be hard to find salted butter in Europe at all! Butter should also be at least 82% fat content.
**Gelatin leaf is super cool and you need to soak it in cold water before you get started (at least 5 minutes). However, if you don't have this, use 1 gram of gelatin powder.
Directions
Soak the gelatin, if needed, and zest and juice your lemon.
In a bowl, add sugar and eggs. Stir to combine. Add zest and lemon juice.
In a saucepan, bring water (about 2-3 inches deep) to a boil and place bowl on top (creating a double boiler). Keep at medium heat.
Whisk egg/lemon mixture constantly. Eventually, it will thicken. When it does, remove from stove.
Keep whisking your cream and add gelatin (without water). Stir to dissolve the gelatin.
When cream is cooled (you can hold your hand to the side of the bowl), add cubed butter. Stir until butter is melted and combined.
Cool in fridge or freezer completely. Add to piping bag (with tip already inserted and twisted to prevent leakage).
Pipe onto baked cookies and enjoy! Feel free to eat the rest at your leisure… or suck right from the piping bag.
Tag me in your macaron creations! I would love to see them!
Leslie