Reading Time:
9
minutes
As we are flying away from Bangkok to Auckland, we are all sad. We used Bangkok for a long layover between Paris and New Zealand and decided to extend to five days since we loved Bangkok when we went last year. However, we were all surprised at how much we didn't want to leave this time! We sincerely debated leaving for New Zealand at all. During our time here we came to find the best Bangkok markets!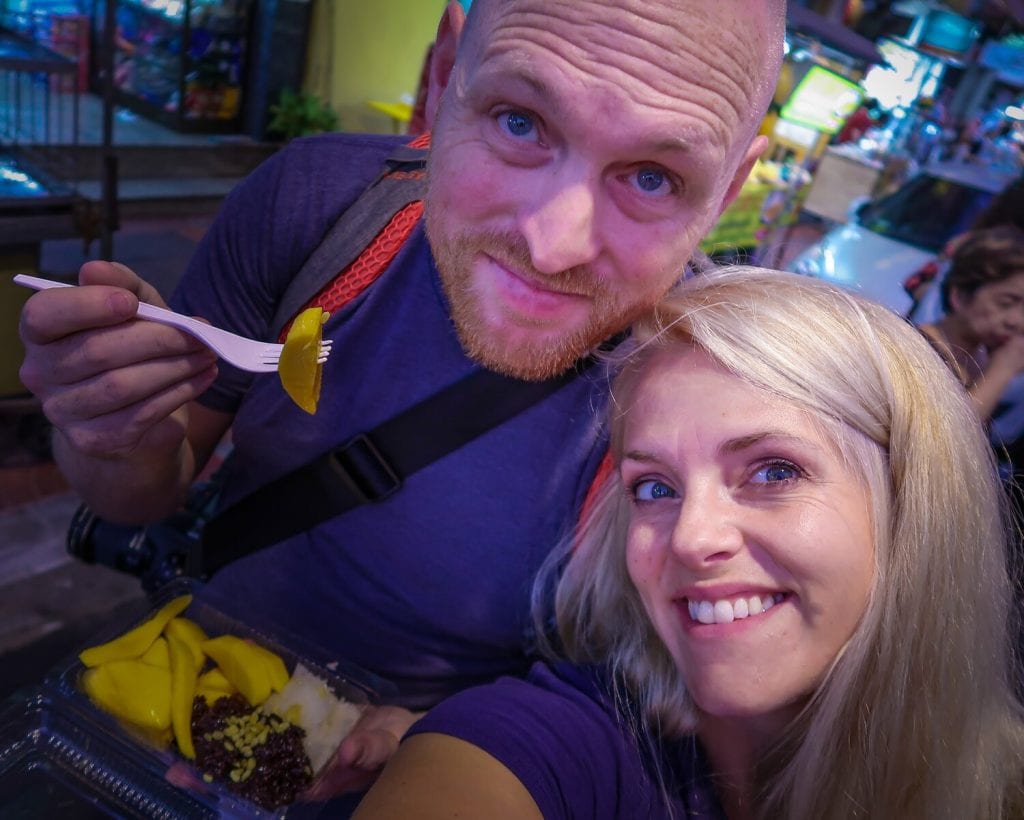 Many of our loved ones tell us we talk of Bangkok more than any other city we have been to. It's so true. So much of Bangkok speaks to our family: the incredibly kind people, the colors, the vibrant foods, the tuk tuks and incredible city amenities. Bangkok has everything you might be looking for!
One of our favorite things in Bangkok (and in SE Asia in general) is night markets. What is a night market?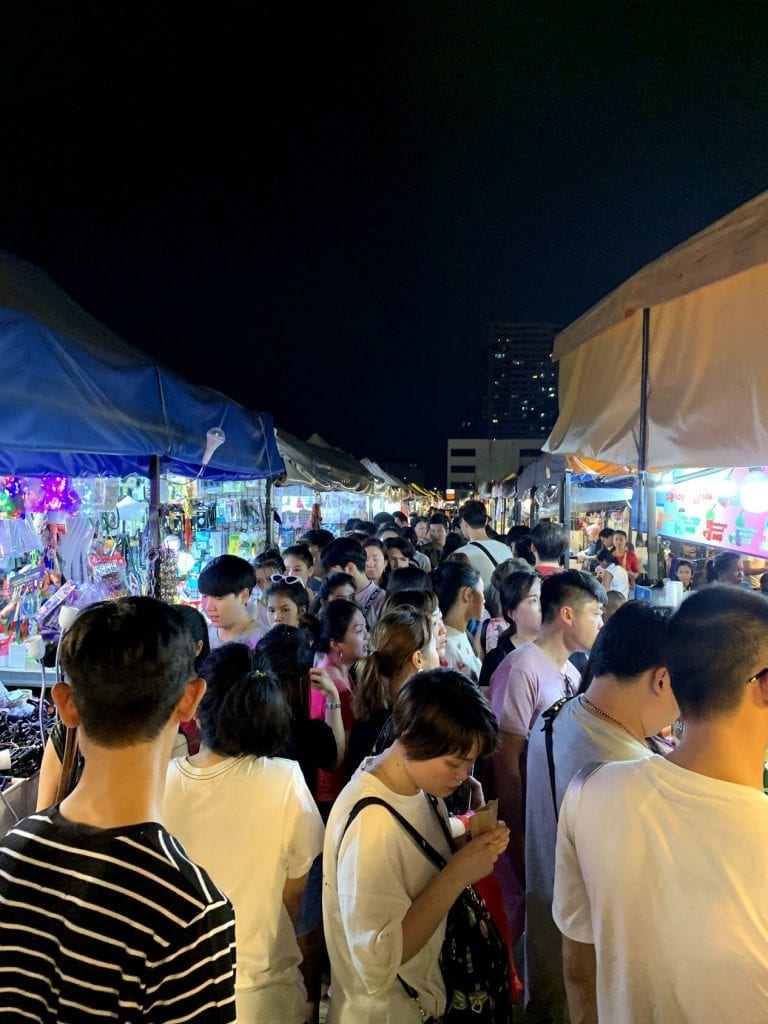 Well, there are day and night markets in Asia. Locals use these as their Targets or Walmarts. Each market has a different vibe and while much is the same, they are each unique.
Many night markets are very local and frequented by locals. We've gone to a few of these and you probably won't love it. They can be mostly produce and clothing with food options as well. They are incredibly affordable, so if you are in the market for those items, you'll find great deals. However, the tourist craze has hit the night markets as well and they've morphed into super fun attractions.
With that being said, many are NOT family-friendly. South East Asia can be a resource for sex tourism as well, consensual or not. Thankfully, in the many months we've spent in Asia, we've never run into it first-hand. We certainly could find it, but if you aren't looking for it, you probably have nothing to worry about.
I wanted to share our favorites that we go to as a family. Going to a night market can be super fun with kids! Don't let them scare you just because its at night. In fact, nighttime is the best time to go in Bangkok. It's not so blazing hot. Most stay open until midnight or 1-2 am.
What To Do At the best Bangkok markets with Kids
Three basics: shop, eat and get a massage. We don't get massages at every night market, but we try to! You can get a foot massage for just a couple of dollars and they enjoy having kids too. Our kids were a bit wary at first and now all want to get them.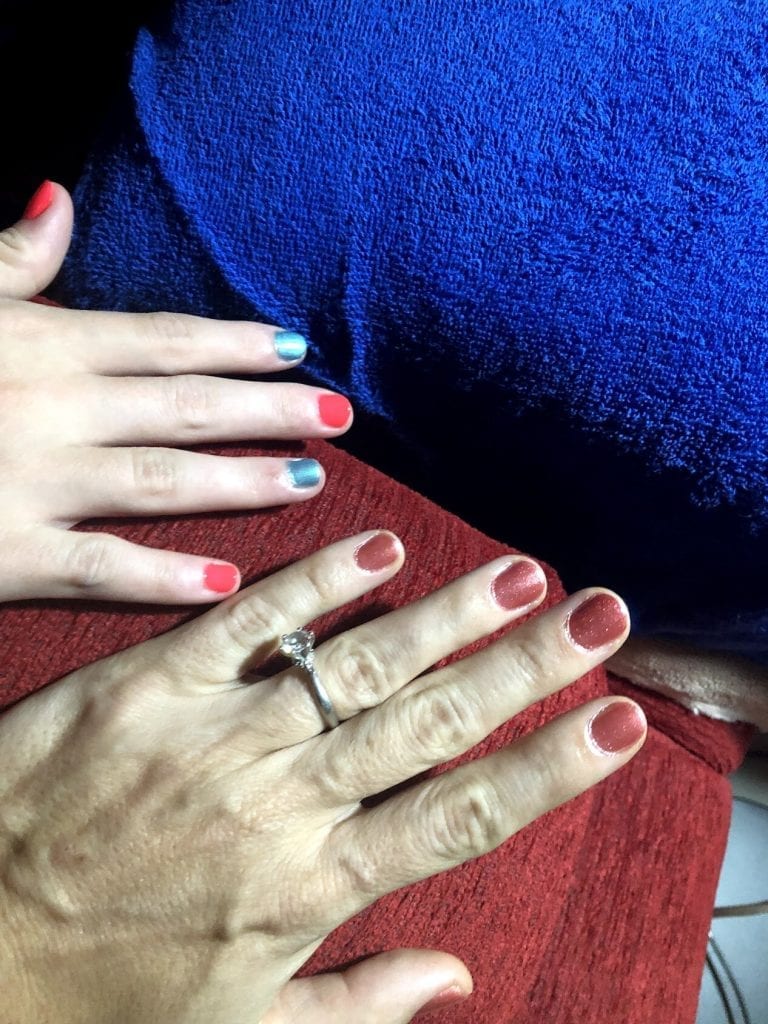 Some night markets negotiate on shopping prices while others do not at all. Just ask and be willing to go either way. Prices are super affordable already.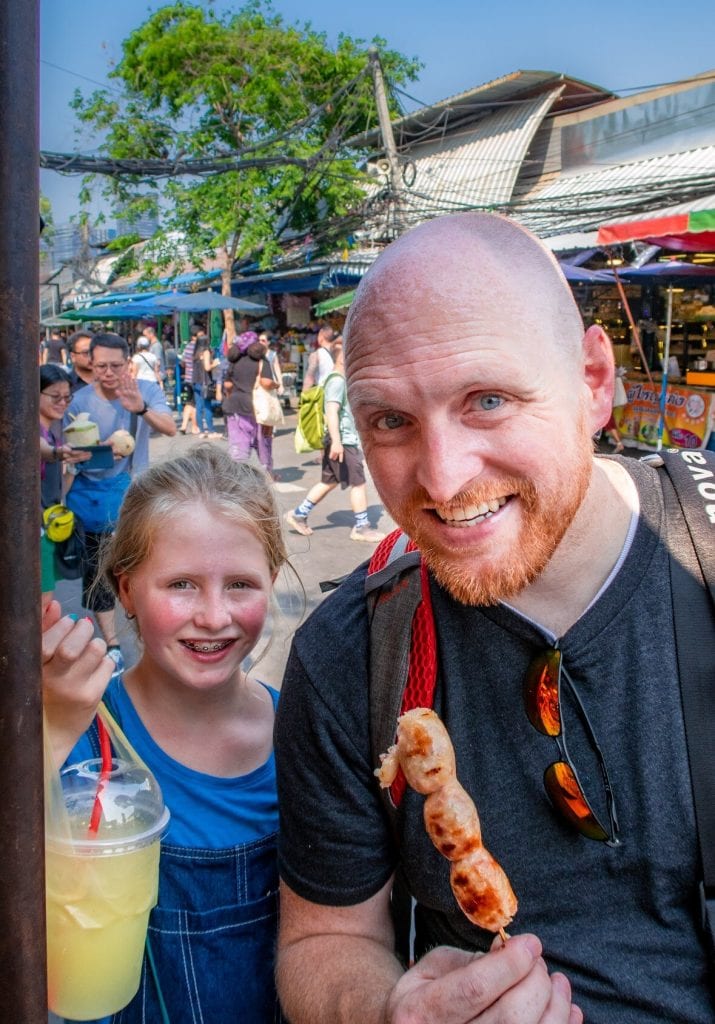 Our recommendations for food: fresh fruit smoothies (my favorite is the watermelon smoothie in a small, scooped out watermelon), roti (come in many flavors, but Chris always picks banana Nutella), Pad Thai, green papaya salad (can be quite spicy so ask for no spicy if that's your preference) and mango and sticky rice. The mangos in Thailand are unlike anything you've ever had and you'll never go back to regular mangos at home.
Onto our favorites:
Best Bangkok Market 1: Neon Night Market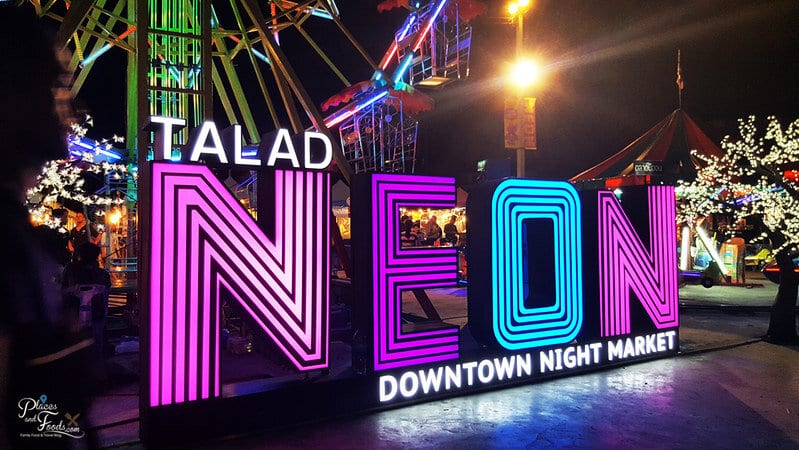 Also called Talad Neon Night Market, this is one we discovered this week. It is my favorite so far and what I would put at the top of my best Bangkok markets list! I'm so glad we broke out of the comfort zone and tried a new one.
As the name suggests, it is brightly lit with neon signage. You'll recognize it from the moment your taxi drops you off. It is roughly divided into sections: prepared food for sale (restaurant style), bars, massage corner and retail. The items we were able to buy here were great quality and unique. It wasn't just all the same souvenirs you might find at other markets. We bought wallets and bracelets ($10 and $3) that we were able to personalize with letter-stamping. We got Grace a darling backpack with hand-picked ornaments glued on for about $7. We even got family necklaces that we each picked a personal charm for and had a family moto stamped on each one.
It is not clothing heavy, but it is there. There is even an entertainment section with a guy puppet performing (and doing quite well if you ask me!) and playing sing-along children's songs.
The girls and I had our nails done (as low as $3 for a polish change), we had delicious food ($12 for the whole family!) and fresh fruit smoothies. I really wanted to have foot massages as well, but we ran out of time before Chris had to work.
The people absolutely love children. Not kidding when I say I had three different people wipe my toddler's noses with tissues. Really. They just take care of them like they are everyone's child. It really touches me how loving and happy the people are.
This night market is open every night and really gets going about 7 pm.
Best Bangkok Market 2: Ratchada Train Night Market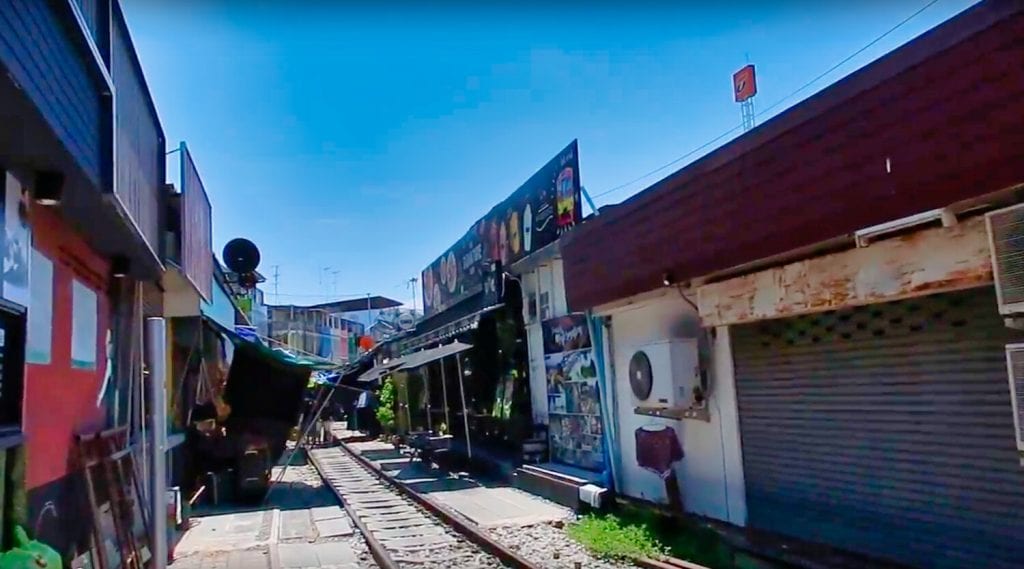 This is our second favorite of our best Bangkok markets and the one we went to right off the plane. Even after being up for more than 24 hours we didn't want to miss the change to come here.
This might market is about an equal mixture of food and retail with bars and restaurants scattered around the edges. This night market is also open every night and the stalls are the same as when we went last year. There are much more "grab and go" food options here, so you can sample more delicious Thai favorites while walking around and enjoying the market.
The retail side of this night market is smaller and tends to be more 'trinkets" and knock-offs. I find it to be lower quality, but you can find some fun souvenirs. It's all so amazingly cheap as well! You could get some bad knock-off sneakers for about $5. If you lose your tennis shoes on the flight, don't go the mall 🙂
There is some clothing and I noticed on our way out a massage area, but we didn't try it personally.
Best Bangkok Market 3: Asiatique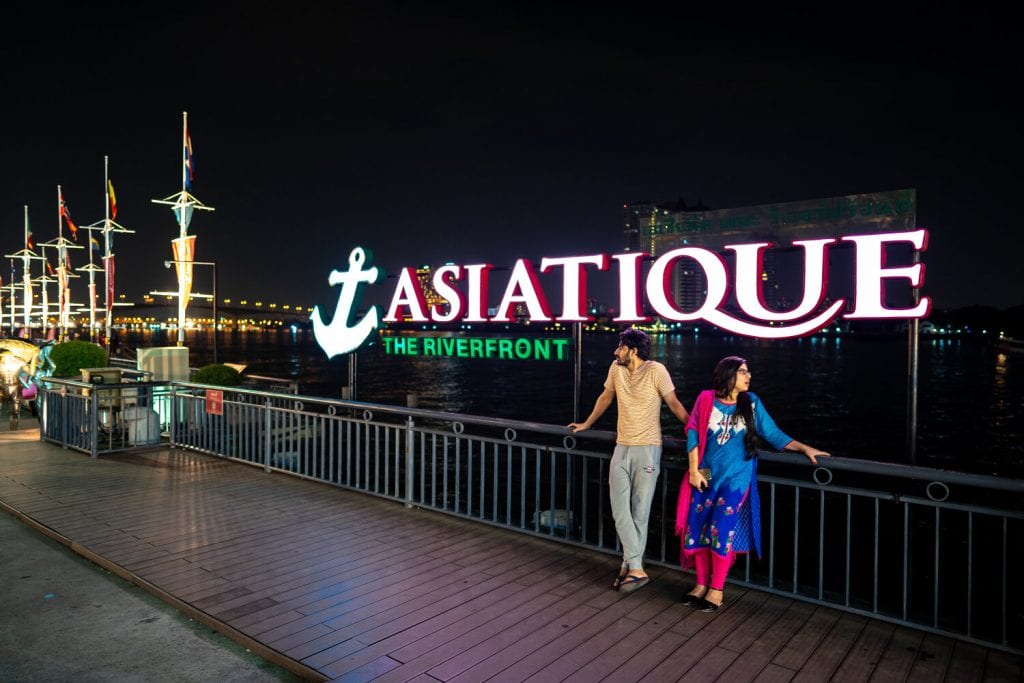 I always recommend this night market as a first-time try if you are nervous, and was confident in calling it one of the best Bangkok markets. It is on the main river of Bangkok in a beautiful location. This night market is a combo of a mall and a night market. It is more permanent and established like a mall. It feels like an outdoor mall as well with set aisles and restaurants. It has tons to offer in both food and retail, but more retail for sure. English is very common at all of the night markets and even more so here. It's also a bit cleaner than the other night markets.
You'll still find amazing deals and it's a shoppers paradise. I found some incredible nylon dresses that have traveled the world with me this last year and look like I've barely worn them. There are lots of purses and bags, bath and body products, clothing and home goods. I had a guy try to sell me a table runner. When I laughingly told him I didn't have a home to put it in, he joked it could also be a scarf. Haha!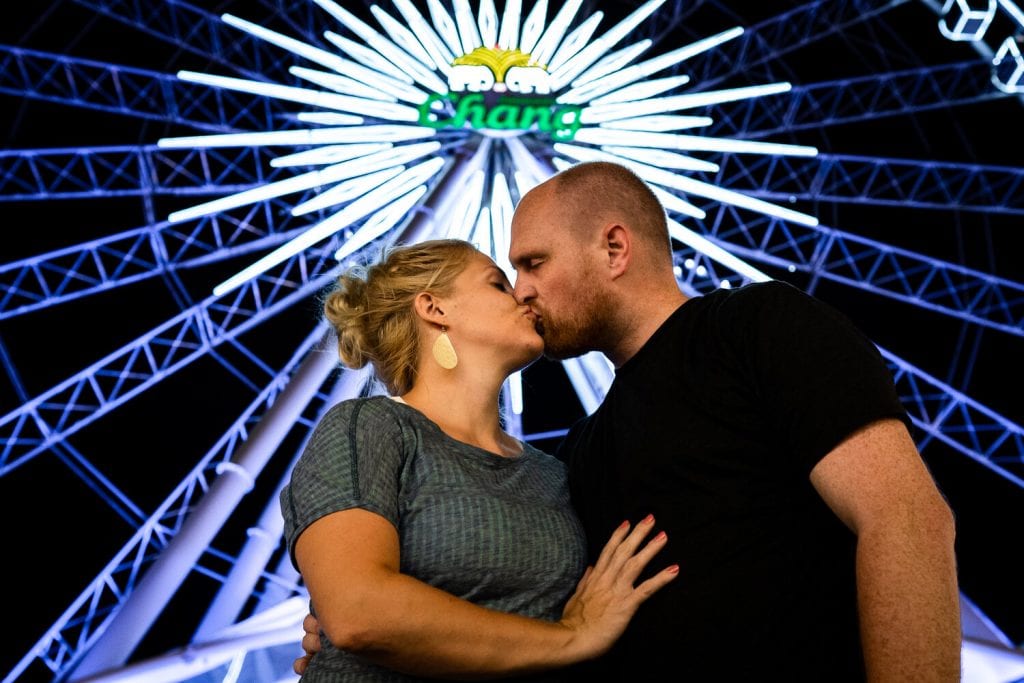 This is especially kid friendly as it has a few amusement rides. There is a big Ferris Wheel that gives you a great view of Bangkok. There are little kid cars to ride and a haunted house. You can find some really interested food options here… we saw a full-size roasted crocodile! We didn't have time, but wanted to get foot massages on the river. There is a lot to explore here, so plan extra time for this one.
Best Bangkok Market 4: Chinatown
This is less a night market and more of a constant attraction. To see it at night, however, is the best time to go. It is almost entirely food with various stalls mixed with restaurants. You can get the best seafood here with dozens of options. They will grill your squid or lobster there and serve with an incredible cilantro sauce.
Be sure to try satay and curry if you like them. Many food stalls are a performance in themselves. You can find ice cream, but eat it fast! It doesn't last long in the Bangkok heat, even at night.
You will find some retail here scattered throughout, but I have found it to be overpriced and wouldn't recommend buying here. Come for the food and leave full.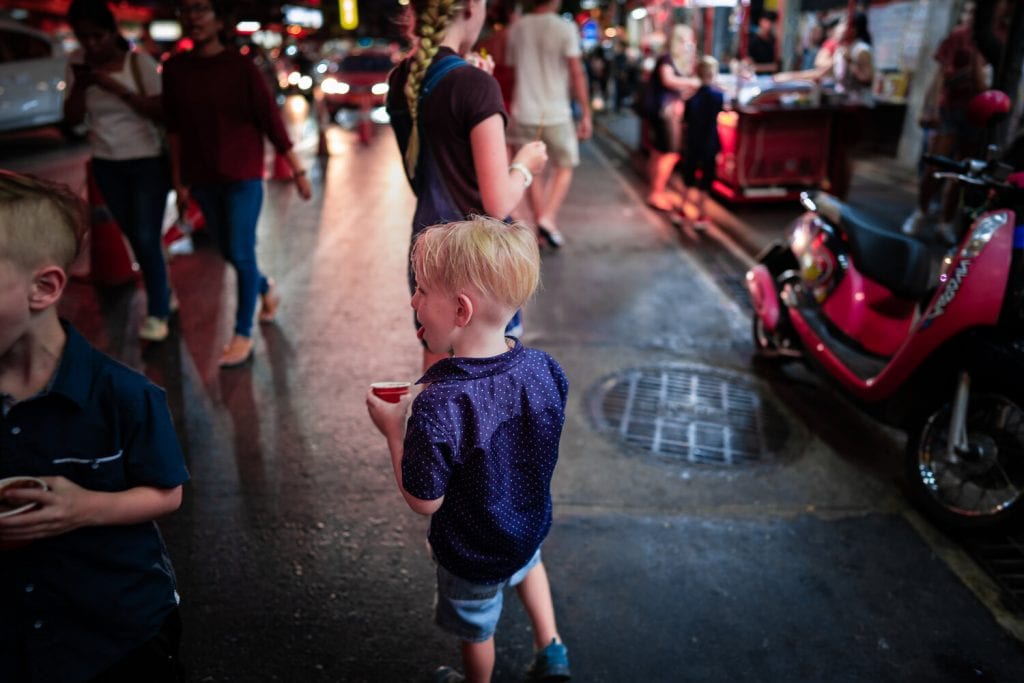 Best Bangkok Market 5: Chatuchuk Weekend Market
To be fair, I haven't been to the Friday night version of this market, but I have been to the full day version on a Saturday. It will blow your mind. When our friends told us about it and said "you can literally find and buy anything you want for cheap" I didn't quite believe them. However, it's absolutely true. I think it could take you DAYS to fully see this weekend market. It has so many sections and is so big they hand out maps.
It supposedly is open Friday night as well as Saturday and Sunday all day. It would certainly be worth a visit if you have a Friday night.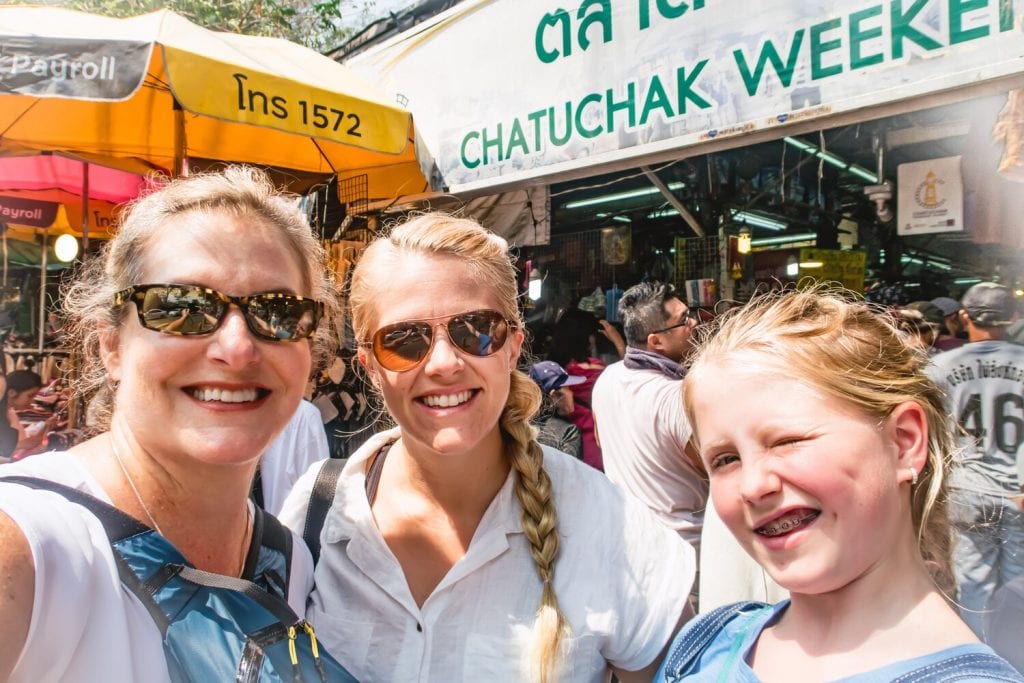 Best Bangkok Market 6: Klong Toei
Ok, I'm on the fence about this one as it was a mixed experience for us, but we will still consider it one of the best Bangkok markets! This is much more of a local's market and we could only find the grocery section when we went. It was actually our first night ever in Bangkok and I took the older kids to explore. What an experience! As we walked up, we looked over the stairs to see an entire pig's head in a bucket.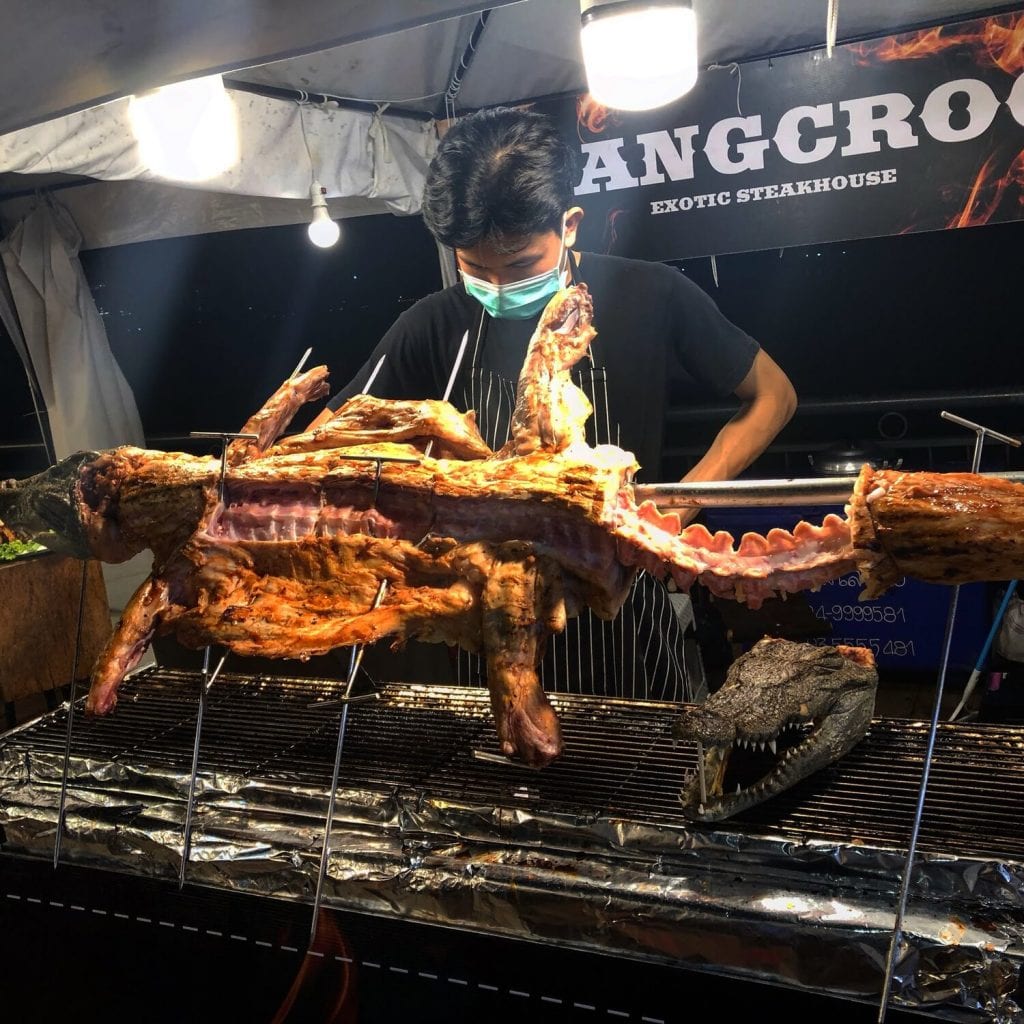 You can get tons and tons of produce, dry goods, kitchen supplies, flowers, fruits and some toys here. There is also an intense animal butchery section where you'll see first hand where that meat is coming from. We had a truck drive by us with probably 20 dead pigs in the back. They will gut your fish fresh while you wait. The smells can be a little intense, but it is a really amazing experience.
Chris would never enjoy it and my kids are both scared and fascinated by it, but it can be a great way to see how locals shop.
Honestly, if you walk around Bangkok at night, chances are you'll run into some kind of night market within 10 minutes. There are tons and some are more formal than others. In fact the condo complex we love to stay in, Belle Grand Rama 9, has one right outside the complex. You can get a bowl of pork and noodle soup for $1 USD and it's yummy! Many locals eat out since it is so cheap and a great way to socialize.
Many times you can also find night markets around the outside of malls. Malls in SE Asia are like small cities and I've noticed night markets around the outside of them as well.
Be sure to take a night or two to enjoy this amazing city at night. Remember that rush hour is about 3-9 pm and it not fun getting around in. Prices go up for taxis during this time, so take the metro or skytrain if you can or walk.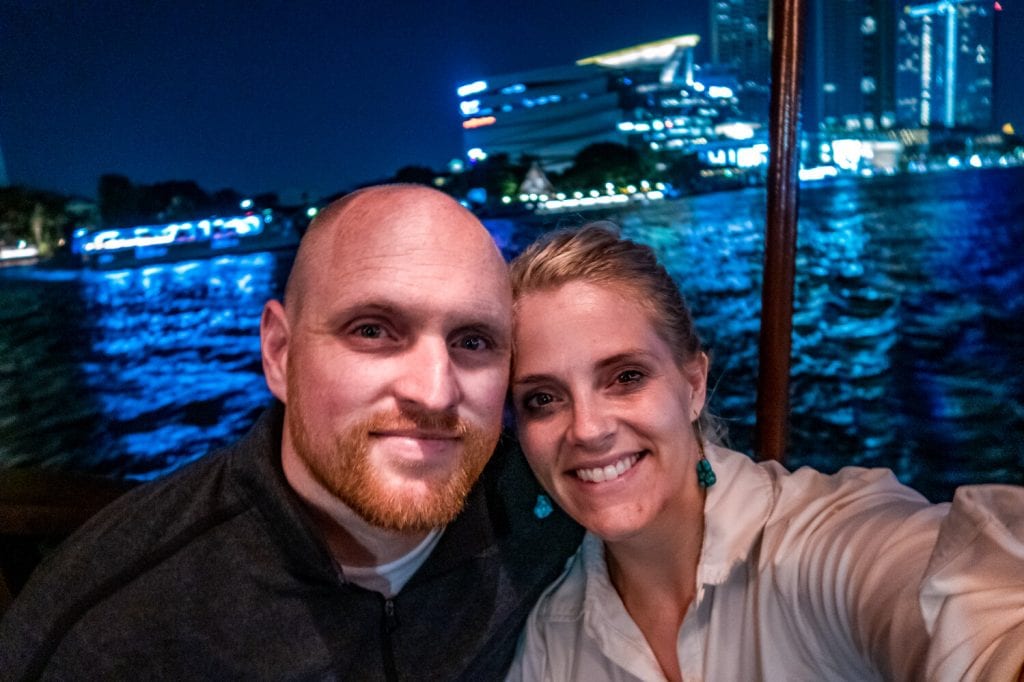 Enjoy the best Bangkok markets during your stay! It's not for everyone, but it's my favorite city in the world. For more ideas of how to spend your time in this beautiful city check out my ideas on enjoying Bangkok with kids and with your spouse!
All the best,
Leslie