Reading Time:
7
minutes
Oh Bangkok. You'll have a piece of my heart forever. Bangkok is a travelers paradise, with or without kids. We lived there for 5 weeks with five kids so keep reading for our recommendations on the top things to do in Bangkok with kids.
1. Boat Ride Down the Main River (Chao Phraya River).  Be sure to go in a long-tail boat.  This was our first experience (our first full day) and one of my favorite thing we did.  We asked our driver to take us to some place, which ended up being across the river from IconSiam.  Don't have a driver? Walk outside and find one 🙂 . All drivers act as ad-hoc tour guides as well and they all know the same places. Find one you like and spend the day with them. Cost was around $100 USD for our whole family to have a long tail boat.   This is a great way to see the city in all its dichotomy.  You'll see hovels on the water and giant skyscrapers.  Luxury hotels and humble river vendors.  Little boats will approach you with trinkets and souvenirs for sale., which is a little taste of the famous floating markets.  Grab some ice cream, board the boat and enjoy this fun activity in Bangkok with your kids!
2. Temples. You'll see incredible temples, or Wats, all over the city. They are stunning and have a rich history. Depending on your kids and their ages, this may not be a huge focus. However, it's an important things to see in Thailand to understand the culture and appreciate incredible workmanship and beauty. If temples are a great fit for your kids (they aren't for ours), just hit the Royal Palace (makes sure to check our tip video for a better experience) and see the next item for our recommendations.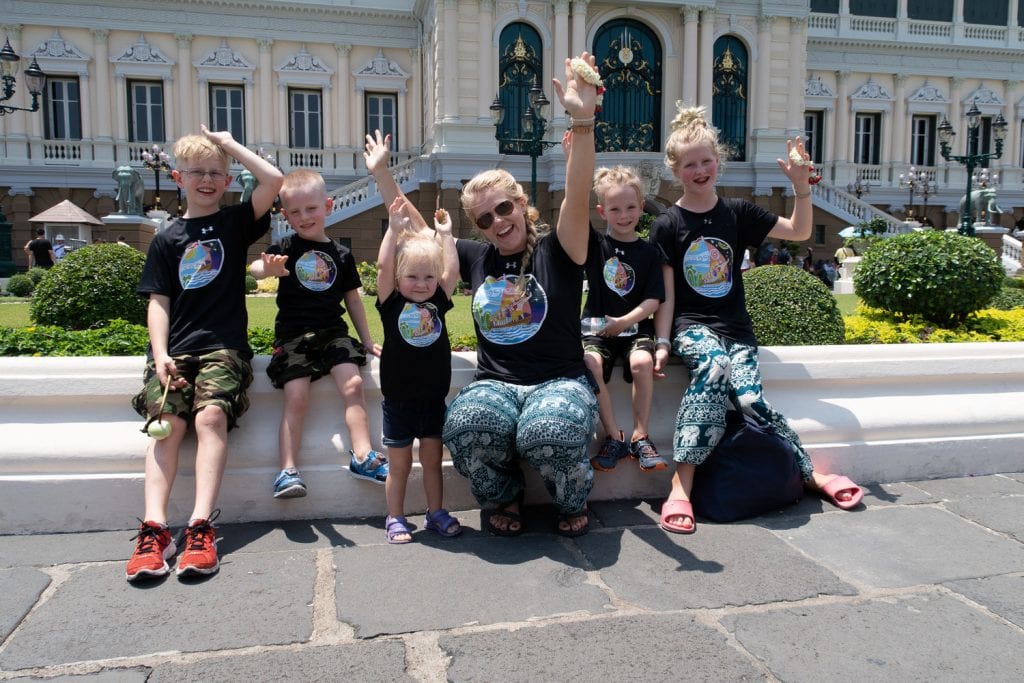 3. Royal Palace. I feel like this is a must-see, even if it is not the MOST engaging thing for the kids. My quick tips:
Go during lunch. We tried to go at opening and all the tour buses go then too. It was SO busy. Our guide said it is best when they break for lunch.
It's going to blazing hot. Know that. Maybe bring an umbrella. Pack water.
You'll need a sarong or pants. We were approached by a lady right before the entrance that would be our tour guide and loan us sarongs and pants for 300 Baht. Chris refused. We ended up spending 300 baht on stupid pants we threw away and another 300 baht on a tour guide. I'm still a little miffed we didn't go with the first option :). It's so big and overwhelming I was glad to have someone to guide us around. He also gave us a wonderful jasmine garland that smelled heavenly.
4. Safari World. This was a total highlight of our time in Bangkok with our kids. It's at least an hour drive out of Bangkok, but such a fun zoo. You drive your own vehicle through the open safari part, which has zebras, lions, tigers, hippos and TONs of giraffes. Other things we loved:
The shows! We thought the Spy Show was funny. It's based on a James Bond film and engrossed our boys.
The giraffe feeding. Wow. One of our highlights for sure! They have (they claim) the largest herd of giraffes in the world. Over 200! You can buy bananas to feed them, but I had a local tell me she also brings her own carrots to supplement :). This was just incredible! Watch for our video about it.
The bird enclosure looked super cool.
Get here early! We only had about a half day since it closes at 4 and were sad we didn't have longer.
5. Dream World.  This is a blatant copy of Disney and does a decent job of it, we even made a whole video about it.  What we loved: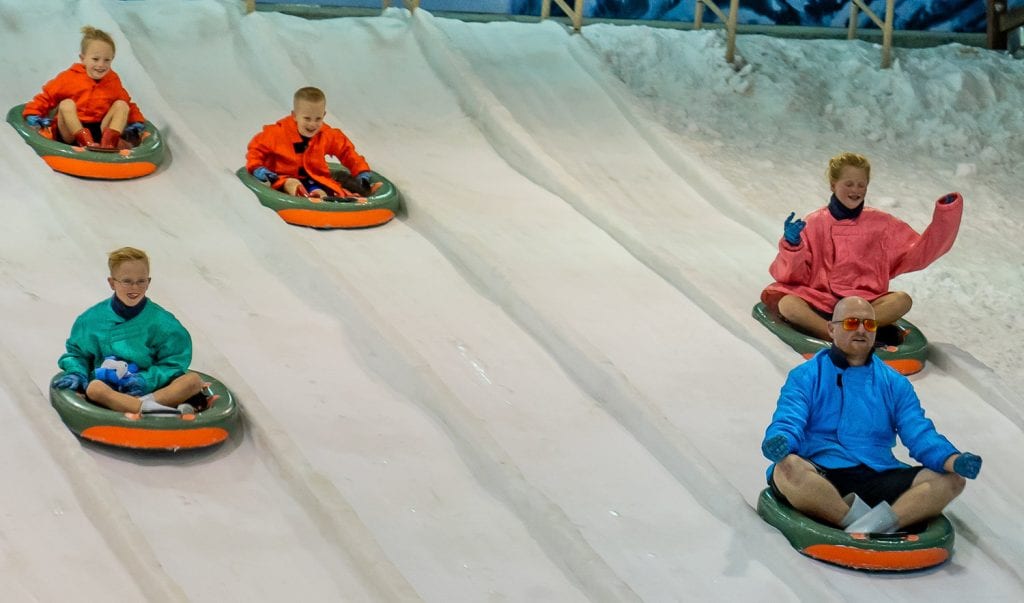 It was NOT crowded. We did go on a Wednesday, but we never waited more than 5 minutes for anything.
Foreigners pay about $30 USD per ticket (kids and adults are the same) for unlimited rides. We found out this isn't the case for locals (??), but we had a great time. We were basically there open to close (closes at 5) and didn't see much of the park.
Snow World! Another highlight of our trip so far. It is like going into a freezer box (literally -5 Celsius) with snow falling from the ceiling. What we loved and tips:

Sledding was so fun. The sleds are HEAVY and our little kids could not pull them up alone.
We brought gloves (we bought them the day before at the train market) and lasted much longer with them. Even better would be to bring pants (snow pants even!) and your own jacket. They do give you rain boots and cheap, thin jackets which don't last long.
They play Christmas music and have Christmas trees!
The little kids lasted about 25 minutes, but Lucy lasted about 50 and was in heaven! I haven't seen her that happy since Disneyland!

The food was good quality local food and very affordable. Our party of 8 spent about $45 for lunch. Also great smoothies!
While they have all the same safety regulations, it's Thailand, so they let you have a bit more fun :). Harrison could go on a few rides he was maybe an inch too short for.
There are some great roller coasters and a fun water splash ride
It's geared towards younger kids for sure, but all my kids loved it equally. I would highly recommend it to anyone traveling in Bangkok with kids!
They do have a water park, which we didn't even get to. It would have been nice in the 98 degree weather!
6. Floating Markets.  We went for the most touristy, the longer and original: Damnoden Saduk.  Knowing it is touristy going in is important.  A lot of the floating markets have transformed into markets near the river (you aren't floating down in a boat, but walking instead).  I really wanted to float down the river and loved everything about it.  Be sure to check out our tip video, but quick tips include:
Get there as early as possible
Many of the standard touristy items can be purchased for less in the market at the entrance versus on the boats. However, some items can only be found in the boats, so judge accordingly (if you see the item over and over, you'll be able to find it in the standing market)
Bring cash and negotiate!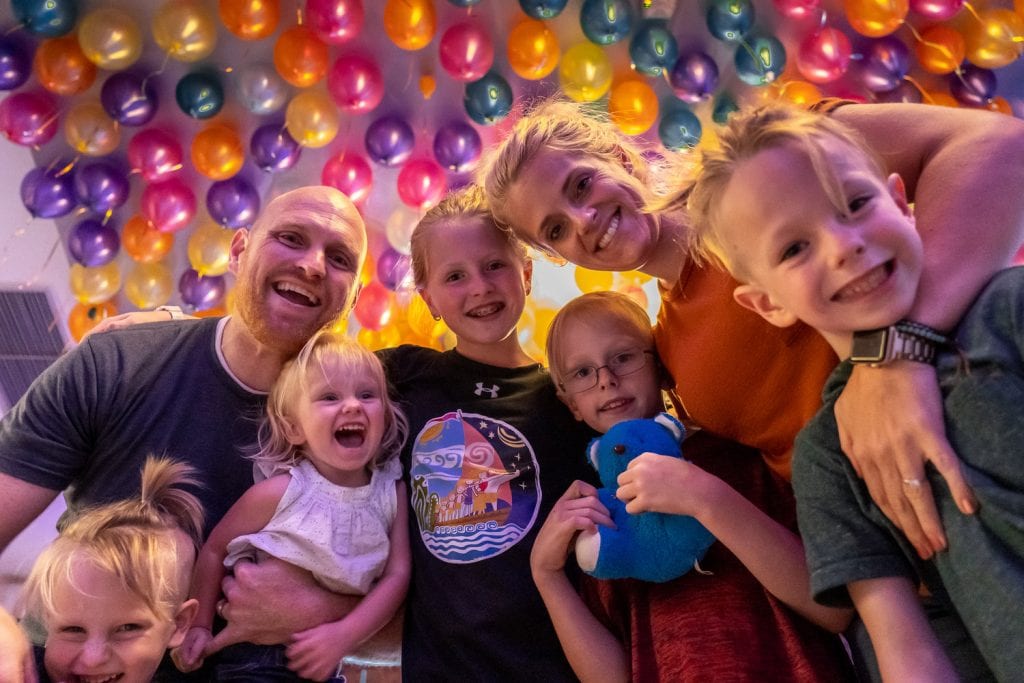 7. Kidzania. This a worldwide chain and an incredible place for kids. Basically, they get to be adults for the day. They earn money, spend money, work jobs and learn a ton. It's like a children's museum on steroids. One of the best parts is you get to sit back and enjoy! They will be busy all day. Check out our tip video for more, but quick tips:
It's best for children over 3. They do have a baby area, but children under 3 can't really do any of the experiences and are just bored with you.
Parents do NOT go in with the kids into the different experiences. You may like this or hate this (I felt a little of both).
Get there as early as you can to enjoy the whole day. The kids won't want to leave, so might as well get your money's worth!
8. Sea Life Park. We didn't actually make it to this ourselves, but our friends HIGHLY recommended it if you find yourself in Bangkok with kids. They said it was the coolest aquarium they've been to.
9. Chatuchak Weekend Market. This is the most amazing market I've ever been to. It's a lot of shopping, but you can also find great food, ice cream, foot massages and lots of other quirky things. You can literally buy ANYTHING here. Clothes, fine art, pets and pet supplies, household goods, stationary, doll house supplies, crafts…. Seriously, more than you can even imagine. You won't cover it all in one day!
10. Mall hopping. You may think, "Why would I fly around the world to see a mall?" I promise if you haven't been to malls in Asia, it is worth a look! Check our our tips videos, but here is a quick rundown:
MBK: Bargains and kind of like an indoor night market
Mega Place: Your kid's dreams come true. Knock off toys and electronics at incredible prices!
Siam Paragon: Were Kidzania and Sea Life Park are located. An incredible food market on the first floor!
Icon Siam: Hello designer goods.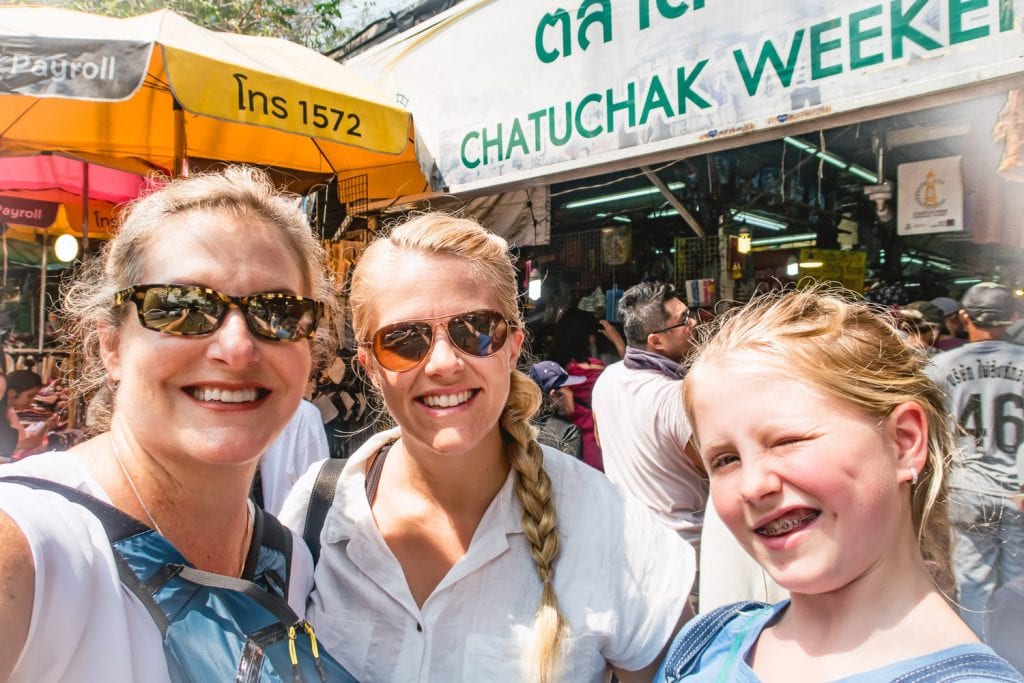 11. Night markets and day markets. We have a couple videos and a blog post on this topic, so be sure to check them out. Markets in Asia are my favorite! Night markets can be so much fun, even if you don't buy a thing! Some check out the oddities, the food, the people.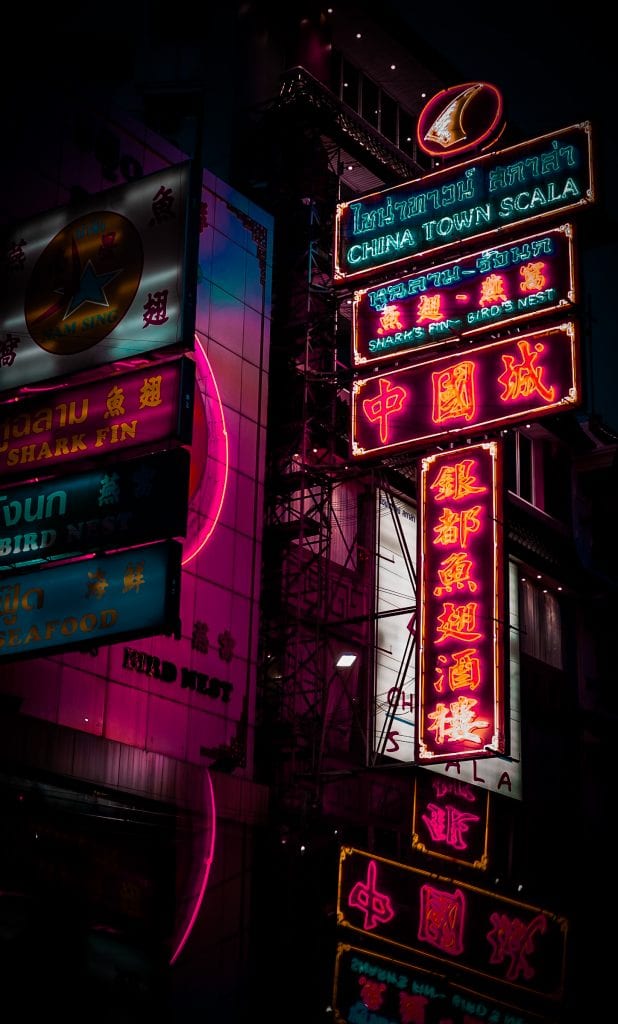 12. Chinatown. This is kind of a night market, but unique to itself. Head down for dinner and enjoy a feast for the senses.
13. Lamphini Park. There are lizards in this park that you can spot. We didn't have any luck, but some of our friends we met in Bangkok did! This park has a lot to offer as well with a lake, walking/running paths and more.
Honestly, just a walk around the streets will provide you with some amazing things to do. Pop up food markets, foot massages, fantastic restaurants and more await everywhere in Bangkok. Have fun in Bangkok with your kids and let me know what you enjoyed the most!
All the best,
Leslie