Reading Time:
8
minutes
We were kindly gifted our stay at the Gaylord of the Rockies. However, opinions expressed here are our own.
A Christmas cheer settles over my family the last couple of days after our visit to the Gaylord of the Rockies in Denver, Colorado. What fun memories we made! In case you too are seeking some extra holiday cheer this year, let me share our experience there.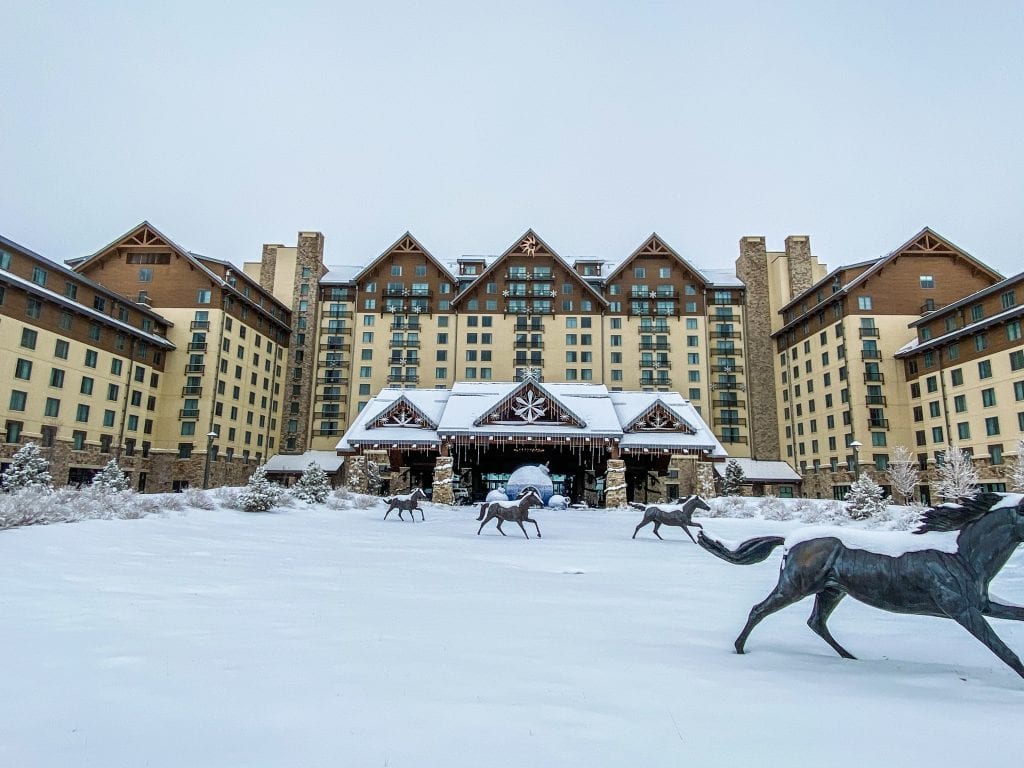 Christmas at the Gaylord runs from November 20 – January 3, 2021. In a world that is very different this year, the Gaylord brings tons of holiday cheer in a safe, festive way.
The Hotel Itself
Don't worry about getting in your daily step count when you stay. Walking the hotel and convention center itself is magnificent! This massive resort is a destination in itself.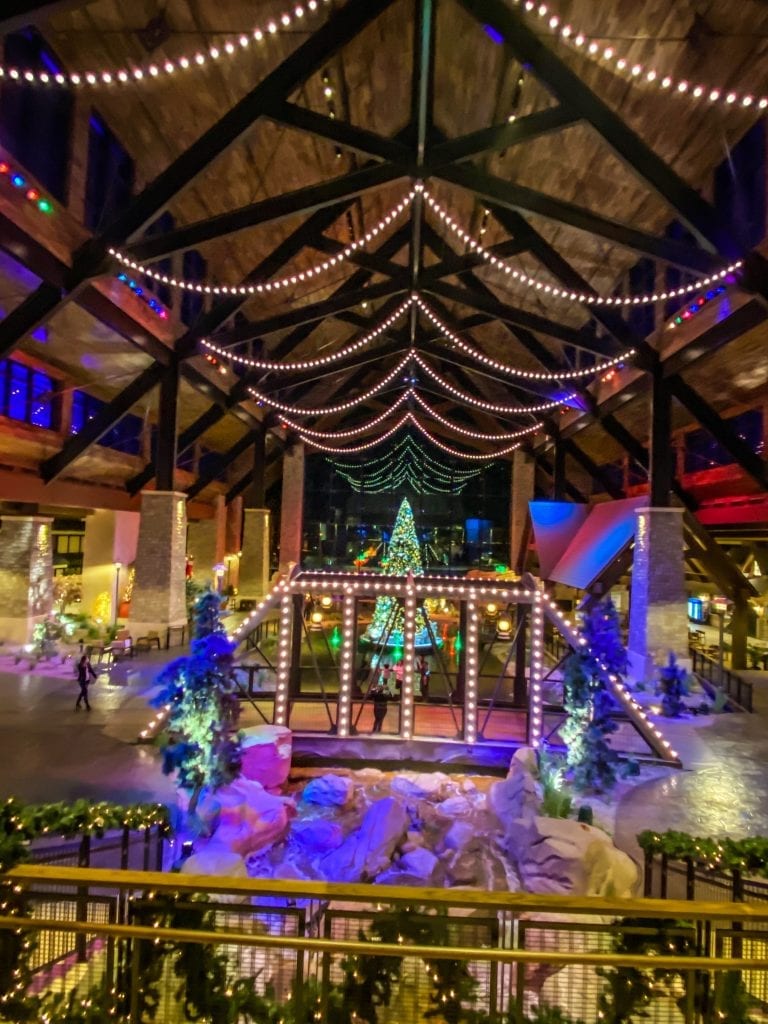 With many different dining options, a spa, a fitness center, and acres of outdoor space and activities, you won't get bored during your stay!
The fitness center is more like a small recreation center with many treadmills, ellipticals, weights, and more. Current hours are 6 am – 8 pm.
Arapahoe Springs
This doesn't even touch on the amazing pool area, Arapahoe Springs. We could have gone to play at the pool the entire time we were there.
With a massive indoor and outdoor pool area, including a grill, there is plenty to wear out the kids. In the summer months, the lazy river adds even more fun. However, our five kids begged to go to the pool and were always sad to leave it.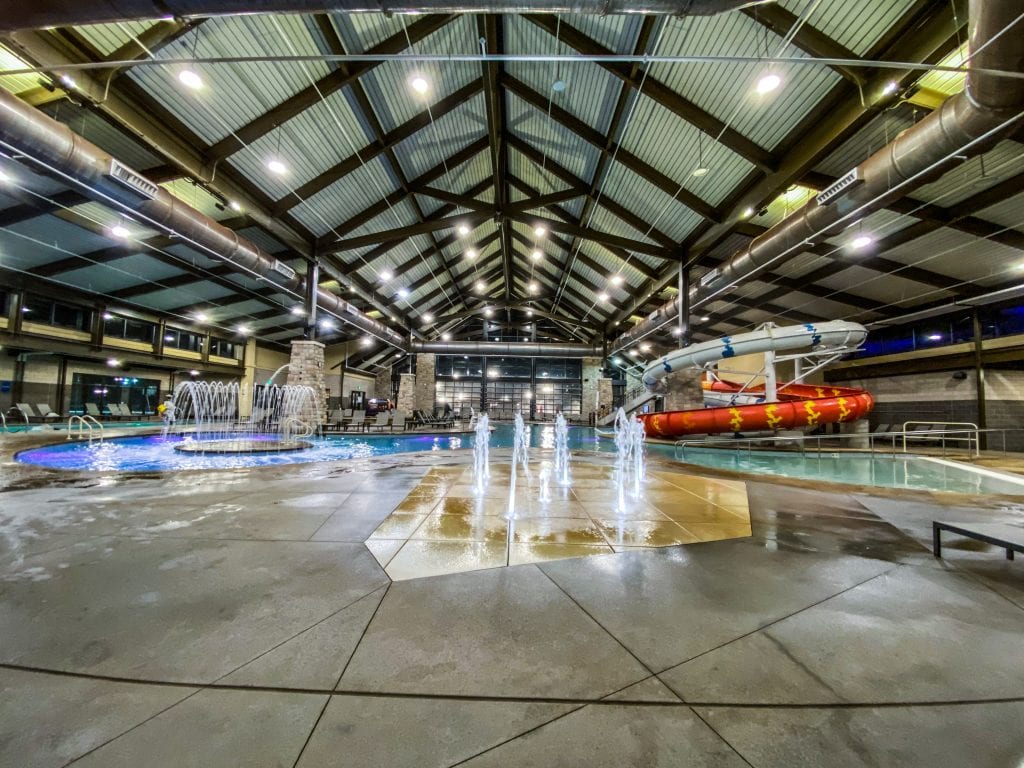 Life jackets are readily available as well as pool towels. It's a wonderful experience!
The Rooms
We stayed in a Jr Suite to fit our family of seven. Honestly, it was a bit over what's normally allowed, but still very comfortable. We got two extra beds delivered and, within the spacious living room, the kids were very comfortable.
A large dining table and a small fridge allowed us to bring some cereal to enjoy when we didn't want to sit at the restaurant. However, all of the dining options we had were delicious!
We loved the view of the Colorado Rockies, especially when it snowed our first night and made everything more festive.
Christmas at the Gaylord
Any of my followers know, I'm a huge fan of activities. Combine that with Christmas and I'm up for anything! In fact, in a normal year, our December is so packed with Christmas activities everyone begs me to scale back.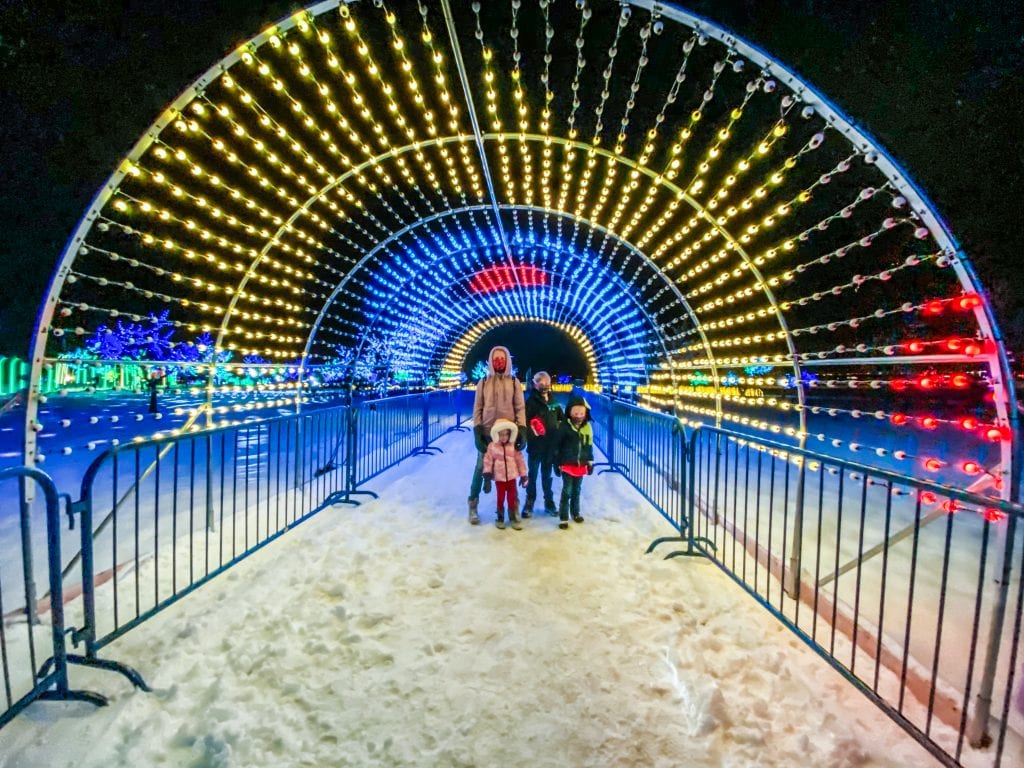 With COVID restrictions, I've been so bummed out by the lack of many of our traditional activities. However, I know the Gaylord will be going on our list for the future!
Christmas at the Gaylord brings hours of fun maxed out on Christmas feel and cheer. Let's explore some of the options.
Outside Activities
Ice Skating
Albeit a bit small, the ice skating rink brought us lots of fun. Boot rentals are included and sanitized after each user. The ice skating activity is available all day, so you can come back after some hot cocoa and get at it again.
None of us are expert skaters and appreciated the training "seals" to hang on to. Many were available and the toddlers sat while mom and dad pushed them around. In the typical, gorgeous Colorado sun, this was a magical experience.
Snow Tubing
Any older kids will be hard-pressed to pick any other activity as their favorite after trying snow tubing. Grab a sanitized tube, head up some steep stairs, and then be pushed off by the attendants at the top.
No awkward moments trying to get in or get going in your tube. Stairs are available and you are pushed off, once the path is clear, to zoom down the slope.
Everyone will get their energy out doing this over and over. I'd recommend coats and gloves as the temps drop dramatically at night. Also, a minimum height requirement of 40 inches kept our 3-year-old on the sidelines for this one.
Snow Merry-Go-Round
Geared a bit more to the littles, this darling take on a merry-go-round is sure to delight. Jump in one of four tubes and be pulled around the snow in a circle in your tube. Grace, age 3, loved this one and could have done it all day!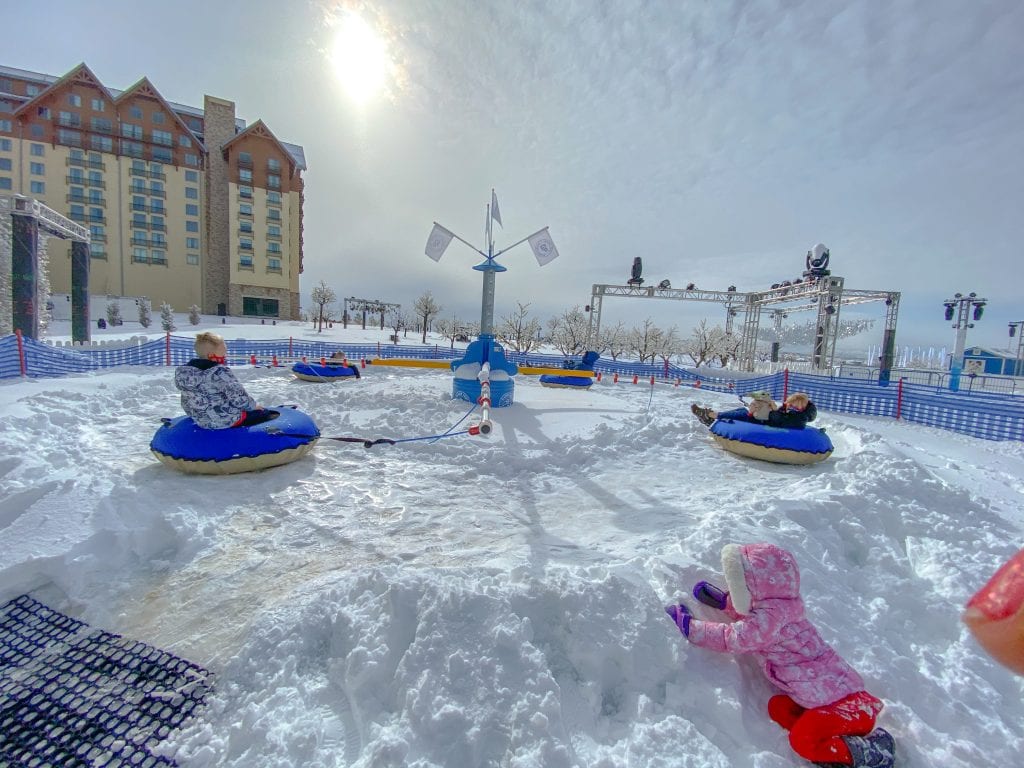 I think in years past, this was a traditional Carosel. However, this was just as fun for the kids!
Ice Bumper Cars
Set on an ice rink, pictures giant donuts you can sit in and steer. Two controllers take you forward and backward or left and right. It's quite easy to spin in a circle!
Limited to six cars, I did this with the five kids (our 3-year-old was tall enough even if she didn't know quite how to steer). I haven't laughed as hard as I did on this activity in a while. It was SO FUN.
Charlie Brown Scavenger Hunt
Grab a kit and search for clues! Each kits completed gets a small prize. We actually ran out of time for this and I was really bummed as it looks very fun.
"Light"
Similar to a lighted holiday walk through the botanical gardens, the "Light" section of the outside activities is free to walk through at your convenience. Millions of lights will dazzle you. It was quite cold on the night we did it, so bundle up appropriately. I especially loved the gorgeous lantern section.
Inside Activities
Charlie Brown Brunch
Fill all your breakfast fantasies with this amazing brunch. Your kids will love the Charlie Brown characters, socially distanced behind small fences. You are welcome to get pictures with them and interact from afar.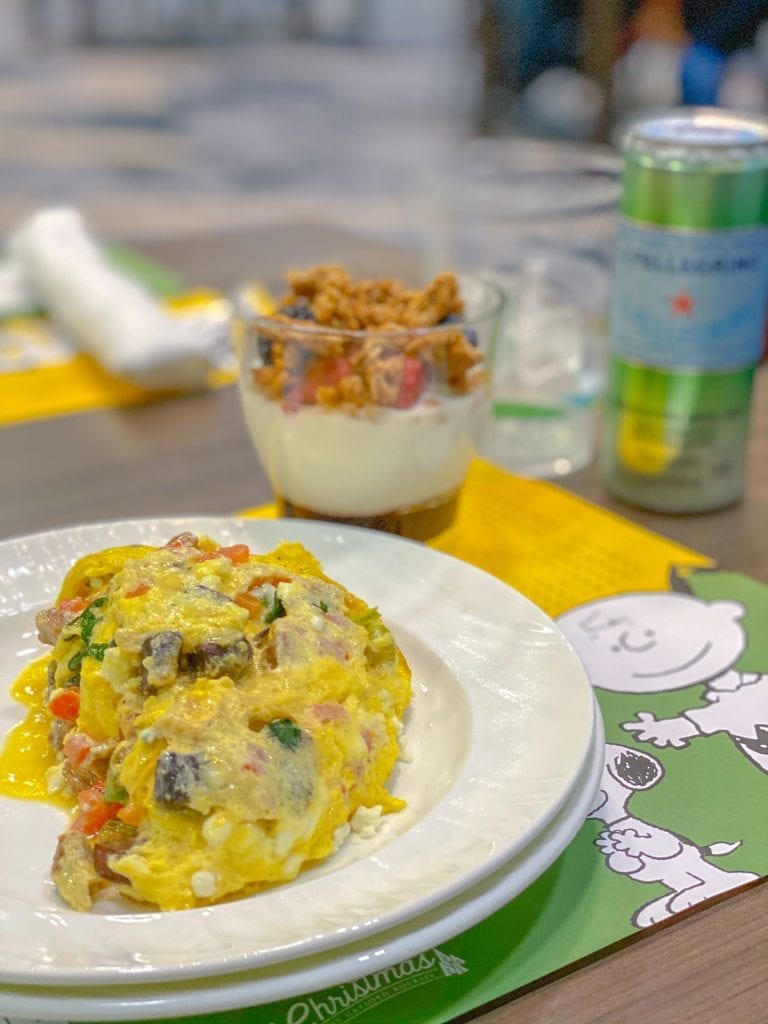 We loved the omelet bar, unlimited bacon and sausage options, and the delicious treats! The food is delicious and the staff was so friendly and helpful.
Due to Covid restrictions, we had a kid-table and an adult table next to each other (since not more than 6 can sit at one table), but we were able to get a corner of the room next to Charlie Brown.
Kid's menus kept the kids busy while we ate and filling up for the many activities ahead was fabulous!
Letters to Santa
You can write to to big man a few different places, but this dedicated spot allows you to write to Santa and drop it in the special mailbox to get straight to the North Pole!
Mistletoe Village
Located in the convention center, this little Christmas city holds a ton of fun.
Gingerbread Decorating
Visit Nutmeg's Nook to grab a gingerbread decorating kit, some plates, wipes, and napkins. Hit a table (socially-distanced) and enjoy decorating!
You can pick from house kits or cookie kits. Nutmeg, a dancing gingerbread man, will entertain the littles if they get bored with the decorating. Requires a timed entry.
Visiting Santa
While being socially distanced from Santa this year may bum us all out, this magical little shop with Santa still brings lots of fun to your holiday visit. Feel free to write a letter to him here also and drop in the special mailbox!
Mrs. Claus' Traditions
Sing along with Mrs. Claus and her elf, Snowflake, during this short presentation. Mrs. Claus reads the Night Before Christmas and you play some riddle games as a group. Requires a timed entry.
Our favorite part was the fun milk and cookie given out at the end!
Shopping
A Christmas shop in Mistletoe Village offers fun ornaments, decorations, and more. Many are themed to the movies in the I Love Christmas Movies activity, so we picked up some Polar Express ornaments as well as some generic ornaments I couldn't resist.
Build-A-Bear
Warning for parents: this may be too tempting to pass up! We aren't big fans of stuffed animals, but being able to customize your stuffed animal and pick its outfits is really fun.
Our kids spent some of their own money on these special souvenirs. The Gaylord has branded items for the stuffed animals, which is really fun!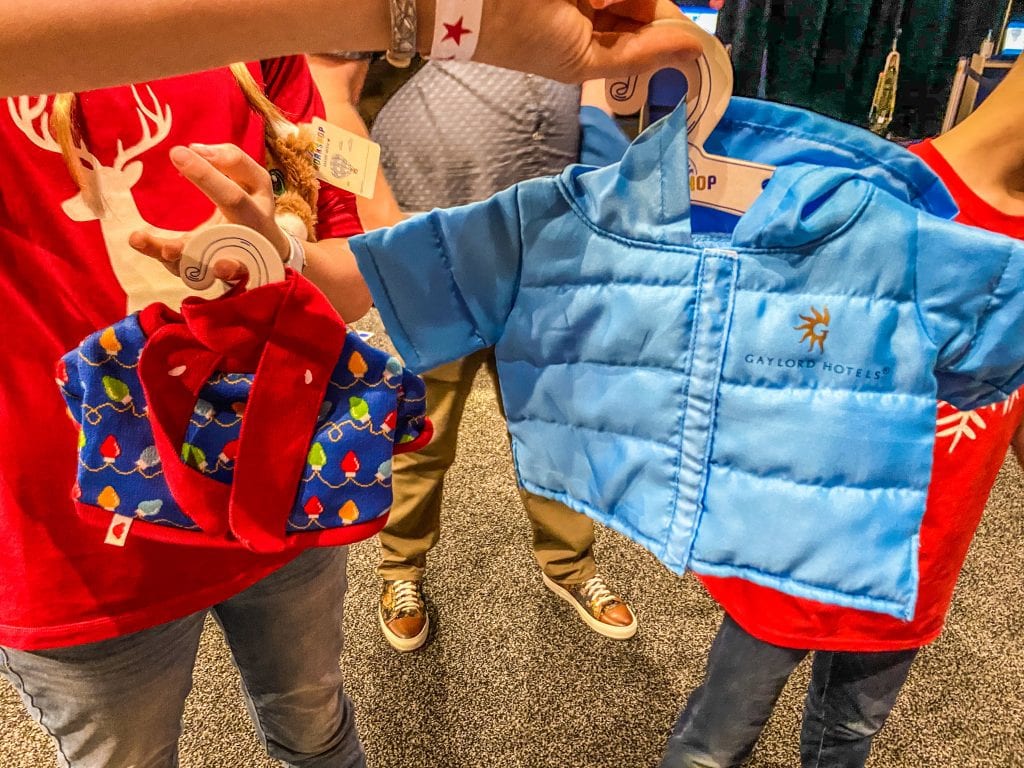 I Love Christmas Movies
The pinnacle of the Mistletoe Village, this pop-up, immersive experience is really amazing. Imagine being on the set of some of your favorite Christmas movies and you'll have a good idea of this activity.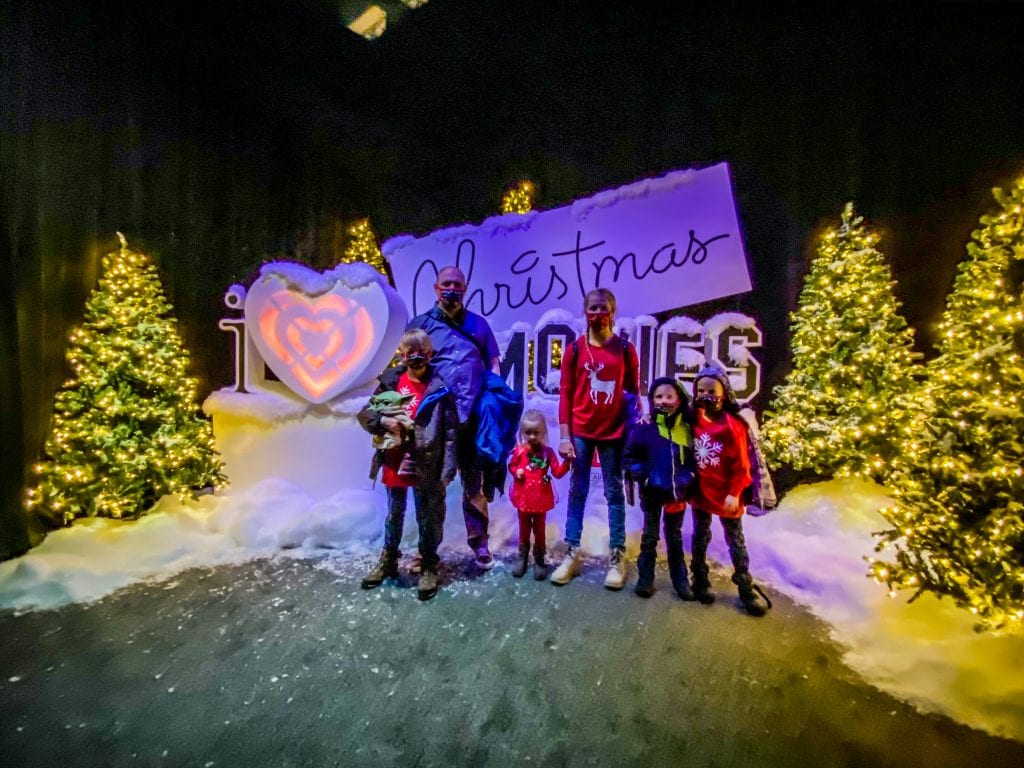 Christmas movies included are:
Elf
The Polar Express
The Christmas Story
The Year Without Santa Claus
National Lampoon's Christmas Vacation
Walking through the sets of your favorite Christmas movies is magical! In some cases, there is also sound, music, smell or other interactive experiences inside the set. For example, at one point it "snows" from the ceiling.
You are able to buy your family photo with backgrounds from two of any of the movies. You can also get small keepsakes with your photos inside.
Our Favorites
Amid all the experiences, our favorites included the snow tubing, the lights outside and the pool! However, everything was super fun. I loved that we didn't have to drive anywhere to get to our activities and could rest in our room when we needed.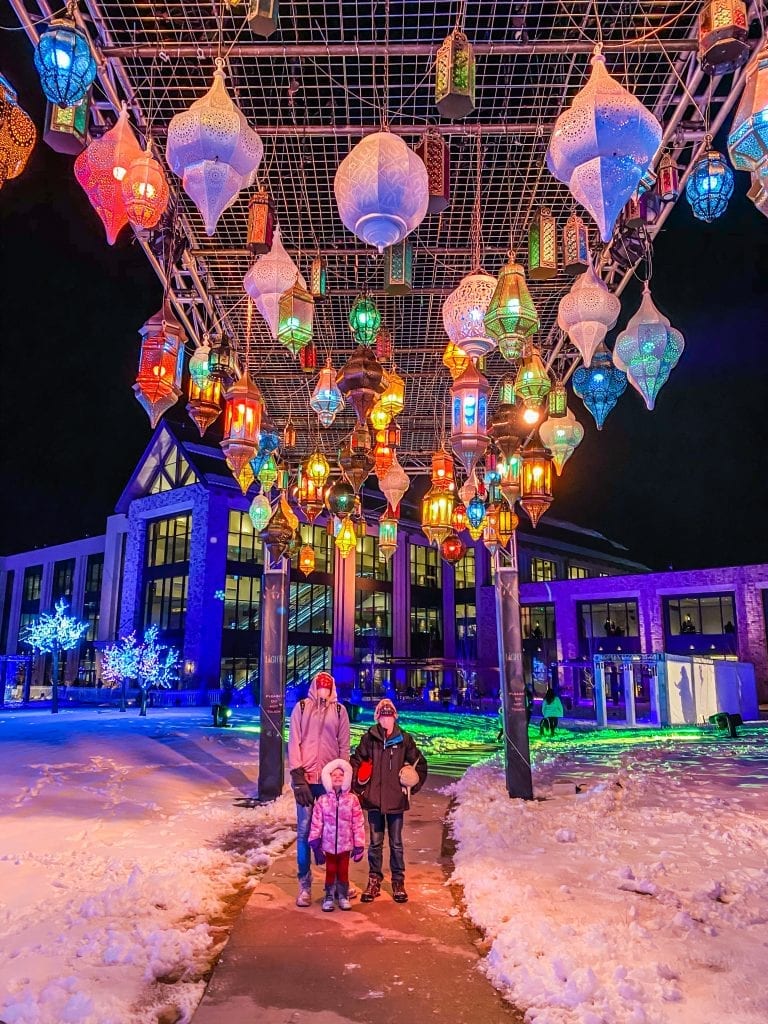 Dining
There are plenty of dining options at the Gaylord Rockies. Italian, steakhouse, Mexican, a bar and grill, and more. Instead of room service, you are able to do mobile ordering and take it to your room.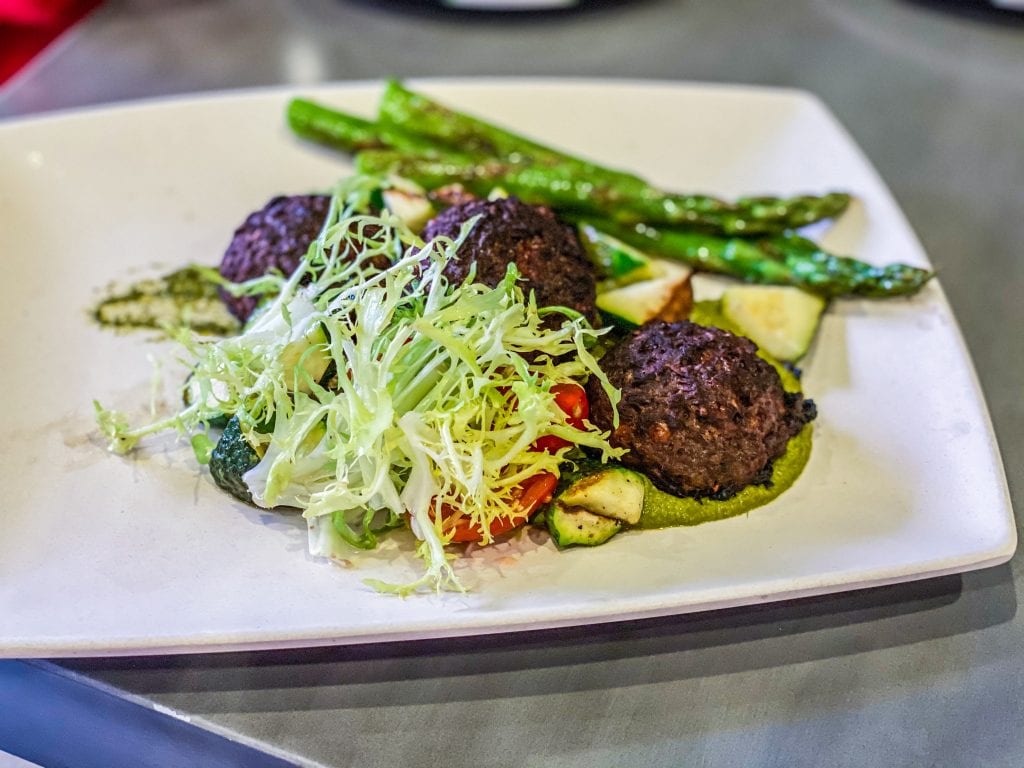 There are also little stores with small grocery sections, treats, drinks and more.
COVID-19 Changes
The largest change in our stay was that during our two nights, room service does not enter your room. However, this is in line with current hotel regulations for all the hotels we've stayed in.
Masks are required in all areas of the hotel, including walking around the pool deck.
Social distancing is also fully implemented throughout the hotel and all experiences. Cleaning measures are consistent and in place.
We Can't Wait to Go Back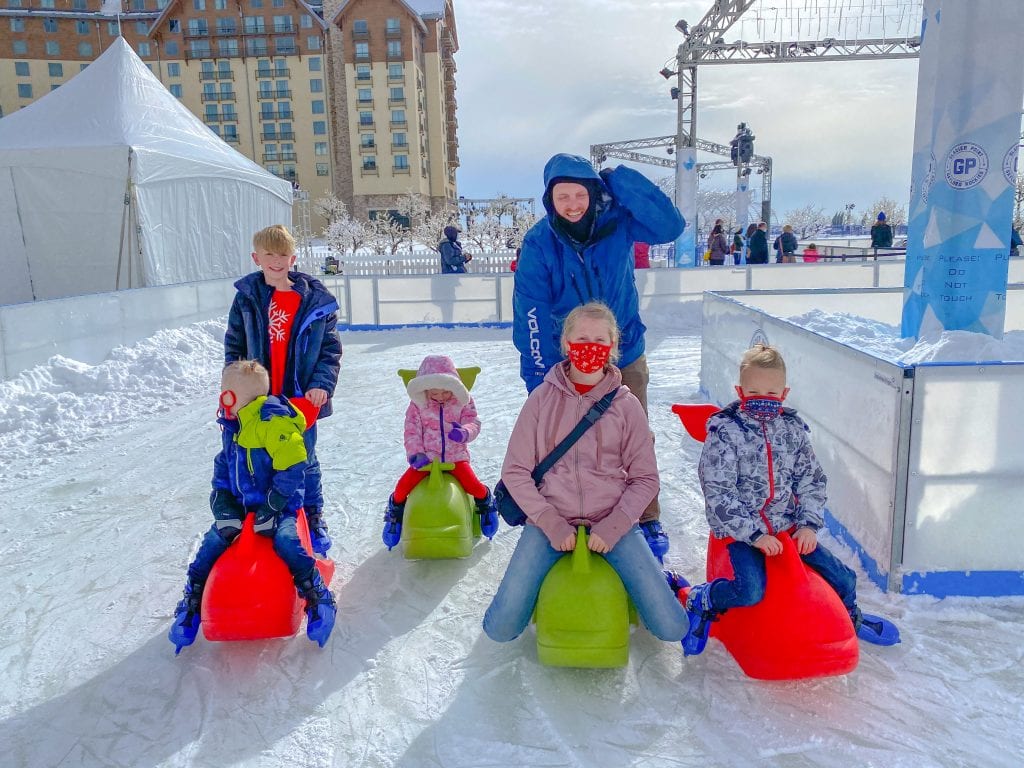 Overall, we had the best time visiting the Gaylord of the Rockies! The beautiful resort had so much more to offer than we expected. The Christmas experience was a step above! I loved that we were able to kick-off our Christmas season with such a magical experience.
Xoxo,
Leslie