Reading Time:
10
minutes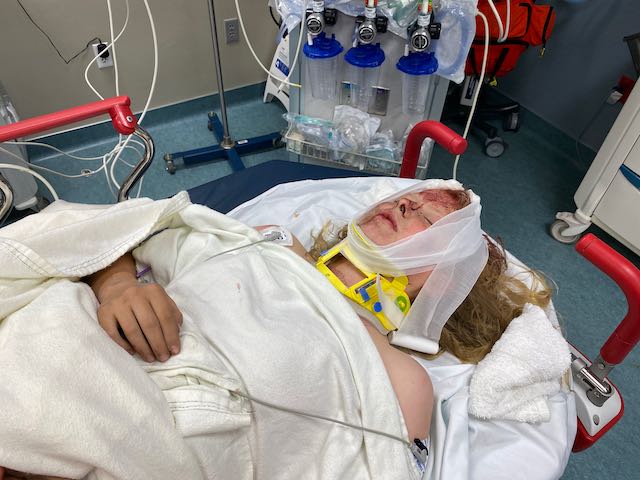 Hey, friends. This is not a typical travel post. In fact, it's just a personal post.
Why am I sharing? Because so many of you have reached out to let me know that you've had a similar experience. Or are dealing with a trauma of your own. Or have brain trauma and it helps to see Lucy's journey.
I also want to testify of the dozen of miracles we were given in this experience. Not everyone gets these miracles and truly, only God knows why we were so blessed in this situation. It is His plan and I am just here to praise and testify of Him.
What follows is the real, raw account of our experience. Note that I have asked Lucy for permission to share and she agreed. She asked me not to share the most gruesome photos of her head wound, so I will not.
Day One
The Hospital
I'm sitting next to Lucy in Primary's Children's Hospital while she talks to her cousin on the phone. What an amazing 24 hours it has been. I have never seen or felt the hand of the Lord so much in my life as I have in these last 24 hours.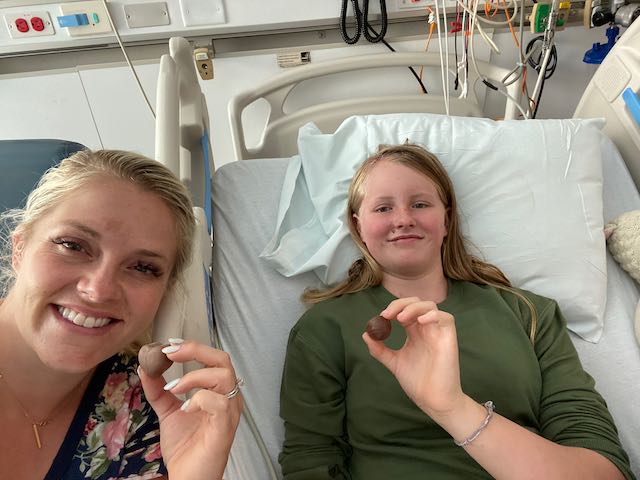 The Hike
Yesterday afternoon I wanted to hike as a family. Chris chose Stewart Falls and we invited my in-laws to come with us. Thank the heavens they did.
The hike was so beautiful. The fall colors were so pretty and I loved being outside. The big kids ran ahead and the four adults and Harry and Grace lagged behind.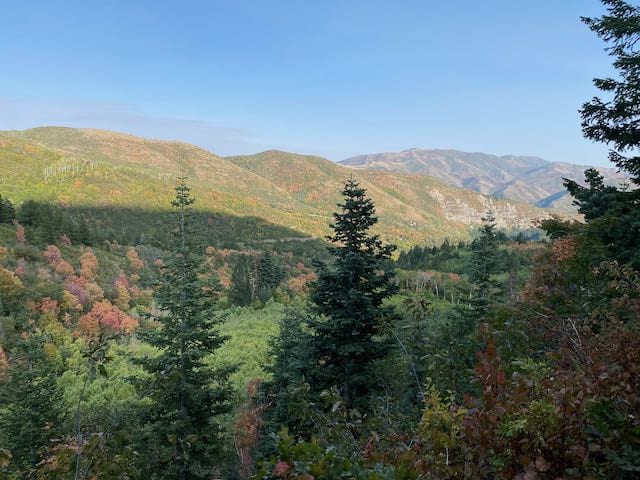 When we arrived at the outlook over the falls, I was shocked to see Lucy and Grant already climbing up to the lower falls. They were already at the top of the waterfall and I knew if I called to them, they might slip. I could do nothing but bite my tongue and hope they were safe.
I was so nervous, but so glad Lincoln was playing at the bottom with another boy. At least he hadn't tried to follow them up.
I made it down with Grace (Harrison also made it to the bottom before me). Honestly, my stomach was in knots. My kids do this that make me nervous all the time, but I was particularly uncomfortable this evening.
We had some marshmallows and beef jerky. Lucy and Grant popped over a cliff at one point to say hello and my stomach was just in knots. I was SO nervous they were up there and just not feeling good about it at all.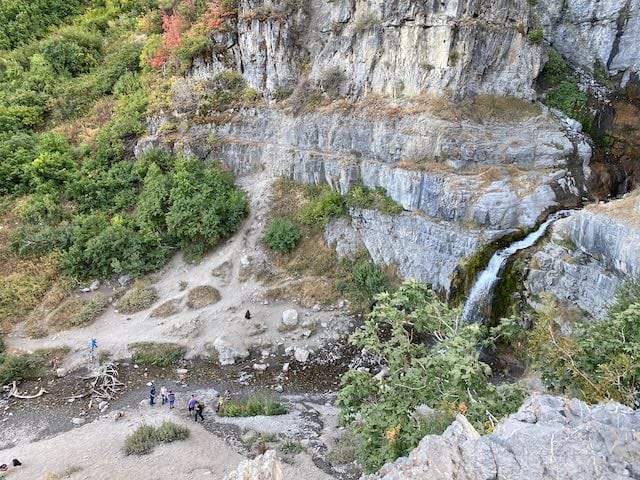 Soon after, Grandma and Grandpa arrived and we all sat to rest and wait for Lucy and Grant to come down. It was starting to cool off and the hike had taken us over 2 hours, so we all knew it was time to head back.
Lucy and Grant finally showed up at the top of the waterfall, just to the right of the lower falls. We all were nervous and waved them to come back. They couldn't hear us, of course, with the rushing water.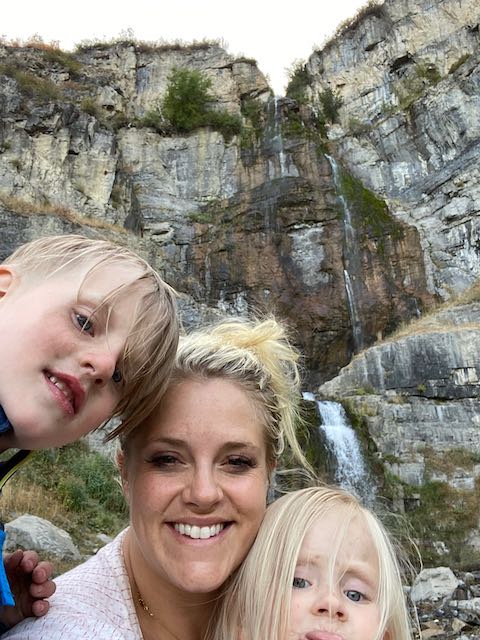 The Fall
When I saw Lucy and Grant start to descend, my stomach just dropped. I looked down, said a quick prayer in my mind of "Heavenly Father, please help her."
Two seconds later, my mother-in-law screamed, "She FELL!". I'll remember that scream for a long time and the sound of it haunts me still. At the same time, Lincoln started to scream as well. Both witnessed the fall.
Greg, Chris, and I started to run. The men made it to her first and tell me she was face down, trying to push up on her hands. They feared what they would find.
Honestly, I expected to find her dead. How could she survive that? I was bracing myself for the worst.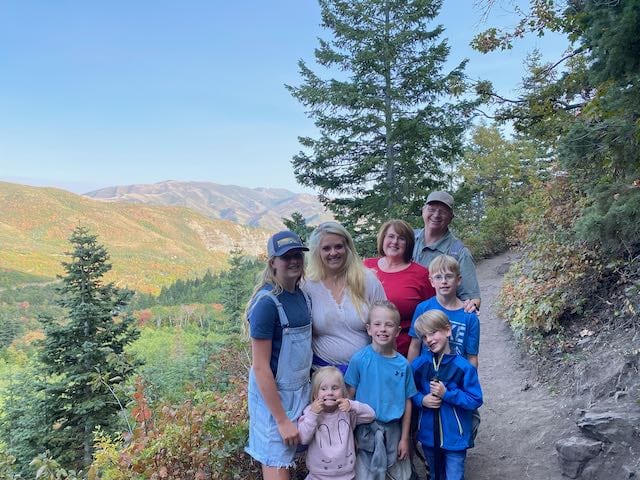 When I was able to see her, blood was everywhere and her face was so pale. Her eyes stood out like dark spots, even though they are a light, pale green.
I was immensely grateful to see she was alive. That relief alone took my breath away. I remember seeing her phone on the rocks near her, unbroken but with several drops of her blood on it. I picked it up and wiped it on my pants and put it in my pocket for later.
She had a HUGE gash in her head, which I didn't see until the ER. It ran 7-8 inches horizontally across the top, front of her scalp, just behind the hairline. It went deep to her skull and bone was visible inside. IT was pouring blood. The men saw it and immediately put pressure on her head, supported her neck and shoulders.
Calling 911
Chris told me to get on with 911 right away. I was in a bit of shock and just staring at my sweet girl. Chris' screaming (which we had to do as the waterfall was SO loud) spurred me to action and I dialed 911. I wasn't able to get service right away, but after walking just a few steps, it connected.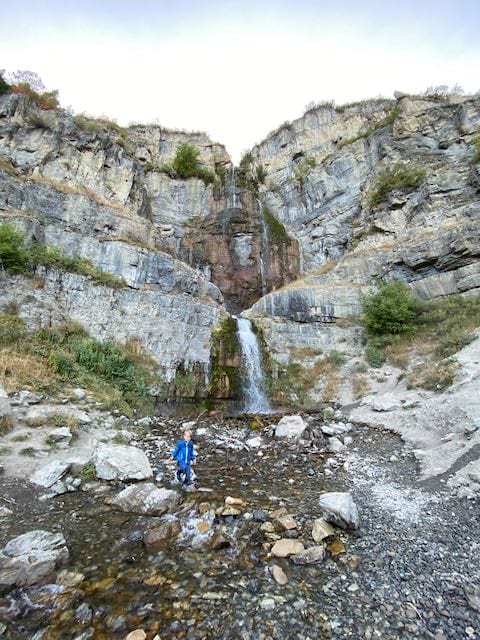 I was told a few days later by my sister-in-law, Patti (from her parents who do search and rescue) that it is usually very difficult, if not impossible, to get service in that spot. In fact, I've never had service there or in all of the Sundance, UT area. I couldn't get service as we left in the ambulance for our car either. Welcome to amazing miracle #1.
On the phone with 911, I first I explained what happened and was told I had connected with SLC county and I needed UT county, so they transferred me. The call dropped and I had to call again.
I was worried I wouldn't get through, but I did connect with Utah county and explained what happened. Lucy was alternating between screaming and then going quiet with her eyes closed for a few seconds. It was pretty horrific. The men were doing their best to wake her right up and keep her awake.
Due to the proximity of the waterfall, everyone was cold and soaked. We quickly covered Lucy with all of our light jackets, but the shock was taking over and we all knew it.
The Other Kids
The other kids were panicked, of course. Lincoln tried to run to Lucy with us and I screamed at him not to come (out of fear of what we might find).
Grant was still on the ledge when we first got to Lucy and white as a sheet. He was SO scared. We screamed at him NOT to come the same way and pointed at another path down that is much safer.
He did manage to make it down another route by himself, but all of our attention was on Lucy and my heart breaks for him every time I think about it. He witnessed her fall too and was left alone to get himself down safely. Bless the angels that I know assisted him down that day. Miracle #2.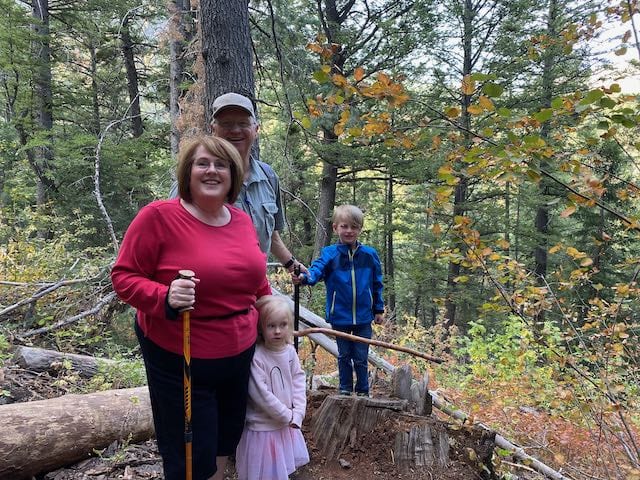 Harrison came over to see Lucy several times and even Grace came close, but I shooed them away each time and tried to keep them clustered around a rock ledge, out of view of the worst of it.
Waiting With Lucy
While I talked with 911, the men gave Lucy a healing priesthood blessing immediately and said she would be healed. Miracle #3.
We believe that God's power can be used to heal the sick and I testify that blessing worked its miracles. The fact that her skull was intact at all after such a fall astounds all who treat Lucy to this day.
Lucy asked for a blessing four times and they ended up giving her two. My father-in-law gave both (Chris didn't feel he could with how shaken he was) and in the second he told me he said she would again be healed, that ministering angels would attend her and she would live a long life.
I wish I could have heard those blessings at the moment, but I was on the phone and couldn't get very close to them without risking losing the call.
I have a firm feeling that that immediate priesthood blessing stopped her brain IN THAT MOMENT from further damage. It was truly a miracle to have the grandparents with us and two worthy priesthood holders present.
How She Fell
Trying to piece it together from family members, it sounds like Lucy stepped down on the wet rocks and either slipped or the rock gave way.
She fell onto her bum and tried to catch herself with her hands (she has scrapes on her hands). She then either tried to turn around or started to roll and scraped up her neck and chest a bit.
My mother-in-law, who witnessed the fall (but not the impact) says she did a full rotation in the air. She then landed on her head, face down.
As I was on with 911, I was told the fire department was coming, but would hike up. My heart sank.. it took us two hours to get there.
Then I was told a life flight would come. It did come in about 30 min and we rejoiced! However, it could not land near us and landed a way down the mountain. Again, my heart sank.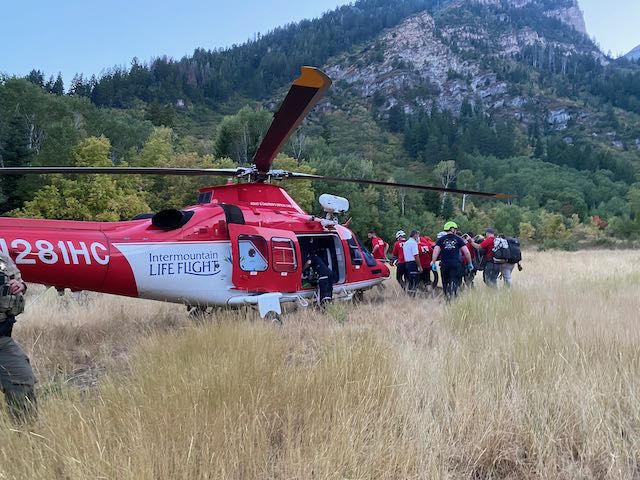 I spent the next 75 min running between the other kids and running back to Lucy to check if she was still conscious.
Poor Grant was sobbing uncontrollably. I have him hard, tight hugs a few times and he just cried and cried. I told him it was not his fault, that I was so glad he was safe, that everything would be OK. He never tried to come to see her, but Grace and Harrison both came over and watched at different points.
Lincoln was back and forth a bit, but had seen her fall. It seems, after talking to everyone, that he had the best view of the whole thing. He was, and still is, traumatized by it all.
Help Arrives
About 1 hour and 15 min after her fall, the first fireman showed up. They were sweaty and out of breath form hiking up so fast with massive backpacks. Two more fireman quickly followed.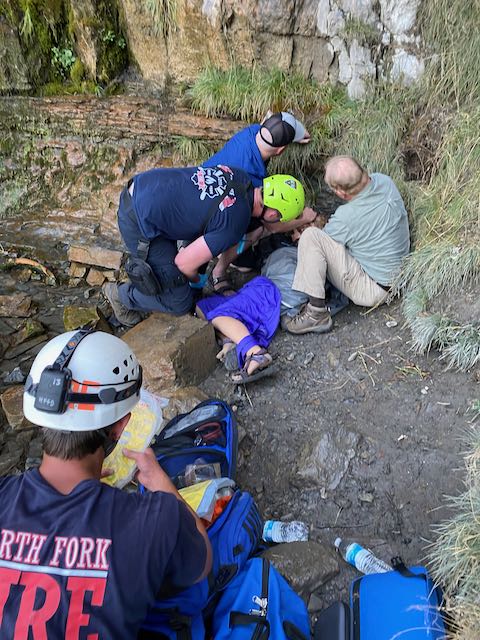 I've never been so relieved to see someone in my life.
They set to work on:
1. Getting a neck brace on
2. Checking her vitals
3. Getting a blanket on her as she was well into shock and feeling very cold. We'd covered her in our jackets, but she was right next to the waterfall and quite cold.
4. Bandaging her head wound
Once she appeared to be ok to move, they loaded her into the portable gurney to carry her down to the helicopter.
Before they left, the two life flight people showed up and were able to start treating her as well. They helped to carry her down.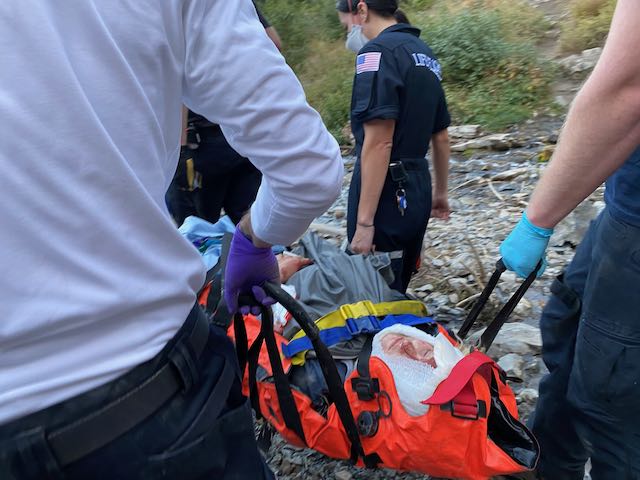 Hiking Down To Life Flight
Chris and I started the hike down with the emergency personnel. We left the other kids with my in-laws, Greg and Susan.
Greg and Susan were both incredibly emotional, but encouraged us both to go. They started back on the trail to the car. They told us later they ran into a young couple and felt very prompted to ask for help.
They explained the situation and the couple was SO helpful. The wife carried Grace and the husband distracted the boys with Harry Potter questions and trivia. Greg and Susan both told me they were living angels.
Chris and I followed the paramedics and eventually we ran into Search and Rescue. They had an amazing one-wheeled gurney for the trail which made life much better.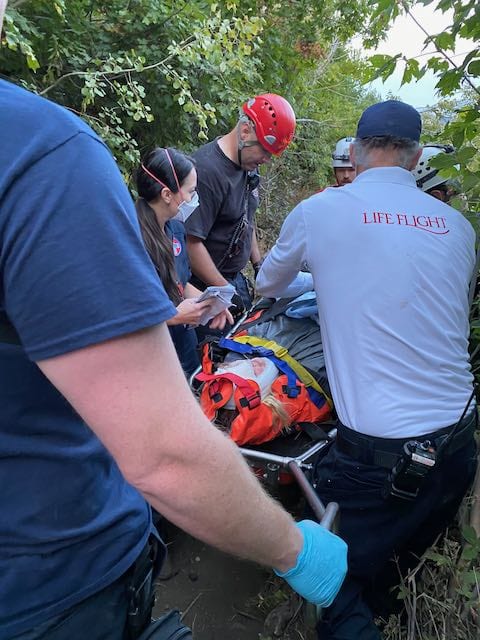 After another 45 min or so, we eventually made it to the helicopter. Lucy was responding to us as we walked and tried to keep her awake, but she was not very rational. She kept asking where Grace was, where Grant was, where we were going. I just kept telling her we were right behind her.
I was told, adamantly, that we would not be allowed to ride in the Life Flight with Lucy. We would need to meet her at the hospital. Honestly, I was in such shock, I just went with it.
Lucy was loaded onto the helicopter and by the time we all got down, there were probably 35 people helping us. The sheriff took a few notes. We said goodbye to Lucy as they loaded her into the helicopter and they left for Primary Children's Hospital. They told us to drive up and they would call me when they dropped her off.
We've been told again, once this was all over and she was OK, that this was the fastest they've ever gotten someone out of this area. It usually takes hours more. Miracle #4. The life flight was able to fly in the wind conditions, which it can't always. Miracle #5. There happened to be several teams close by. Miracle #6. The life flight team was able to hike up and help, which they usually don't. Miracle #7.
We've also found out there have been 5 fatalities just this year alone at this waterfall. The biggest miracle of all: she lived.
Stay tuned for Part 2 of our journey soon. Thank you so much for all the outpouring of love and support we've received through this experience. We know hundreds, maybe thousands, prayed for her. We know it made a huge difference.
Xoxo,
Leslie