Reading Time:
7
minutes
This post may contain affiliate links and I may earn a small commission when you click on the links at no additional cost to you. As an Amazon Affiliate I earn from qualifying purchases. You can read my full disclaimer here.
Hot Water Beach is a must-visit in the North Island of New Zealand. New Zealand beaches are plentiful and this would definitely rank as one of the best beaches in New Zealand. The magical memories our family carries of this place will bring us happy smiles for many years to come.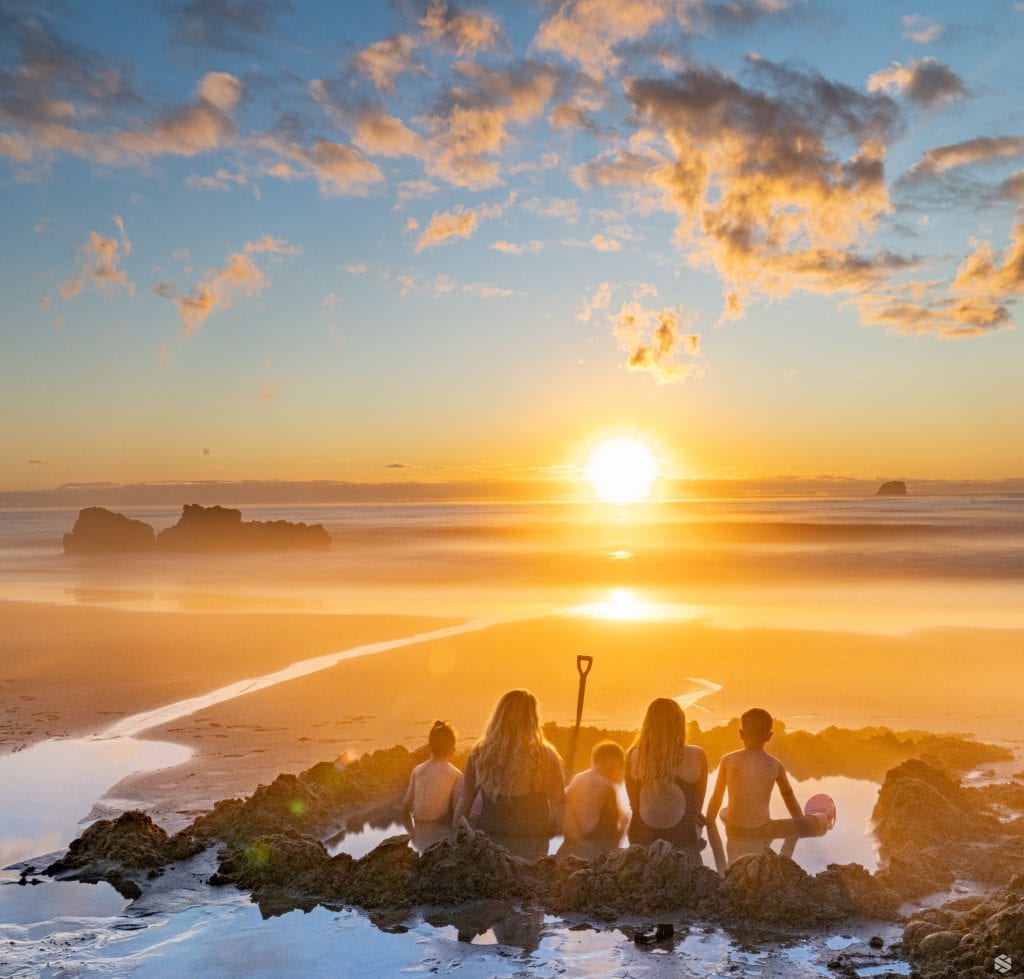 New Zealand's North Island has so many incredible things to see! The Coromandel Peninsula amazes with scenery to melt your heart.
In addition to the Hot Water Beach in Coromandel, consider visiting Cathedral Cove with Kids, Exploring Coromandel with Kids, doing some local bush walks (or tramps, as hiking is called in New Zealand), enjoying Hahei Beach or just start walking! We explored a few bays, enjoyed rope swings, pondered over tide pools, and brought home plenty of sand in our pockets.
New to our blog? We've been traveling the world with five kids for over two years. Our family of seven collects memories instead of things as we search for the life we want most.
What is Hot Water Beach?
Volcanic activity in New Zealand is a given. This results in plenty of hot springs in New Zealand as well.
There are many active volcanos around the country, including Mount Ngauruhoe (also know as Mount Doom in Lord of the Rings), which we hiked when we did the Tongariro Crossing with Kids.
Hot Water Beach doesn't differ much from the other best Auckland beaches except it how it is positioned over a crack in the thermal crust. The heat from this volcanic activity heats the ocean water in the beach itself.
In fact, while we were digging, I found the heat sources follow "crack" lines. Cold water sits right next to scalding water.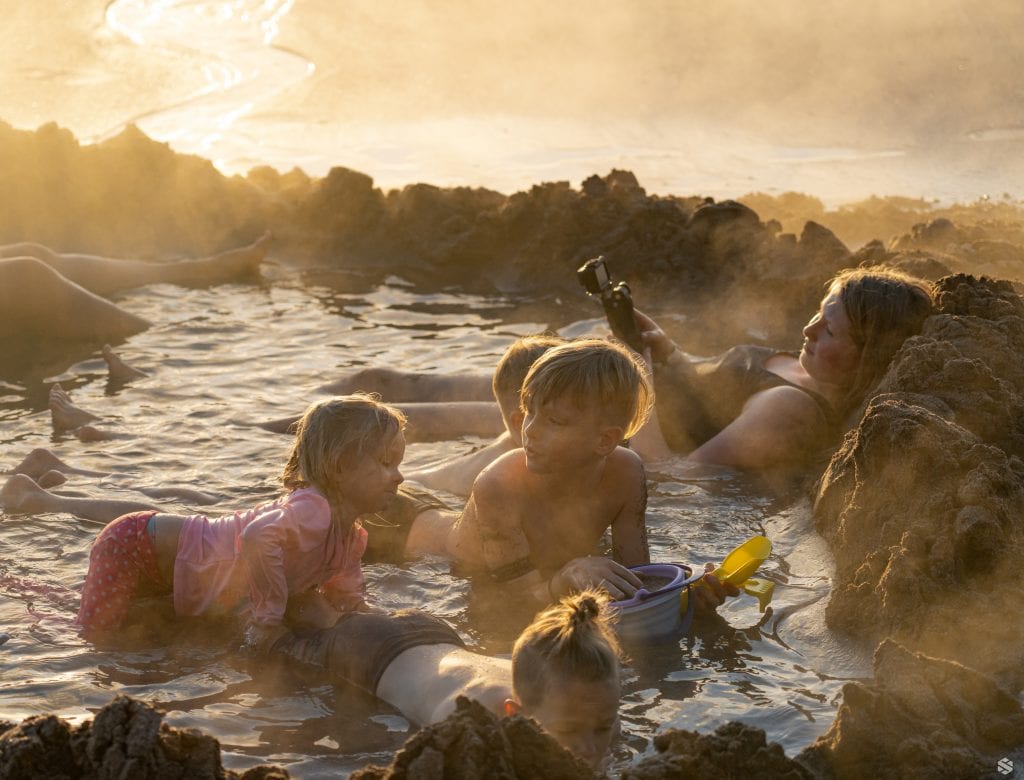 The water at Hot Water Beach reaches temperatures of 64 C (147 F). I burnt the soles of my feet by walking on too much hot water! More on that below under safety.
New Zealand beaches are some of the best we've found in the world. It is an island, after all. We often say New Zealand is like the offspring of Oregon and Hawaii.
How to Visit Hot Water Beach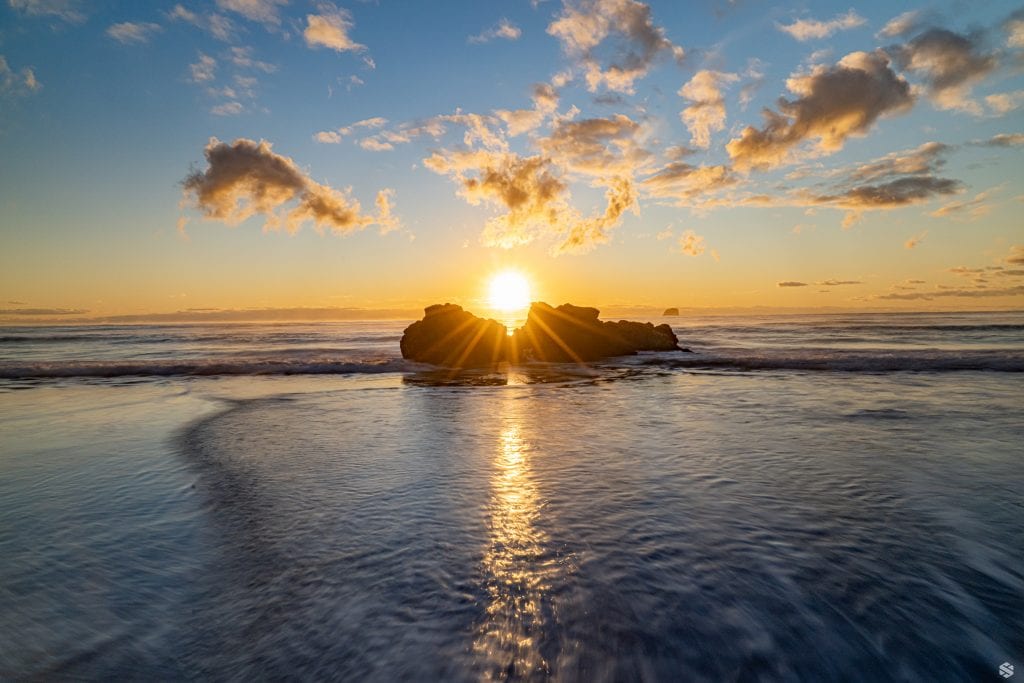 Time of Year to Visit Hot Water Beach
Hot Water Beach is open year-round. Most people visit in the summer, but we found the winter to be very pleasant.
Weather at Hot Water Beach
Weather can be erratic in New Zealand. Our first visit was in terrible weather: rainy, windy, and cold. The hot water made up for the miserable weather and kept us warm. We still had a great time!
Check the weather at Hot Water Beach before you go, but don't let a little rain hold you back.
We went back a second time for a gorgeous, clear sunrise. It was more enjoyable, weather-wise, of course. However, I'd still visit in the rain personally.
Some smart person brought big beach umbrellas to sit with under the rain and enjoy their oceanside hot pool.
Time of Day to Visit Hot Water Beach
Visits to the beach must be within the window of 2 hours before and 2 hours after low tide. Hot water beach tides can be found here.
Timing plays a major role in a successful visit to Hot Water Beach. You must find out the low tide times, which change daily.
Like clockwork, on our second visit, two hours after low tide our wonderful hot spring pool started to fill with ocean water as the tide rolled in. The entire beach is covered in high tide.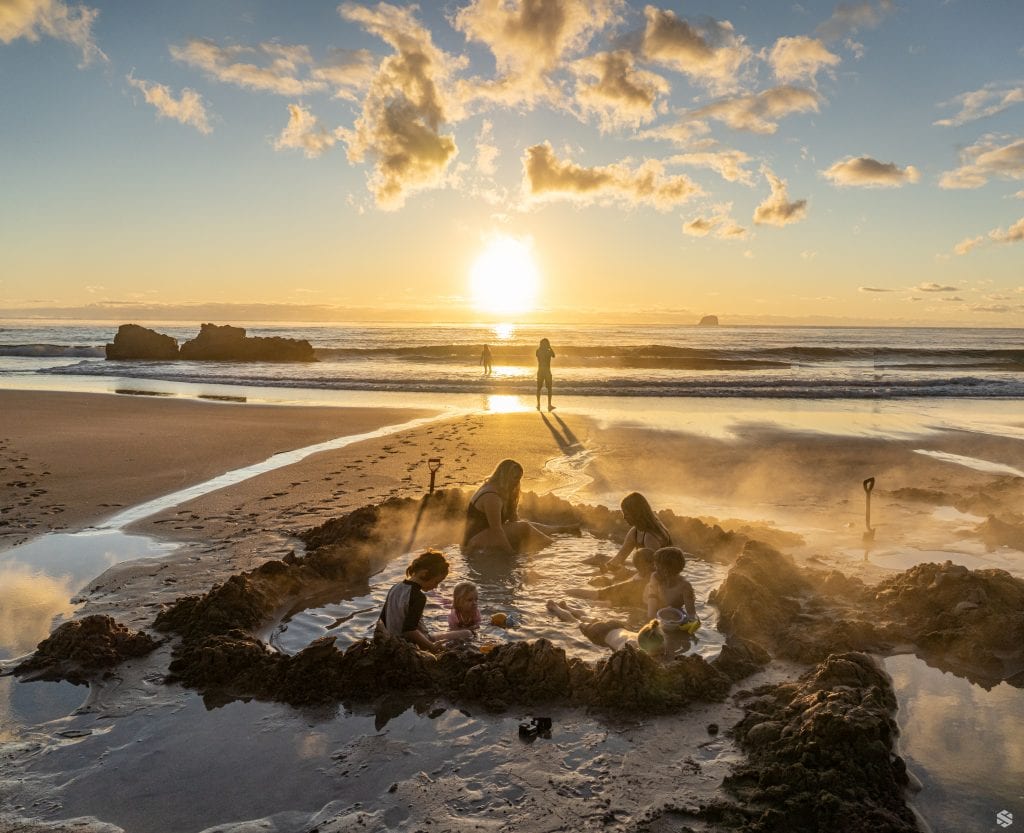 What to Bring to Hot Water Beach with Kids
Shovel, or spade. You can rent these on-site, but our resort provided these for free
Towels to dry off after
Waterproof bag for your phone, camera, wallet and other important items
Beach toys for the kids to play with in the water. These can be bought at the Warehouse in Whitianga. The drive of Whitianga to Hot Water Beach is about 30 minutes
Bucket to get cold water, if needed
Umbrella if there might be rain
Drinking water and a snack, if needed. I kept snacks in the car for after when the kids were hungry and grumpy!
Flashlight, or torch as they call it in NZ, if you will be there in the dark
Leave in the car:
Shoes and sandals. While it does get hot, it's easier to go barefoot
Beach chairs. You want to be soaking in the water
Loads of clothing. It will be wet and sandy. Go minimal.
Coming from Auckland to Hot Water Beach
Hot Water Beach can totally be a day-trip from Auckland. It is about a 2.5-hour drive. Throw on an audiobook for the kids and it's no problem!
A word of warning: the roads in the Coromandel, like many around NZ, are two-lane and winding. If you are prone to car-sickness, take some Dramamine!
Where to Stay Near Hot Water Beach
Accommodation at Hot Water Beach itself is a bit limited. You can stay right next to the beach itself at the Top 10 Holiday Resort and be able to walk to the beach. However, with kids, I still would prefer to drive and park rather than carrying all the gear even farther than the parking lot.
We stayed for a long weekend in Hahei at the Hahei Holiday Resort. We loved it! Our Beach Bach was three bedrooms and perfect for a large family. Hahei beach in New Zealand is gorgeous and a destination on its own. This accommodation near Hot Water Beach was perfect and only about a 10-minute drive time away. We brought our own groceries and cooked in our bach.
You can also visit Hot Water Beach from Whitianga, which is about 30 minutes away. This is a larger town with a larger grocery store, Warehouse, and more restaurant options.
Note: camping at Hot Water Beach is not allowed. You will need to stay nearby in the holiday park instead.
Where to Park While Visiting Hot Water Beach
There are two parking lots to chose from. A pay and display parking lot allows up to 12 hours. We opted for 4 hours and paid about $5.
There is also a larger, free parking lot that has trails the cut to the beach. This would be a better option, but seems farther away. Others have told me the walk is shorter, so that is better with kids in tow!
Visiting Hot Water Beach in Different Seasons
As stated above, New Zealand summer (October – March) is the most popular time to visit. However, you'll be fighting more tourists and dealing with hot weather. The combo of the hot water and hot weather will leave you dehydrated or even dizzy. Be careful if low tide times at the hot water beach coincide with the warmest time of day.
Winter is a perfect time to visit. It does rain a lot in winter, but for this activity, it's ok. The water will definitely keep you warm if you can get the right pool. Better yet, bring an umbrella!
How Long Can I Visit Hot Water Beach?
Due to low tide, you can visit twice per day (low tide is roughly 12 hours apart) with a window of 4 hours each time.
You might be able to show up a little before the two-hour window prior to low tide, but have to gauge if the surf is still covering that area of the beach.
Where Do I Dig My Pool At Hot Water Beach?
Chances are VERY good all you have to do it look for people! There will be a small, or large, congregation of people there already.
In the winter, you can also just look for the steam rising!
Otherwise, from the car park, you will:
Cross the small stream, heading to your left as you look at the ocean.
Head towards the beach and go up the beach.
When you are in line with the large rock cluster coming out of the water, you are basically there! The general area is between the rock cluster and the cliff behind. There is lots of old lava rock, now brownish, where most people put their towels and clothes.
Overall, it's about a 2-10 min walk from the car park, depending on how fast your kids are 🙂
Safety at Hot Water Beach
Keep in mind these safety issues for your visit:
Rip currents are frequent! This area is known for its strong surf and dangerous rip tides. I was able to see one while driving up! If you don't know what they look like, watch this.
The water is SUPER hot! I burned the soles of my feet while trying to find the right spot. I got in a long area of hot water and it hurt! Little feet, especially, need to be careful of this.
Watch for shovels! With so many digging and shovels falling over, little ones can get hurt or step on a shovel
Avoiding Crowds at Hot Water Beach
We went after the coronavirus lockdown, which was winter in New Zealand, and had minimal tourists. It was a perfect time to visit!
However, I would recommend visiting at any time of year, even when it is thick with tourists. I found it amazing that such a combination exists on this planet of cold ocean water and a hot sand beach!
Your best bet for avoiding crowds, outside of the season, is to see when low tide will be. You can go at night. We went right before sunset and enjoyed lots of time in the dark! Just bring a flashlight.
We also went for sunrise, which would eliminate some of the crowd.
If low tide is in the middle of the day, be prepared for lots of people. Maybe you'll get lucky!
Amenities at Hot Water Beach for Families
Like nearly all public venues in the NZ, there are really nice toilets here. They are flushing and have changing areas.
There are also cold showers to get the sand off.
Close by is a cute cafe with fish and chips.
Enjoy Your Visit
Enjoy your time at Hot Water Beach! We loved it so much we are planning to use our last few days in New Zealand to go again!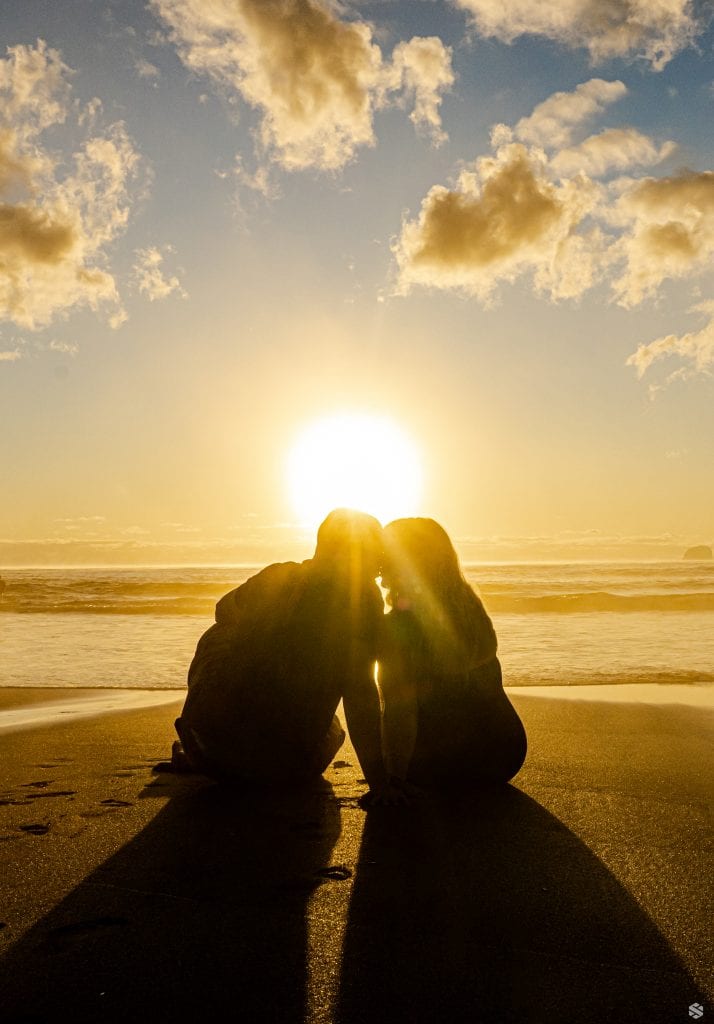 XOXO,
Leslie
More of my posts about my experience in New Zealand with my kids:
Isolating in NZ During The Coronavirus