Reading Time:
11
minutes
Have you heard of the term worldschooling? It was a new term for me as I was researching for our full-time travels.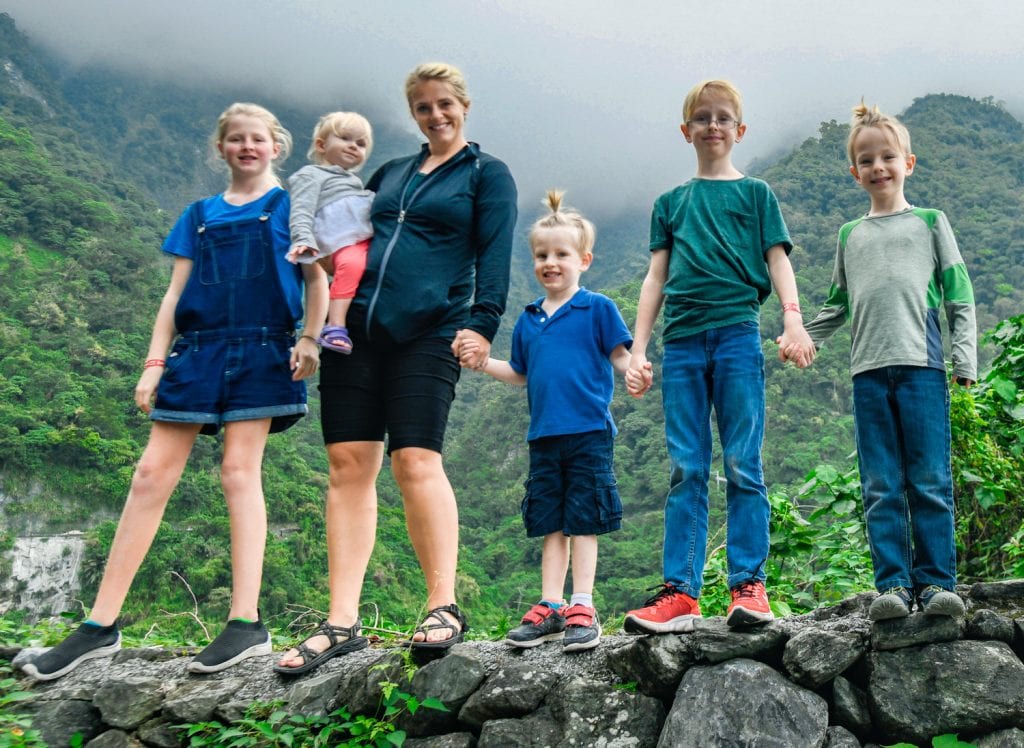 Me a year ago: What in the world will I do for school?! What is worldschooling?
Figuring out school was perhaps the BIGGEST roadblock for me when thinking of leaving for our travels. We already had the financial piece worked out.
Never did I think I would homeschool. I have always admired it; I respect so many who embrace it, but honestly, it seems like way too much work for not enough payback. It's just so much easier to send them off to school.
I grew up in the public school system and I am really happy with the way my life has turned out! I was an honor student, graduated with over a 4.0 from high school and nearly a year of college credits through AP classes. I had a great pick of colleges to choose from and nearly went to medical school (perhaps one more semester before meeting Chris and I would have taken the plunge! God has perfect timing though ?)
I've never been dissatisfied with public school and we sort of fell into charter schools, which I loved!
Facing our future of selling or leaving all of our stuff and leaving for an undetermined amount of time to travel the world I was clueless about school.
I began by crowd sourcing my friends I knew who home-schooled or had home-schooled. What I found was somewhat surprising to me at first: home-school is incredibly personal. Since we left from Utah and they do not regulate homeschooling in any way, it is only what you make of it. Many states and countries are very different. I also found out homeschooling is illegal in some countries! I can somewhat understand why.
I actually dated a guy in college (not Chris) who was "homeschooled". What it meant for him was a complete lack of any education. When we met, he was trying to hack his way through college and having a hard time of it. I remember trying to teach him the basic structure of an essay and realizing the huge gap between our backgrounds. Things I had taken for granted that were just part of my education.
Thankfully, this relationship dissolved, although we were engaged. In our Church of Jesus Christ of Latter-Day Saints culture, being engaged is a bit more fluid and it isn't totally uncommon to be engaged more than once. Chris had just broken off an engagement when I met him.
Seeing first hand the dark underbelly of home-school and what it was doing for this young adult man didn't warm me any more to the idea.
As I researched more, I did find online programs you can do full-time. They have many mixed reviews, but they do exist. However, I knew I did not want to go travel the world and be stuck at a computer for hours every day either. If I was homeschooling in one place, I would lean towards this for sure.
So what was important to me as a new home-school mom? How much did I want to home-school?
The website I found first for defining "world-schooling" is here. While I totally love and agree with so much, I wanted more structure in my life. I'm not quite as free as this and feel more comfortable with a bit more regulation (of my own making).
The solution for me and my family was to do three days a week and do it year-round. I knew the most important subjects to me: math, reading and writing.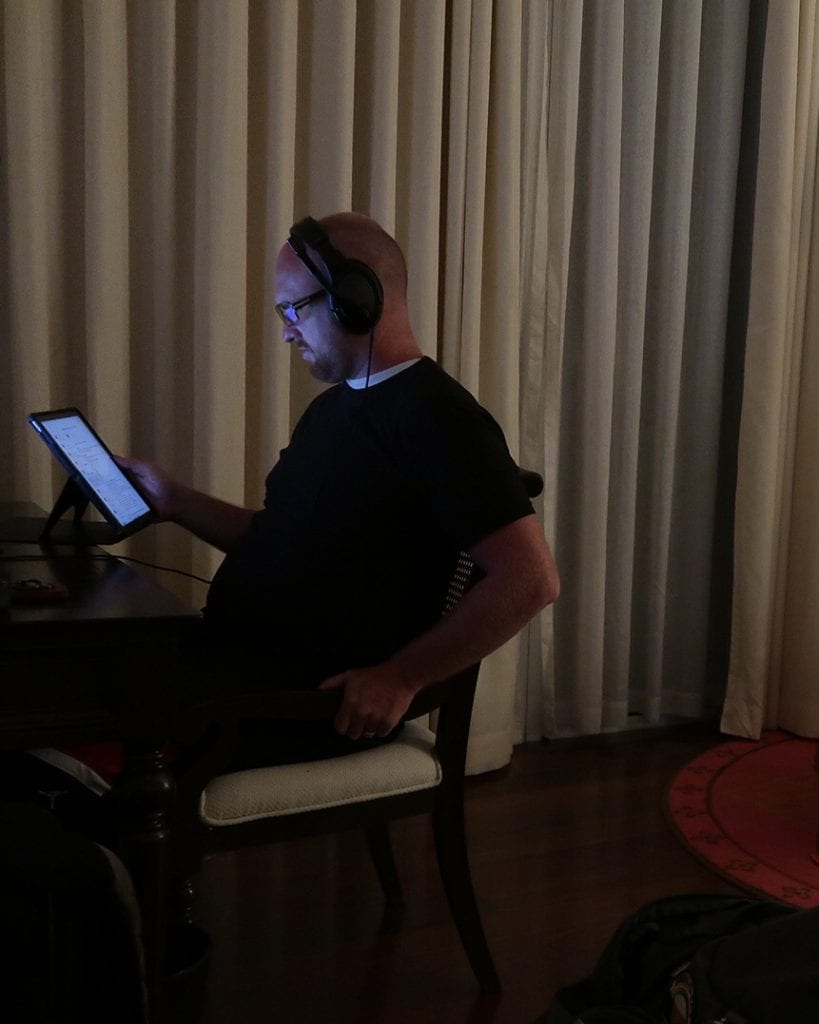 Our rough yearly schedule:
Tuesdays, Wednesday and Fridays we homeschool from about 9 am – 1 pm (sometimes until 3 pm if they are working extra slow or I'm feeling behind and add more in). We picked these days because the correspond with the days Chris works (at night) and is sleeping into the afternoon.
Breaks. We do it year round, but do take some "regular breaks" like Christmas break (I did about 1.5 weeks off) and spring break ( a week). If family visits, we usually try to work school days around this so we can be off for most of the time they visit.
If we are in a situation where we don't have much time, like we will be shortly in China for 17 days, I only do math and spelling. Then we try to squeeze in reading and writing as we drive around.
Some subjects I have decided to do every day (not just 3x per week). Math lessons are now in this category (mostly because I can see we aren't keeping up enough to finish a book in a year), spelling, and reading something. This can be reading to the toddlers stories for 20 minutes.
Our typical routine:
Regular chores. Making beds, getting dressed, brushing teeth. I've learned that being physically prepared and ready for school is an important step. They take it more seriously.
Daily devotional. Some scripture reading, singing and videos. This sometimes leads to longer conversation, which I always love and welcome. I love using this blue-tooth speaker and also like to play calming music during school.
Book work. I tried not to bring books in our luggage when I could avoid it, but felt they weren't physically writing enough. So I've added on a bit as we've gone:

Handwriting Without Tears. I make them do 2-3 pages a day. We also just completed beginning cursive by the same company.

Spelling. Lucy and Grant use the same book and I just have one of them use a regular piece of paper. I use the teacher's book and the student book, which has a sheet for each day.
Math facts. We use Rod and Staff math fact books. They go with other books and programs, but I like the quick math fact sheets and just adapt when I need to.
Zearn. My older kids were learning Eureka Math when we moved. I was recommended to a great math program for Eureka Math called Zearn.com. They have online video lessons and "games" for each lesson. It's great! They also sell workbooks that correspond. My kids just watch the lesson, do the activities, complete a lesson sheet as they go and then do an "exit ticket" that I usually help them with. This program is a little bit of a learning curve to get used to as the parent/teacher, but is a great program. It's just a few new names for things and you have to learn a bit of the "language" of the program.
Travel journals. We complete one entry a week and they either include a postcard or drawing. For Lucy and Grant, I make them follow the "finger pattern" of an intro, three supporting paragraphs and a conclusion. This gets the most whining form Grant, although it is MUCH better than when we started! For Lincoln, I write, clearly, an entry and leave space for him to copy what I wrote.
Postcards. We try to do 20-30 postcards in each location (every 2-4 weeks) and it is great practice in writing.

Computer Work: I found a company in Utah, Kid's Online Academy, that basically gets a school subscription to a lot of the apps and programs my kids were already using at school each day. You can pick your "tuition" hours and programs. I love it! It's like picking classes for my kids. For Lucy there is even a writing program that will be checked by a teacher. All of the below programs are included with this except Zearn. I wanted to stick to the same program for math my kids were already doing.

Zearn. They have to do their math lesson and the workbook.
Wordly Wise
RAZ Kids/ Reading A-Z
Writing Online
Typing Lessons
Happy Scientist
Big Brainz (math facts)
Reading Eggs (Grant and Lincoln)

Other apps we like. We use these when I need to stretch time for someone or for downtime.

Stack the States/ Stack the Countries
Amazon Free Time App for TONS of books to read
Dr. Seuss online books
ABC Mouse for Harrison during school time 🙂
Prodigy Math. This feels to the kids like a fantasy game, but has math challenges. It's great for a needed downtime and isn't parking them in front of a TV show.
Kahn Academy. This even has some Eureka Math practice, but we usually don't have time to get to it.
YouTube! One of my favorite things is to just veer off on a subject and go watch a video on it. In a perfect world, I'm doing this before we go somewhere! For example, we watched a video on how money is made and then tried to visit the Mint in Denver! We didn't actually make it, but the lesson was already learned.

Other things we've used and our gear:
The rest of my children's education, at least for now, consists of this broad term of worldschooling. I firmly believe they are gaining more from our experiences traveling that will serve them for the rest of their life than anything they are missing in a classroom. I even believe if that was ALL they were getting, they would still do beautifully.
Let's take today. I'm writing this on my cell phone in a car, sitting in traffic in Bangkok. The two toddlers are sleeping after a long, fabulous day of exploring. The three older kids are doing educational games on their Kindle Fires.
We started the day at a coconut sugar plantation. We saw the locals husking the coconuts, burning them to heat the coconut water and make a hot, boiling mixture that will cool into coconut sugar. We also saw another woman making coconut oil in a wok, shredded some coconuts ourselves, and sampled and tasted a lot of things. Connect this to two days ago when I did a cooking class in Bangkok with my oldest two and we took shredded coconut and made coconut cream and milk by hand. Woah! Talk about a full circle. Tree to plate ?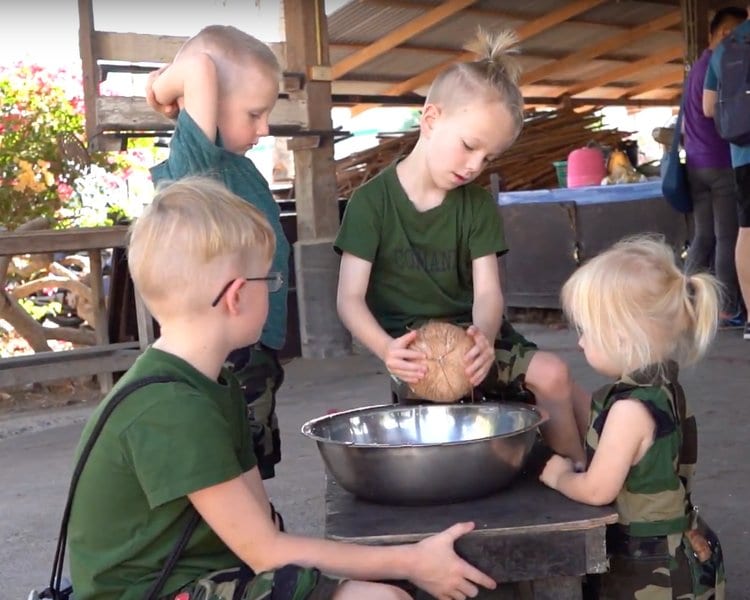 After this, we visited the oldest floating market in Bangkok. It's super touristy now and supported by tourists. This doesn't bother us- it's incredible to see! We floated around as a family with our awesome guide, Kat, and saw the local women selling fruit, Pad Thai, satay, souvenirs, and coconut ice cream served in, you guessed it, coconuts!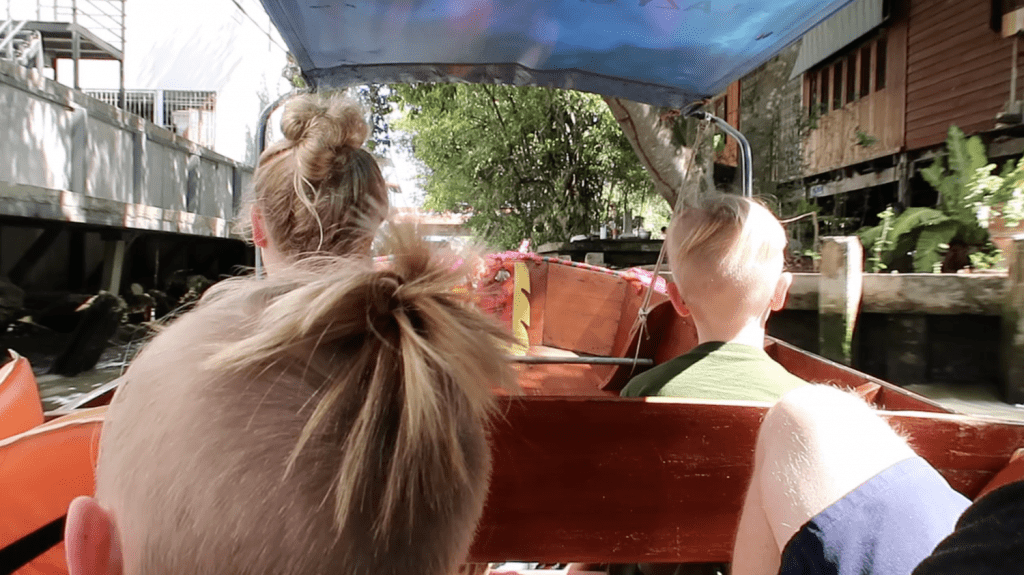 After this, we went to the "Tree Temple", a building being overtaken by sea figs. Inside is a golden Buddha. We purchased a worship packet with four small pieces of gold leaf, incense and a candle. I watched my children reverently (after some scolding from me) approach this Buddha with Thai locals and add the gold leaf to the Buddha. It is covered in coins and gold leaf and is quite stunning. They also lit the incense and placed it into the ashes to burn.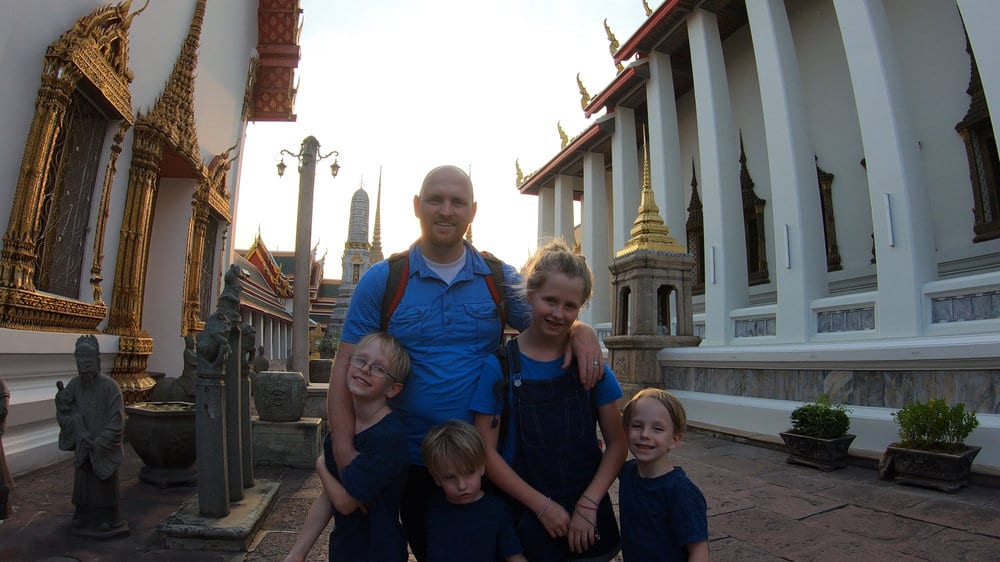 Next: the train market. An open-air market literally on train tracks. The stalls have shade awnings to help with the blistering heat. These shades have to be taken down twice a day as the train passes because it is that close! We explored the local fish, fruits, meats, housewares, watched the local women selling, saw live snake fish and so much more. We had smoothies and then stood in the stall as the train passed so close we ran our hands along the side.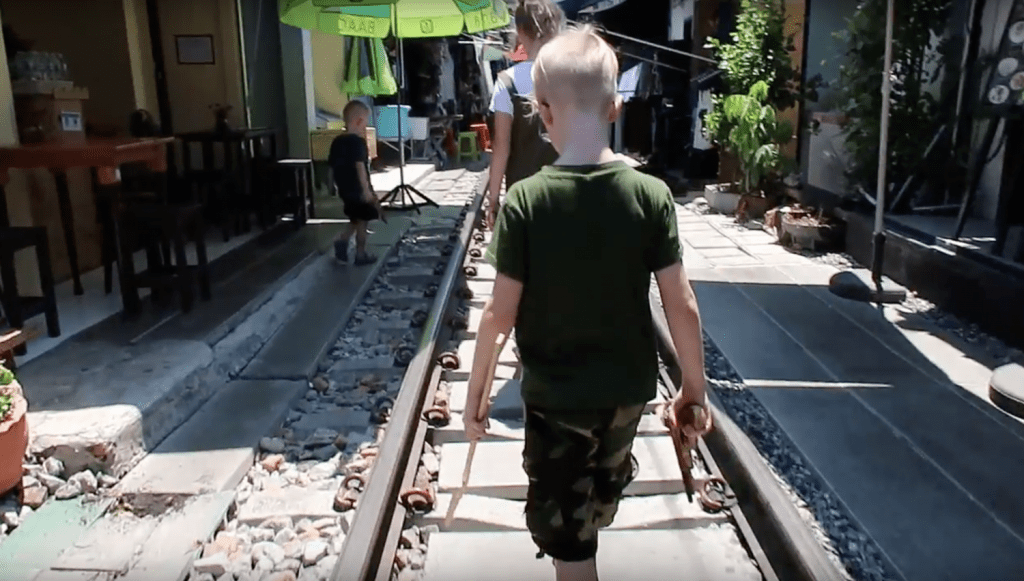 So what did my children learn from their world-schooling today? It wasn't a "school day" for us, but they learned nonetheless.
So much culture. We are IN the lives of so many people here. They touch, interact with, help the kids all day long. The kids listen to the language, watch the body language, learn customs (usually by doing the wrong thing first). We see how people live and provide for their families.
Currency conversion. Math at it's finest! When my big kids want to buy something, I tell them to figure it out. One US dollar is about 30 Baht, so we are dividing and adding with 30 all day long. Thankfully for their math skills, they want to buy things all day.
Social interaction. They deal with each other and others all day long. Often, they meet other kids and play for a few minutes. Sometimes those kids may take something or give something. They are learning to navigate a different "playground" all the time.
Respect. We watched devout worship of the golden Buddha and how much it means to those there. We learn to hold our hands together and bow. We learn to respect others all day long.
Reading. We used their kindle fires on the hour+ dive there and back and I had them read for 45 minutes before any other educational games. Score!
Writing. Ok, they didn't write today, but tomorrow they will do an entry in their journal about this day. I bought postcards and they can put one in their journal. They will also write postcards to send too!
What a gorgeous school day, don't you think?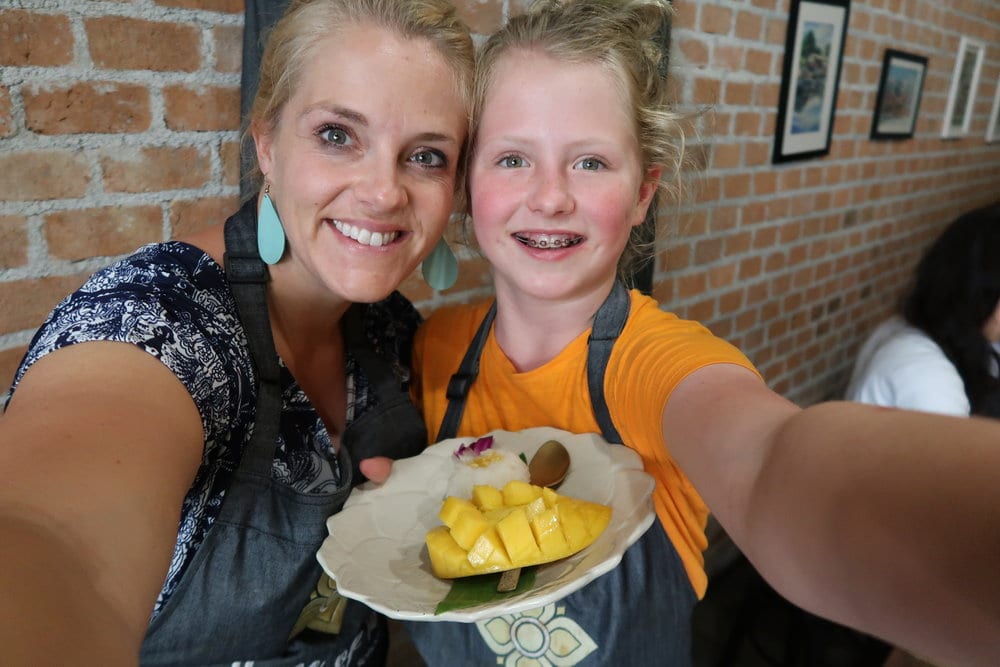 Other things I've learned through homeschooling:
It was hard for them, at first, to ask me for help. Especially Lucy. It was a learning curve to settle into being mom and also being a safe teacher. Let's be honest, homeschooling often frustrates me! I have to work to be patient and safe for them.
I love that we can move at our own pace. I've learned Lincoln loves school! He is supposed to be nearly done with Kindergarten, but he is nearly done with first grade in some subjects. How cool! Grant needed some extra time to read, so we've been able to be patient and slow as he needs it. He's made amazing progress in our 10 months.
Kids will complain about it, no matter what. My kids have already forgotten the long hours of school and then homework. They think they do more school now than they ever did. LOL. Poor kids. Perspective is everything.
It's a ton of work on mom's part (or dad if he is doing it). It's frustrating. It's very challenging, especially with two toddlers running around. I have to have toys for the little kids to keep me sane. I want to get out and play as much as they do. Many world-schooling families may argue back that I just should leave all the above behind and get outside instead!
Playing music can help. Soft, calming music goes a long way for them and for me.
The toddlers can be the hardest part of homeschooling! We aren't in a world where we have tons of toys or a yard to go play in. The toddlers are bored a lot and making mischief constantly! I usually try to get Harry to play with Grace for an hour or two and then have him do a preschool app.
It's similar to breastfeeding. You don't really know how much they are getting at each session. Growth can only be measured over time. Suddenly division is easy or they are reading street signs without a problem. Trying to measure each day will make you crazy, just like that sleep-deprived, crazed zombie I was with a scale, a newborn and not enough breastmilk.
I hope this helps someone! Take what works for you and make your own program. I will re-evaluate soon for our next "school year". Initially, I did not know if we would go more than one year, so my plans will probably change a bit. I may get a little more serious with Lucy as she will be in sixth grade! Holy smokes.
We've even talked about continuing to home-school when we settle and into high school. The idea of not being able to travel due to being tied to a school scares us all right now. Thank goodness we live in a day and age where so much is online. Really, my role is to make sure they get it done and know enough about it to make sure they did it right. I'm not teaching lessons each day, at least not from a teacher manual 🙂
I'm just showing them the world and all it's wonders when I can!
XOXO,
Leslie