Reading Time:
6
minutes
Planning a trip to Pompeii with kids? Great choice! We spent a month in Rome with our five kids and really enjoyed the city. We knew we wanted to visit Pompeii and wondered many things:
How do we get there? What's the best way with kids?
How will the kids handle it? Will it be boring?
Do we need to prepare for the visit in any way?
Should we have a guide?
We made a few mistakes in our visit, but overall it was a huge highlight for us in our visit to Rome. In fact, we hope to go back again in a few years. I wanted to share some tips for other families planning their travels to Pompeii with kids. For tips and tricks on Rome, be sure to check out my travel guide for Rome.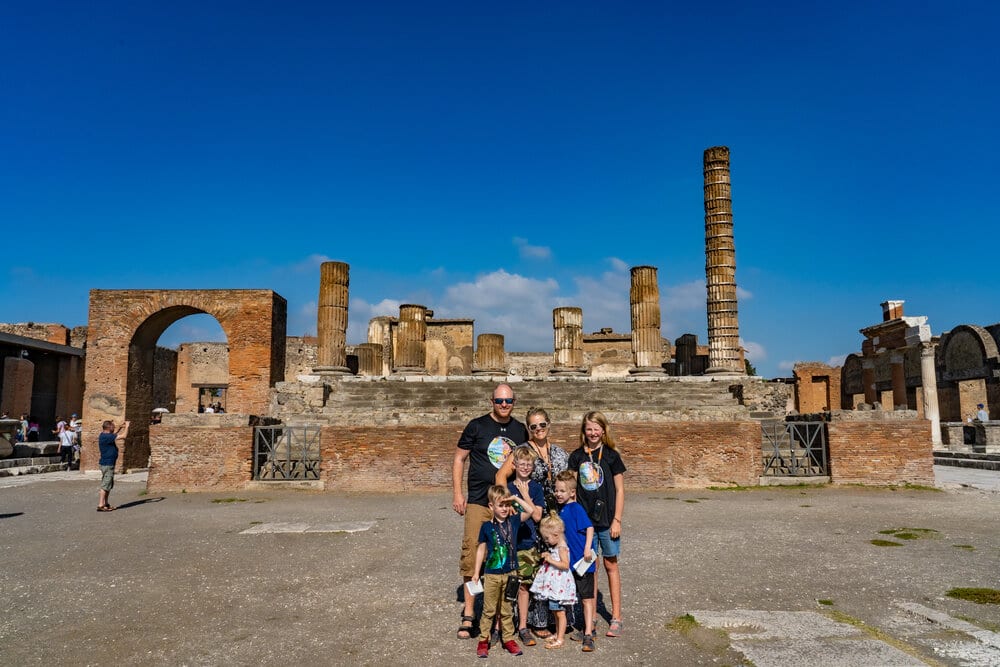 Before Your Visit
Learn at home. I highly, highly recommend you prep your kids (and yourself) with the history and story of Pompeii and Vesuvius. There are so many amazing YouTube videos and documentaries to watch. We even watched (as just a couple) the recent movie that was a bit of a flop. Not sure I'd recommend that, but I definitely recommend learning to backstory! We picked up a few books from the gift shop in the colosseum and the kids were so amazed to see in person the plaster casts of the people from the book. Eventually, we also will have our video up of our experience and you can learn from that also!
Prepare for some serious topics. As I just mentioned, you will be seeing real plaster casts of bodies that were preserved in the explosion and resulting volcanic ash.
The short story is Pompeii is so well preserved because of the incredible speed of the explosion and the covering of volcanic ash. When it was being excavated, a revolutionary archeologist realized the bodies had left a void. He worked to fill these voids with plaster to get a very detailed mold of the corpse. You will see children and adults. Adults in ancient Rome were much smaller, so some of them look like children also. The molds are detailed enough to show folds in their clothing and jewelry. It is fascinating and also quite sad. Perhaps this might be too much for your children and you can skip these statues in your journey.
How to Get There
We made a BIG mistake here. I thought with kids the trains would be too difficult and we spent a small fortune to hire a driver for the day. Mistake! It is actually faster and loads cheaper to train to Pompeii with kids than go by car. It's shorter by over an hour!
Training in Italy is super easy. You don't even need to pre-book tickets in many cases. Just get yourself to the Rome Termini station and buy from the ticketing kiosks right to Pompeii. You can see my post here about taking trains in Italy.
I believe you can walk right from the station to the entrance of Pompeii. If you get really tired, taxis are plentiful!
When you buy your tickets, purchase the round trip and make sure to budget enough time to get back to the front of Pompeii (it's massive!), return your audio guides if you get them, and get to the station. You don't really need to be at the train early (we showed up and bought tickets and boarded trains within a few minutes!), but don't be late.
If you want to tour Mount Vesuvius you could hire a driver in Pompeii or pre-book that before you go. We didn't have enough time for this, but I'd love to do it someday.
What to Bring on your trip to Pompeii with Kids
Sunscreen. There is little to no shade and it was super hot when we went in October.
Water. Again, super hot and dry. You can also purchase food and drinks at the little cafeteria/gift shop area in the middle. We had lunch here and came back a couple more times for snacks and drinks. It was also a good meeting point for our group.
Good walking shoes. We were there for six hours and only covered a fraction of Pompeii. It's difficult to convey just how big it is.
Baby carrier. Leave the stroller at home for this one. It would be a complete waste of time! Wear any children that are too small to walk a long time. The roads and pathways are very uneven and there can be huge drainage ditches as well.
Camera. Trust me, you won't want to leave this one! Some of the locations are so well preserved you'll want to remember with a picture.
Passport. We don't always carry these, but you are supposed to internationally. At the very least, have a good picture of everyone's passport on your phone.
During Your Visit
A few tips or things to consider while you are in Pompeii:
Audio Guide or Tour Guide? This is a personal preference. You can hire both easily on the spot or book a tour guide beforehand. Or you can skip both and just explore! I find I get a lot more out of an experience with a guide of some kind. Otherwise all the ancient sites blend together and I'm about as bored as the kids 🙂 .
We opted for the audio guide, which we usually do when given the chance. It allows us a lot more flexibility with the kids versus trying to keep up with a guide or a group. Our kids have even come to enjoy the audio guide and listen along!
Pompeii has a specific audio guide for kids, which is fun! Sometimes I found mine to have more selection on a topic, so I'd have the older kids listen to mine as well. Overall, they matched well. The audio guide is on a smart phone, which you check out by giving your personal ID. Don't forget to get this back at the end of your tour!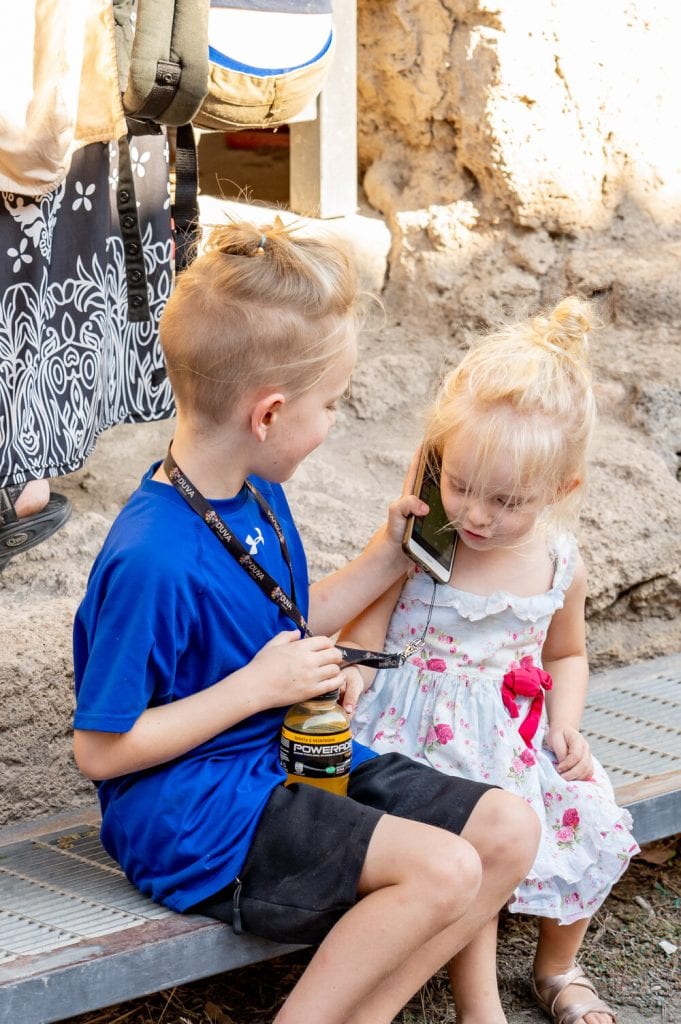 PG13 spots. Pompeii has a fairly famous brothel that is well preserved. We didn't go (I actually didn't run into it!), but I've heard the painting on the walls are pretty detailed and not child-friendly. If you are going to Pompeii with kids, you may want to pre-screen, I'm sure you can google this at your own discretion. We just skipped all of this.
Bathrooms. I think there are only two spots for bathrooms: the cafeteria and the spots complex on the other side near the colosseum. Be sure to use the bathroom in these spots before venturing out.
Size of the site. I've mentioned a few times, but Pompeii itself is massive. I thought it'd be a couple of streets and the rest would be unavailable. While they are still uncovering the city, what you can visit is HUGE. Before you set out, check out the map to see what is most important to you. I'd recommend the villa on the edge, the colosseum, some of the "suburbs" to see restaurants and villas of the rich and the main forum. This will take you from one end to another and it's a lot of walking.
Time commitment. According to our tour guide, most people spend about two hours in Pompeii. We finally peeled ourselves away after six and could have stayed longer!
Enjoy planning your travels and stay safe!
XOXO,
Leslie