Reading Time:
5
minutes
Traveling international can be nerve-wracking. We've done enough of it in our 2+ years of full-time travel to not be as intimidated, however, it's always a new adventure when you haven't been to a country.
When we booked 10-days in Costa Rica we wondered if we could drive around by ourselves as a family? After a bit of research we went for it.
Overall, we drove a good portion of the entire country. We spent over 20+ hours driving in our rental car and visited five different regions of Costa Rica. Thankfully, you drive on the right in Costa Rica (like the US).
Booking a Rental Car
We scored an amazing rate on our 7-seater Toyota Rush at just $163/week! Wow. We just used our go-to travel app, Expedia, and booked with Budget.
It's good to know how to drive a stick shift if you are renting cars. The cheapest options were manual and, honestly, with the roads there it was better to be able to control the gears!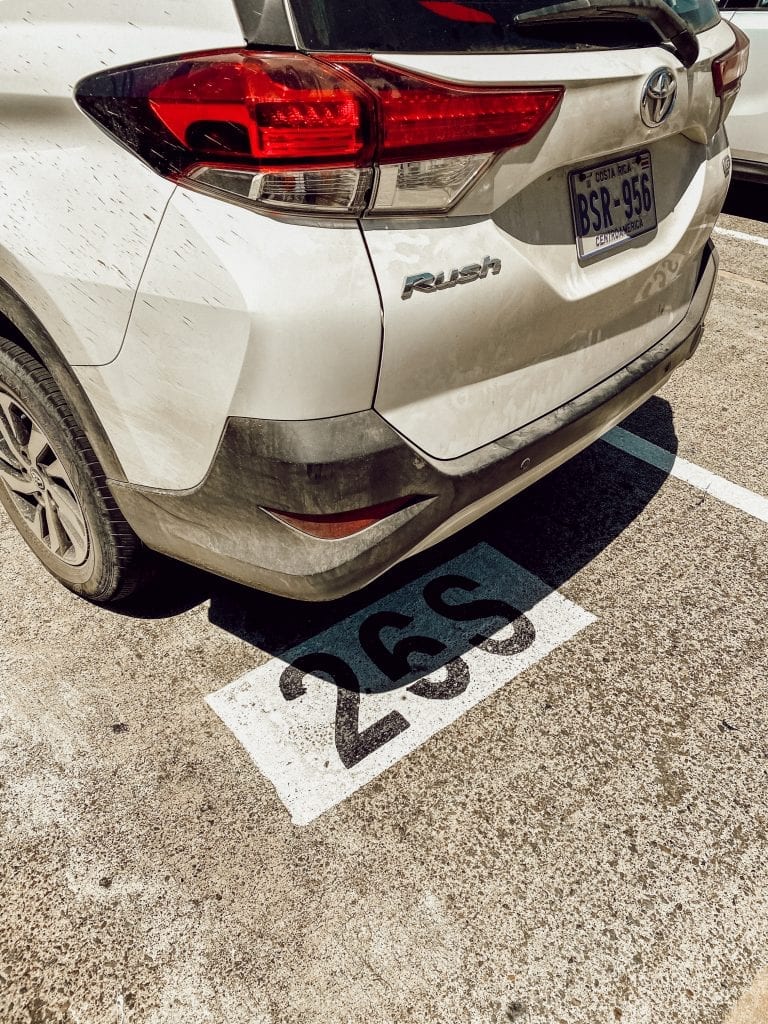 You do need to pay additional, mandatory insurance in Costa Rica. However, it was only about $100 more per week for us.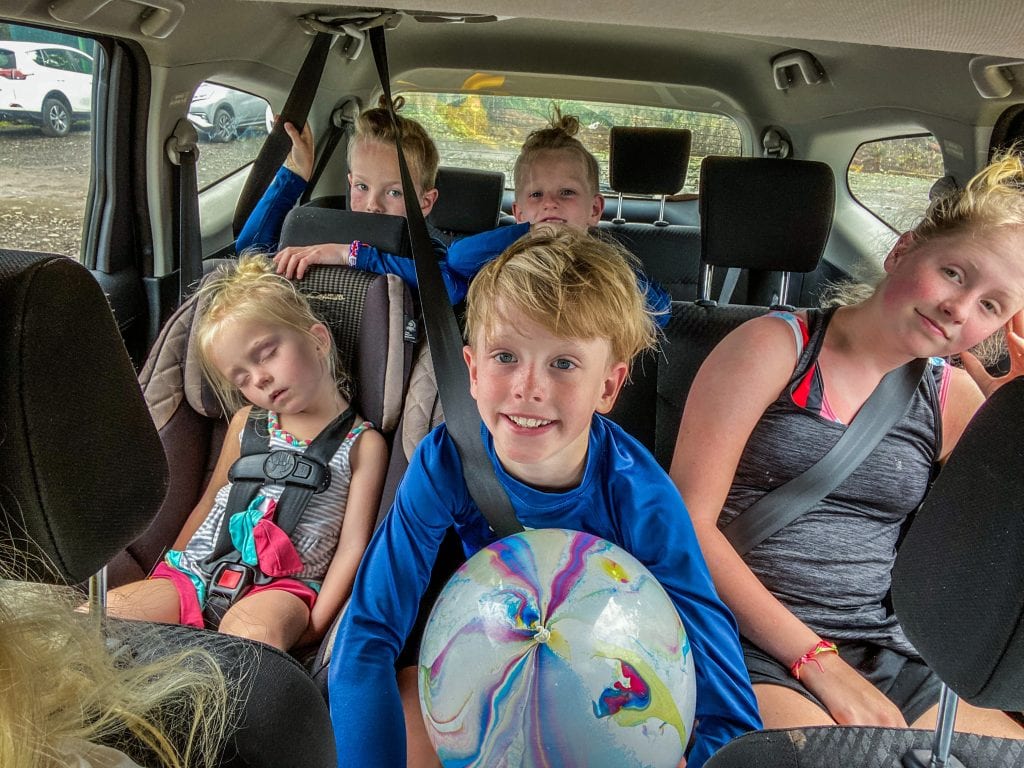 Tips for Driving In Costa Rica
Get 4×4 if you can. Many roads are paved, but when venturing into La Fortuna and Monteverde, both major tourist destinations, we drove a lot on steep, rocky roads.
Driving during the daytime is best. It's just easier to see, although it's also busier. We tried our best to drive during the day, but probably spent 50% or more of our drive time in the dark. It's more nerve-wracking and gave me a few tension headaches, but just go slow and you'll be fine. You'll see some interesting wildlife also! However, if it is also raining, I'd recommend not driving and getting a hotel instead.
Download your GPS map directions before you leave. Data is slow for US cell plans in Costa Rica. It was impossible to get GPS to pull up on our drives in the middle of the rainforest.
Bring a wifi hotspot. This makes it a bit better, although if you don't have cellular data you probably won't have wifi on this either.
Signage is slim, so pay attention to your GPS. Most roads are not marked if they are not on the highway.
It's a bumpy ride. Some of our driving was so bumpy my Apple watch logged exercise minutes. While I used my core to brace myself, I certainly wasn't doing anything aerobic. The roads are not smooth!
Watch for wildlife. The roads are windy and sometimes steep. It's not uncommon to come across some wildlife, especially at night. We saw lots!
Go slow. My husband took some of the roads like a video game driver, but that's not the best way to drive! We often would come around a corner to find standstill traffic, a bicycle rider, or a truck unloading. Be very aware!
Pay attention to random things on the road. A palm leaf or sticks might warn of a pothole or broken down truck. On a very busy highway, I saw one truck drive put logs out like warning lights.
Things get steep! Think of the US with mountains 100 years ago. There aren't tunnels. You are driving up and down mountains over and over again.
Other Road Trip Tips For Costa Rica
Gas Stations in Costa Rica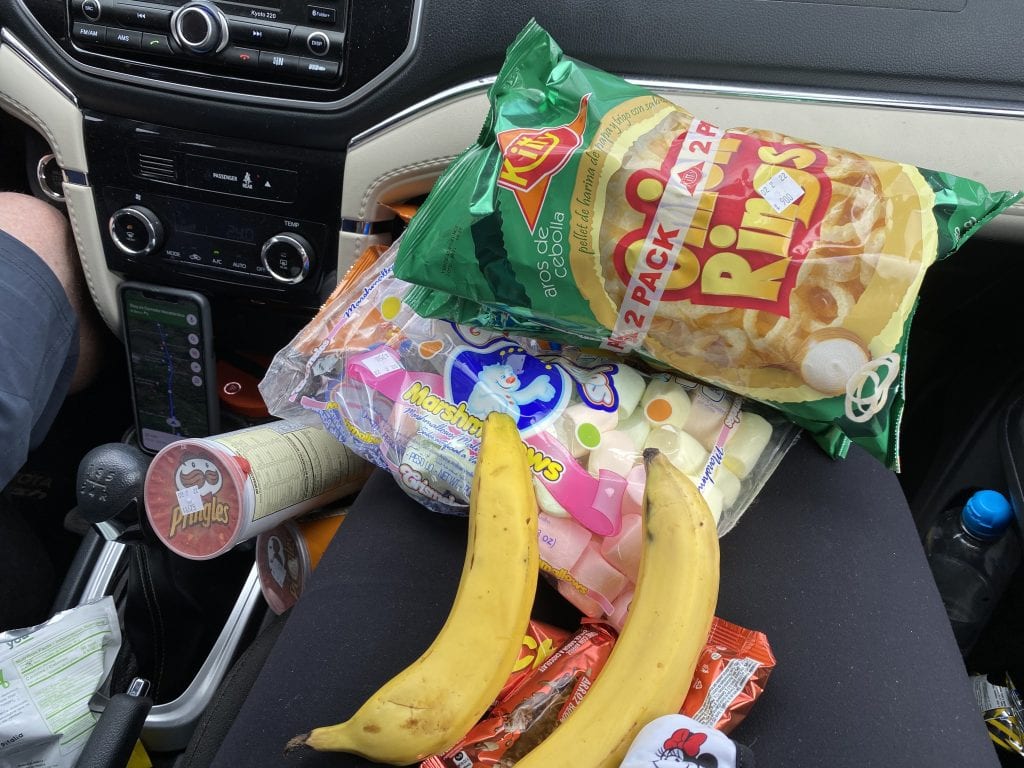 Gas stations are pretty easy to find on the highways. All gas stations are full service meaning you don't pump your own gas. The attendant will ask you what kind of gas you'd like and expect you to open the cover to the tank. You can pay by credit card and a tip is always appreciate in cash.
Restrooms in Costa Rica
The bathrooms in Costa Rica took me by surprise. They were all flushing toilets and quite clean. In some parts of Costa Rica you are not supposed to flush the toilet paper, so watch for signs. Never flush anything else either.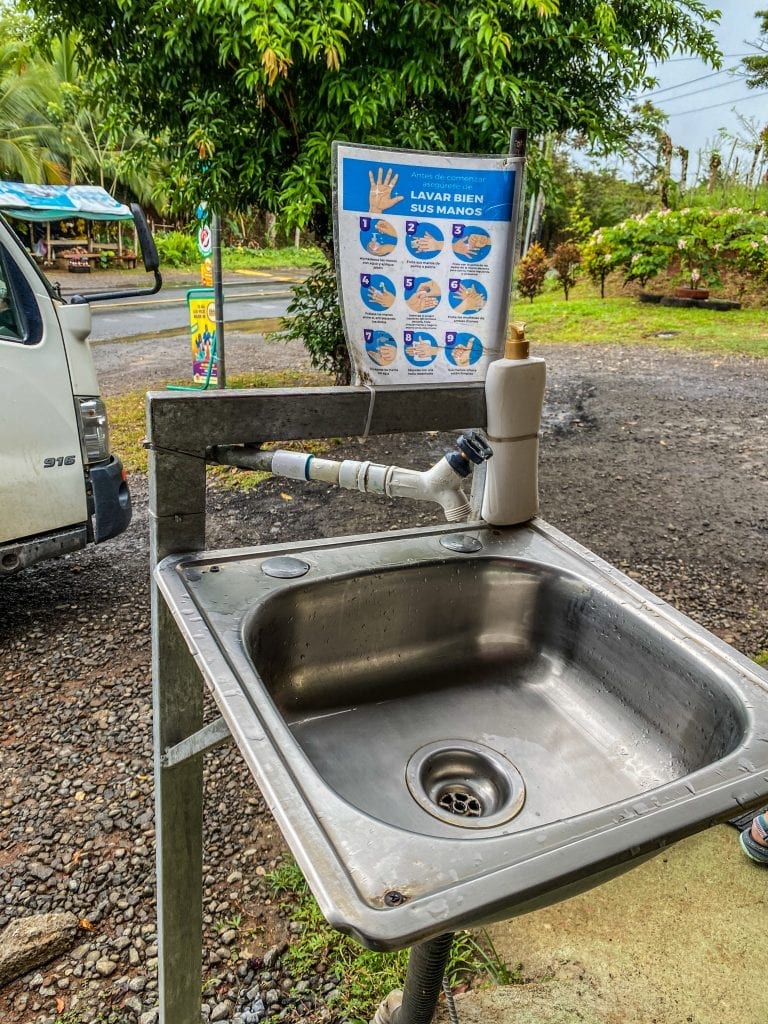 Getting Food While Driving in Costa Rica
As you drive, you'll see plenty of "sodas", which are small cafes. You'll also see signs for restaurants. We stopped at plenty and the food is delicious! The most common meal, the casado, can be found everywhere in Costa Rica. It is some variation on: plantains, beans and rice, pico, and meat. I love the fish as it was always so fresh, but you can find beef, chicken, pork, or vegetarian.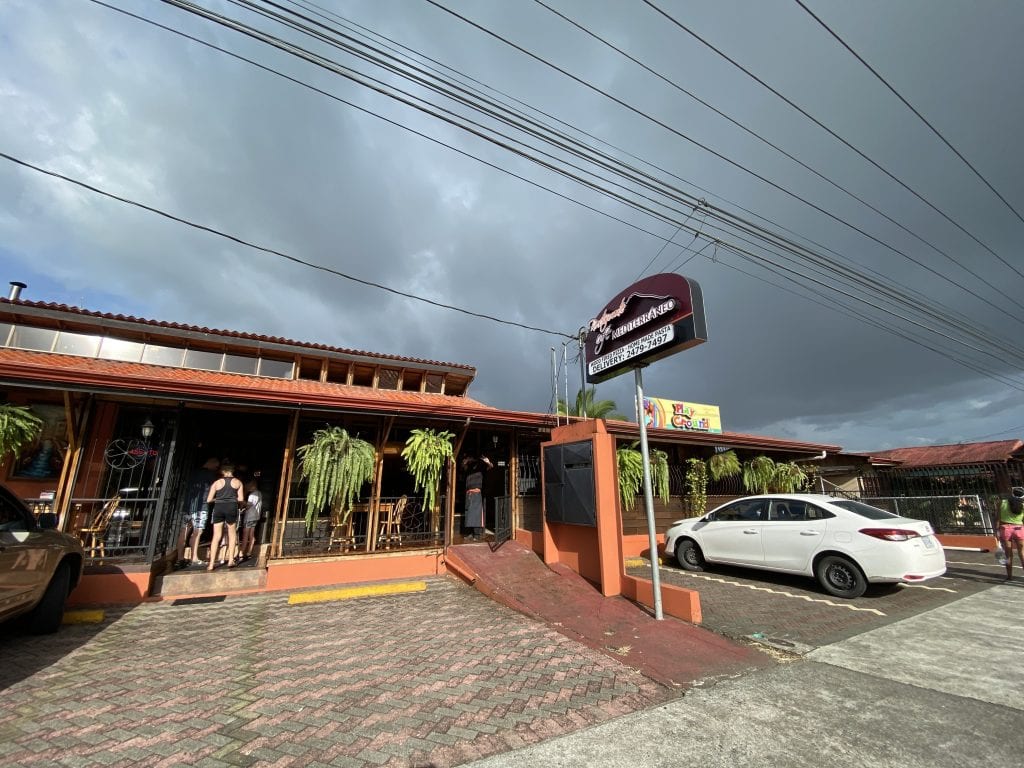 Service can be relaxed and slow. Pura vida is the motto everywhere and it means your food will come when its ready (when applied to food service. It applies to everything in Costa Rica!). If you are in a hurry, go for the "comida rapida", or fast food.
Little markets are also plentiful with chips and small snacks. Fruit stands are common. Pull over for some fresh bananas!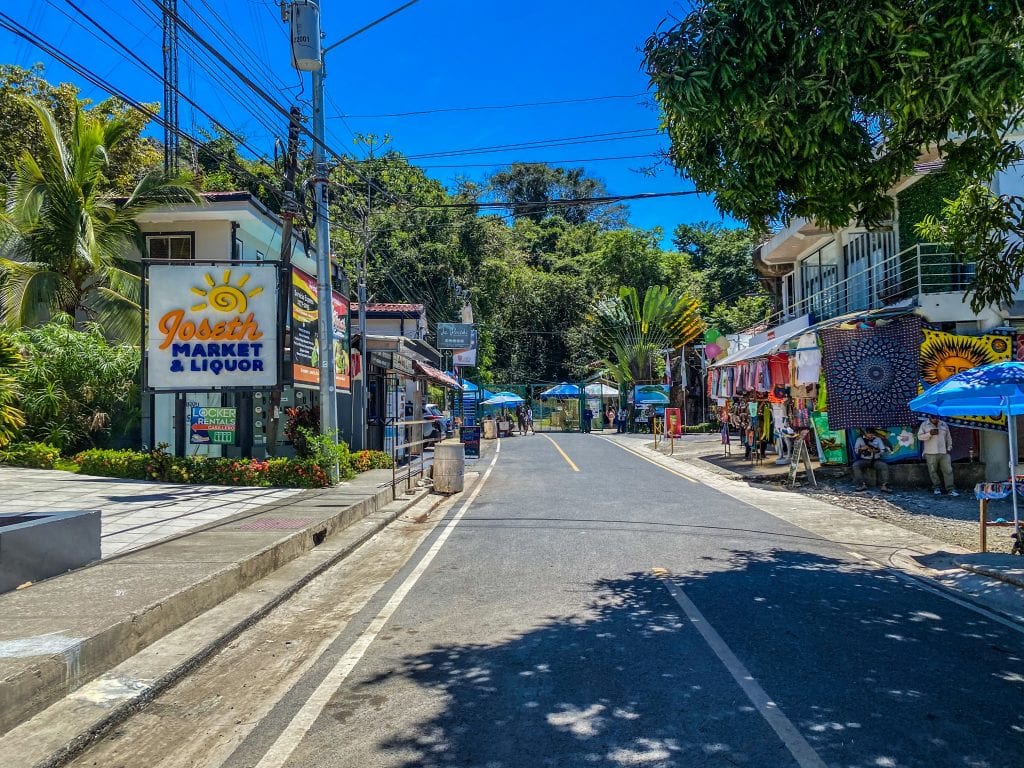 Tolls on Costa Rica Roads
The main freeway around San Jose does have tolls. They are usually 400-800 colones, which is around $1. Thankfully, they accept US dollars and will give you change in colones. Most establishments also accept US dollars.
Pedestrians and Bikes/Scooters/Motorcycles
Pedestrians do not have right away in Costa Rica. Do not stop to let them cross and be very careful when crossing on foot!
Expect lots of bikes and scooters/motorcycles. They weave in and out of traffic. You might have to wait to pass them as well.
Passing on Costa Rica Roads
While roads are marked with the same lines as in the US, they are not followed. Passing is anyone's game at any time. It's up to what you deem safe. Be careful! Many roads are not safe to pass on. Freeways will have passing lanes, but rural highways are anyone's game. You might be stuck behind a big truck for a while before you get a straight-away to pass.
More Tips For Driving in Costa Rica
Click here for more tips I found useful in my own research.
We enjoyed being able to see so much beautiful Costa Rica driving around in our own car. With kids, we love the flexibility of a car. I'd absolutely drive in Costa Rica again when we visit again!
Stay safe!
Xoxo,
Leslie
Additional Reading