Reading Time:
5
minutes
With the backdrop of Mount Arenal, an active volcano, and set in lush rainforest, La Fortuna should definitely make it onto your list of things to see in Costa Rica. Not only is it gorgeous, but there is also so much to see and do.
What To Do In La Fortuna With Kids
Selecting the activities you want to do here will depend on the age of your kids and how adventurous you want to be. There are several great options, no matter your situation!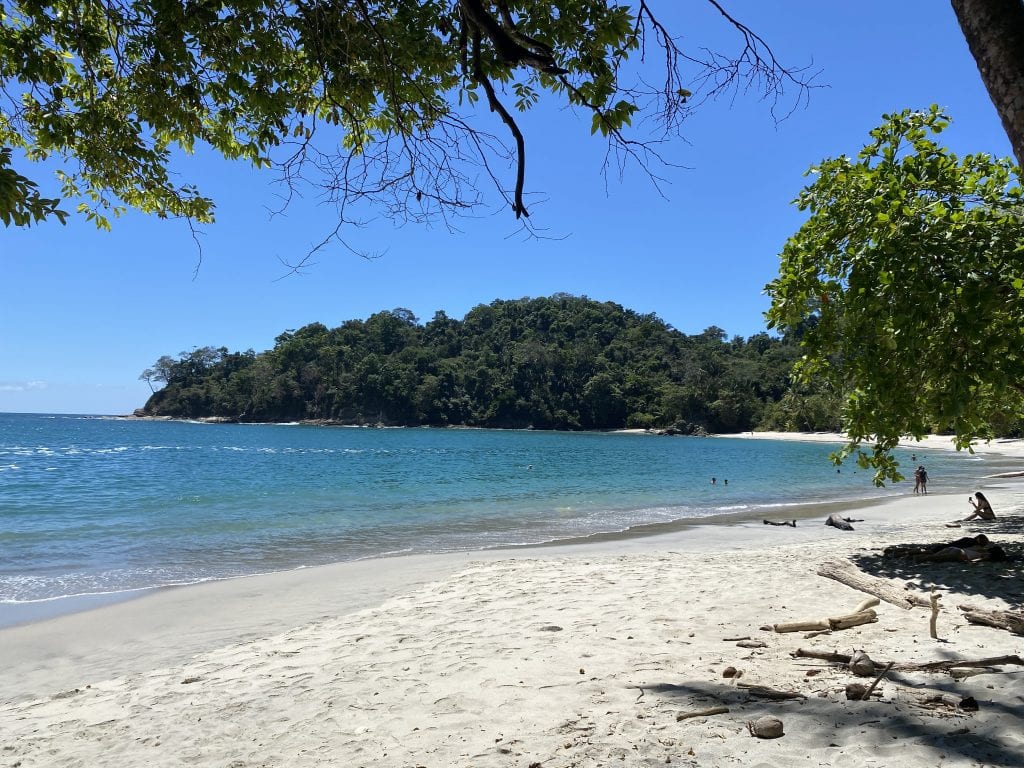 Some of the amazing activities available include:
Rafting: Most serious rafting requires participants be 14 or older, but you can also opt for more tame rivers if your kids are 8 and above. Since we had a 3-year-old, we skipped this here, but we did some river tubing near Rio Celeste instead.
Visit the La Fortuna Waterfall. You'll need to pay to enter the park and can swim if currents allow.
Zip-lining: Probably the most popular activity in Costa Rica, you can zip-line through the jungle. Kids 2 and older are usually allowed.
Hot springs: Due to the volcanic activity, the area is ripe with hot springs. You can find a great list of all the hot springs available, from free to expensive, here. We opted for visiting the Tabacon Hot Springs. (Read more below)
Hike around the volcano. There are several walking trails to get great views of the volcano.
Do a hanging bridge: In case you aren't going to do them in Monteverde, you can do hanging bridges in La Fortuna! A hanging bridge is a walk that is suspended over the jungle and provide such a thrilling experience. You can combine these with zip-lining as well. Prices are around $100 per adult.
Visit Rio Celeste. About two hours drive from La Fortuna, this magical waterfall is a stunning blue due to two rivers combining and the pH reaction of the minerals in the water. Read more here.
Horseback riding. There are several operators that will take you through the lush rainforest.
What We Did in La Fortuna
Tabacon Hot Springs Resort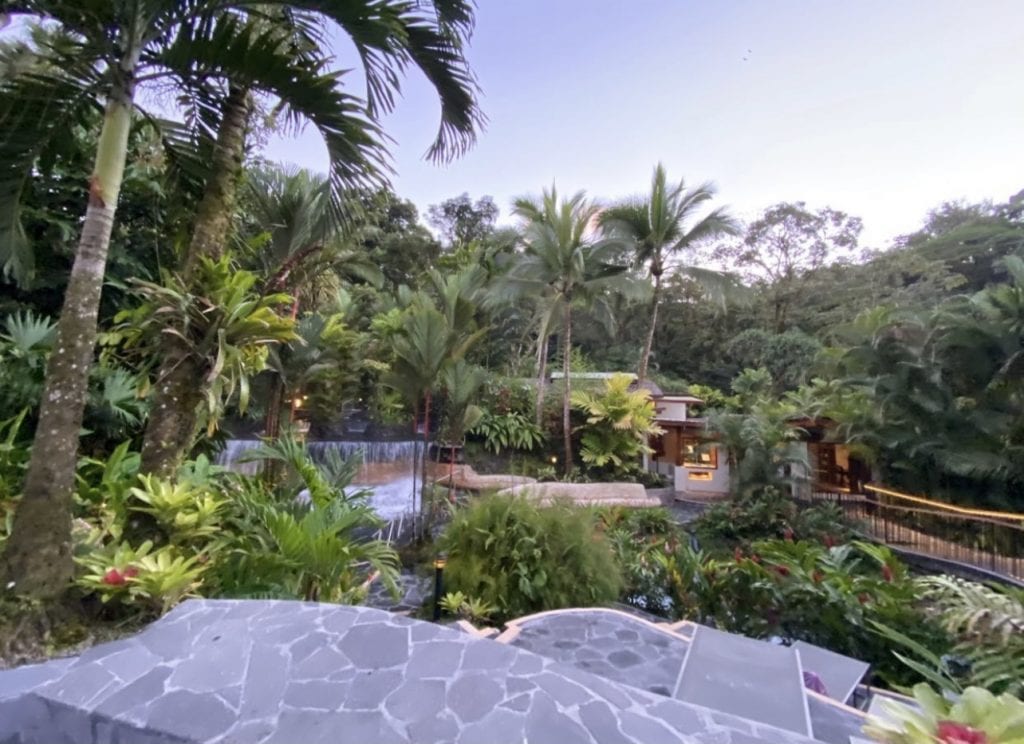 This incredible hot spring resort feels like you are transporting to the Garden of Eden. We lucked out going at the end of the day to get their night pass and dinner combo. The restaurant was delicious and overall was a magical experience.
With admission, which isn't cheap (about $270 USD for our family), you'll get lockers and towels for use. You can also get lunch or dinner included. Showers and nice locker rooms are available.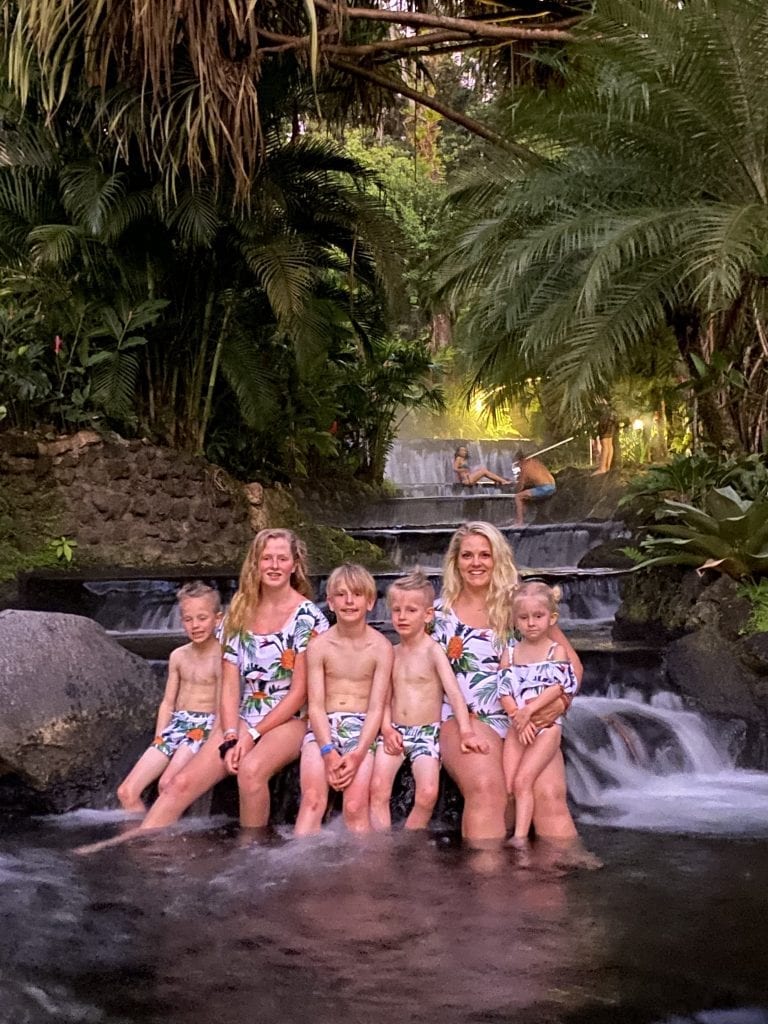 The resort spans a large area with various trails winding in and out of waterfalls and small pools. It's easy for kids to get lost, so keep an eye on them.
Be aware as some of the areas of the resort are reserved for adults only. Also, the farther you go up the river, the hotter the water.
Most of the pools and river have rocky, natural bottoms. Use caution as you can stub a toe or hit your shin easily.
At the bottom, you'll find a paved pool with a swim up bar and a shallow kid's pool. The bar takes credit cards only and is separate from your admission cost, so keep the wallet handy if you want a drink.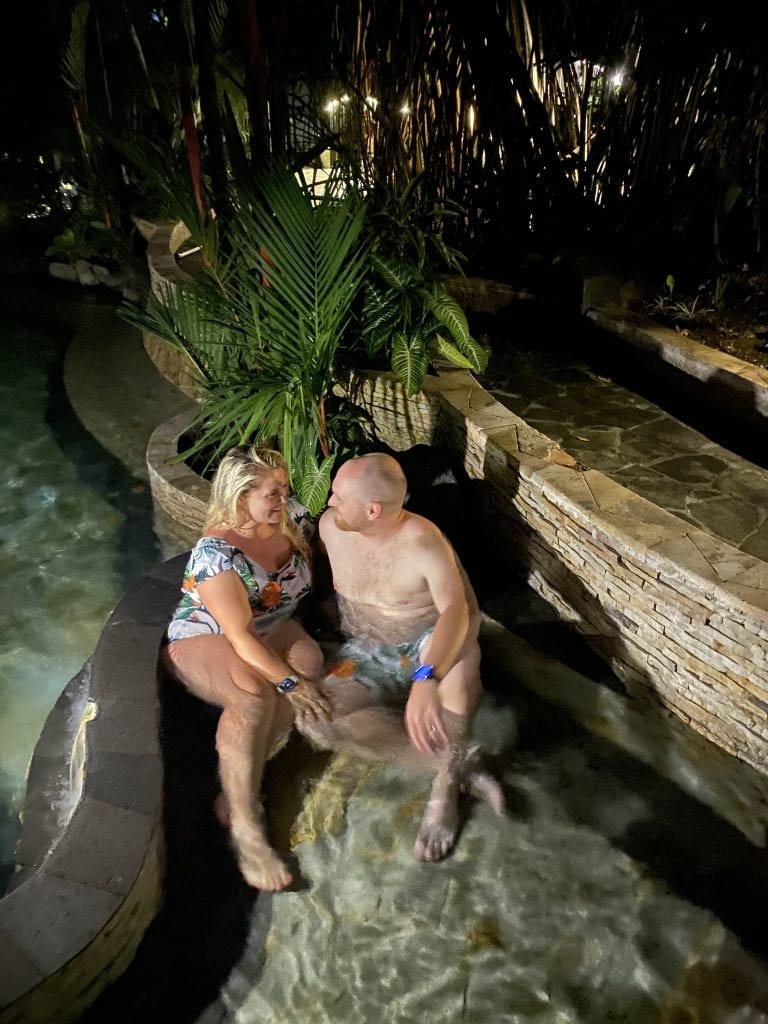 Getting to La Fortuna
We drove in our rental car from Manuel Antonio, which frankly, was too long of a drive! It took us 6 hours and was exhausting. Coming from San Jose would be much more reasonable.
Roads heading to La Fortuna will be steep and are not paved in spots. Add additional time to whatever your GPS says, and try to complete the drive during the day in order to see the stunning views!
For more tips on driving in Costa Rica, click here.
Where to Stay in La Fortuna
There are several nice resorts, small hotels, and fantastic Airbnb's available. We opted for this Airbnb on a farm. It was about 10 minutes into La Fortuna and worth it for the stunning views.
We loved our farm tour with Jaimer. Before Covid, this tour was a hot tourist attraction. Hopefully tourism will return again some day and allow this tour to resume. For now, tours of the farm are only available for guests staying in one of their Airbnbs.
If you want a nicer hotel, the Nayara and Tabacon are great options.
Eating in La Fortuna
Our favorite little restaurant that we found in La Fortuna was called Café Mediterraneo. It is well worth a visit on your family trip. This darling Italian restaurant offers great food, including a gluten-free pasta option, and a playground for little kids.
Our kids loved the play area with its slide, play house, and puzzles. While the kids played, mom and dad were able to enjoy a nice conversation over a great meal!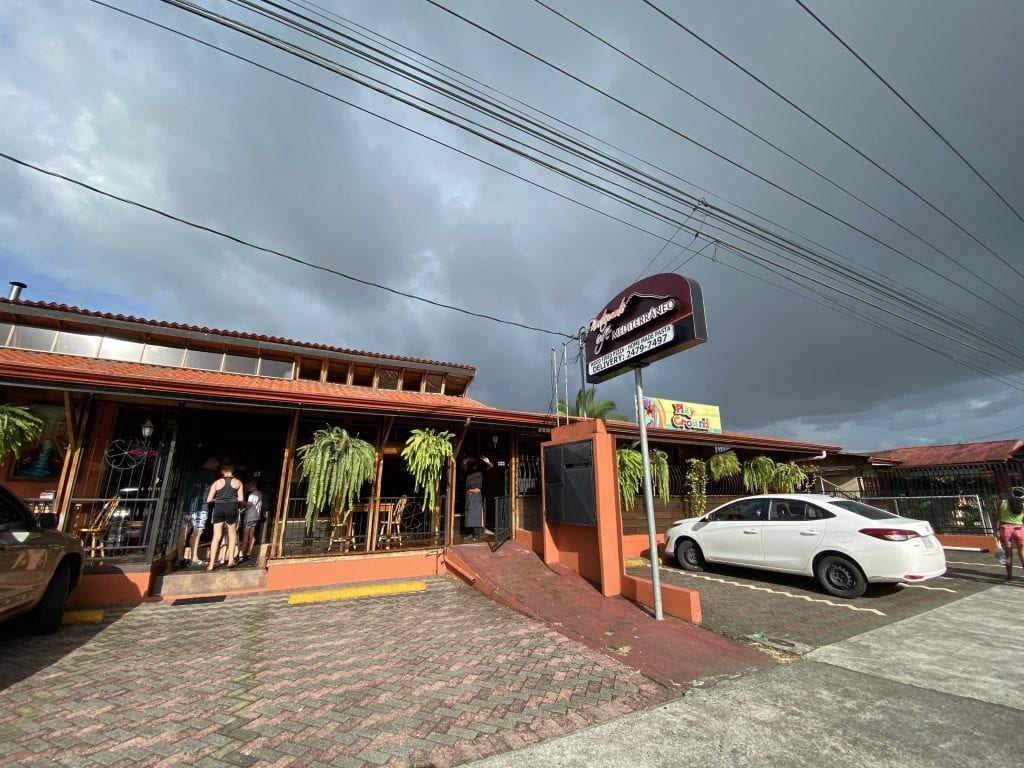 Enjoy your visit to La Fortuna and make sure to let us know what you loved in the comments below!
Stay safe,
Leslie
Additional Reading