Reading Time:
6
minutes
While I don't have a ton of blog posts about being and eating gluten-free, I've now been gluten-free for almost 3 years and thought I should share a bit about it.
Disclaimer: I am not celiac intolerant so a little bit of cross-contamination just fine for me.  I am GF due to a thyroid issue (I was on my way to Hashimoto's and found it early).  I can't speak to perfect celiac conditions because I don't follow them.
I wondered about visiting Disney all over the world. Many of the international parks were hard as we visited over the last couple of years. I had to use my best judgment on curries in Hong Kong, salads in Paris, etc.
However, I had to share the great news about Disney World over our last several visits. They are AMAZING with gluten-free!
Allergy-Free Menus
Since everything has moved to a QR menu at Disney, you can scroll and find an allergy-free menu for all the restaurants and most of the food eateries throughout the park. These allergy menus shows options for soy, fish, nut and gluten allergies.
They have allergy menus for kids, appetizers, desserts, etc.  It's incredible!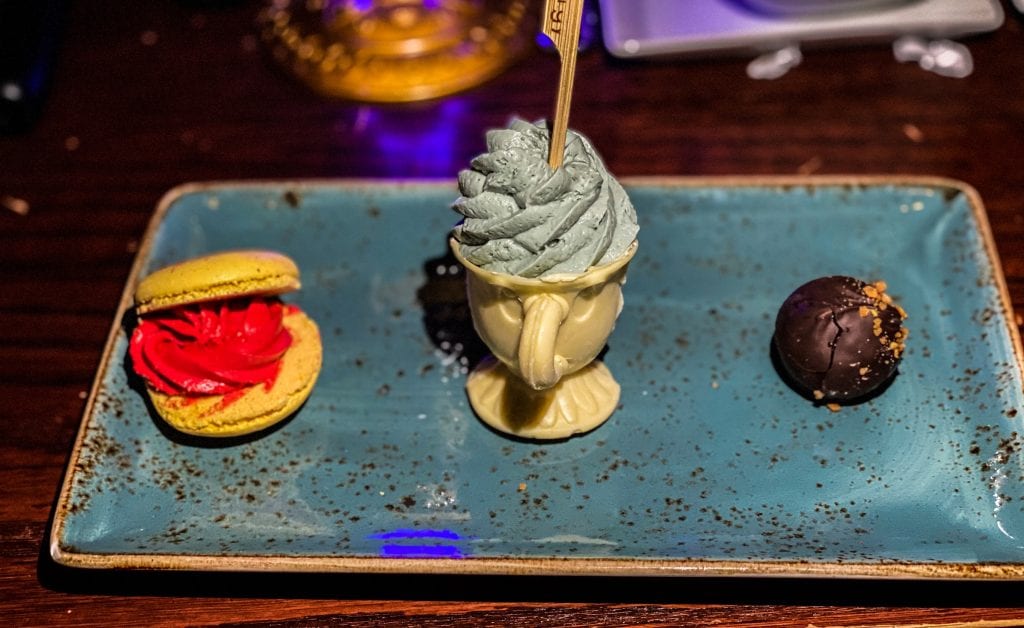 One of our children, Harrison, seems to do much better on a GF diet.  While I don't think he is has Celiac disease, he does have anxiety and this get much worse when he eats gluten.  For this reason, we try to keep him as GF as possible.
Disney Restaurants
When you make a reservation for a Disney World restaurant, you can let them know you have a food allergy at that time.  
I have found that this doesn't always translate to your server, but something it does.  Most waiters will ask you if you have an allergy when you are first seated.
In the nicer restaurants, often they will ask you if you'd like to speak to the chef, although I've always declined this.  They will also fill out an allergy ticket so your food is prepared separately.
Tagged Food for Gluten Free
Allergy foods are always tagged when they come out with a little stick.  The kids enjoyed collecting the little GF wooden markers we get all over the place!
Even at the "fast food" eateries around the parks, your food will be given to you separately, to avoid any cross-contamination.  I was very impressed!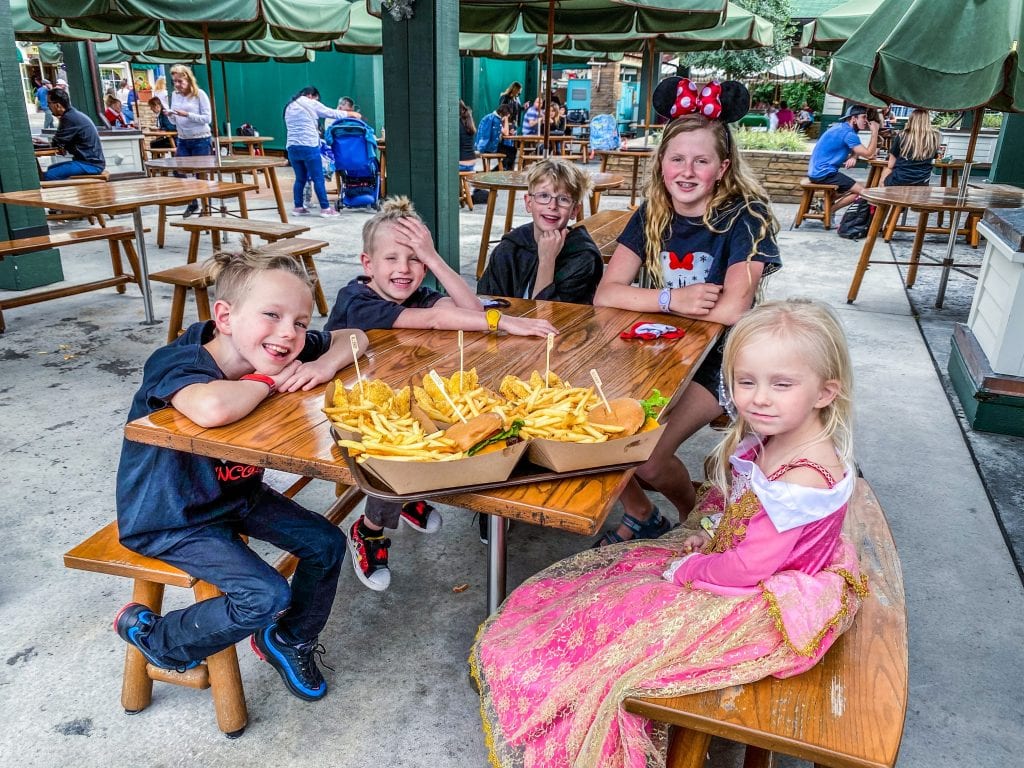 Celiacs Welcome at Disney World!
Honestly, the care and attention to detail that Disney World has taken in regards to allergies really surprised me.  I have a couple of friends that have to be SO careful and I'd encourage them to check out Disney World with full confidence.
Many of the restaurants offer GF bread as a starter.  Our room service, in the Grand Floridian, offered a GF Mickey Waffle for Harrison, which made me so happy!
My Favorite Places to Eat Gluten-Free By Park
While I've certainly not tried all the options, here are my favorites:
Magic Kingdom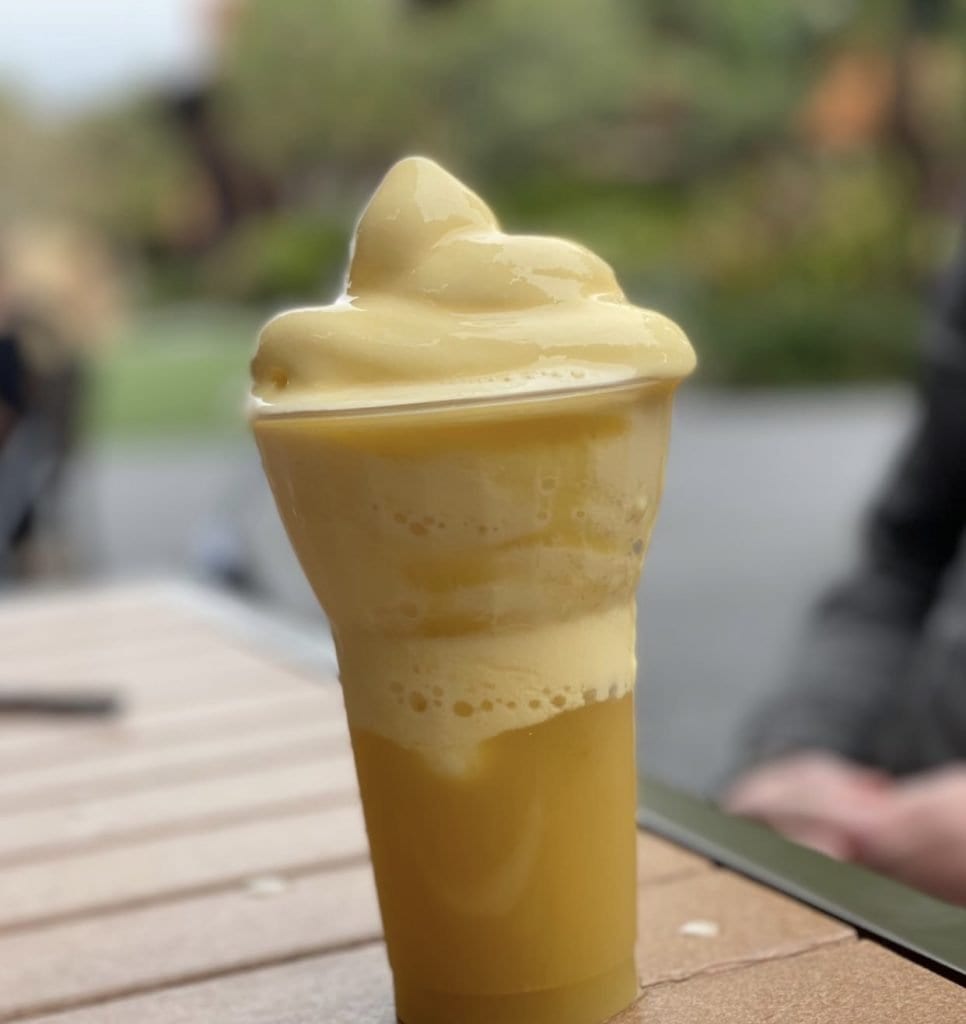 Be Our Guest Restaurant $$$$ 

Escape to the Beauty and the Beast.  This was some of the best food we've had anywhere, but it comes with a big price tag.  I was thrilled to get a GF version of the darling dessert with "the grey stuff".  It really is delicious!

Aloha Isle $

A Dole Whip is a must try!

Pecos Bill Cafe $$

The GF Mexican was delish!

The California Grill $$$

Not in the park itself, but just a monorail ride away in the Contemporary Hotel.  This is hands down our favorite restaurant in Disney World!  It is on the 15th floor, accessible only by a special elevator, and has a stellar view of the castle!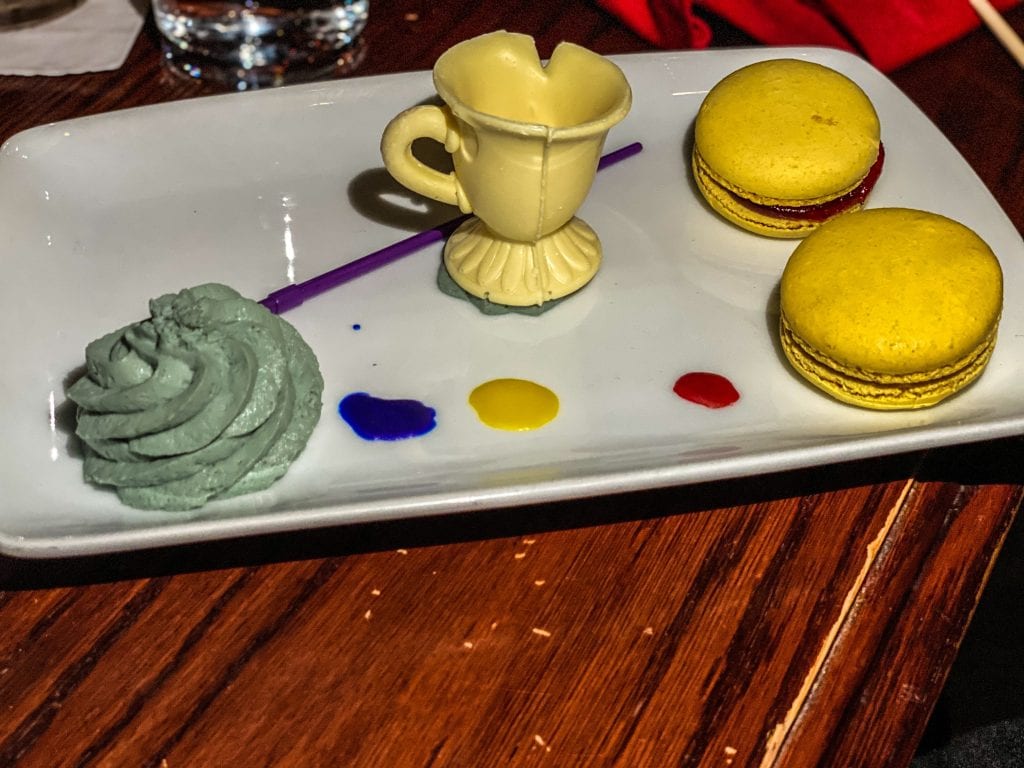 Animal Kingdom
Rainforest Cafe $$

The only place we've really eaten in the park.  The ambiance is really fun, but always super busy.  It's pretty much the only "nice" restaurant in this park.  It's certainly worth the experience!

This park closes pretty early, so I find it best to eat a big breakfast, snack for lunch and eat diner somewhere else!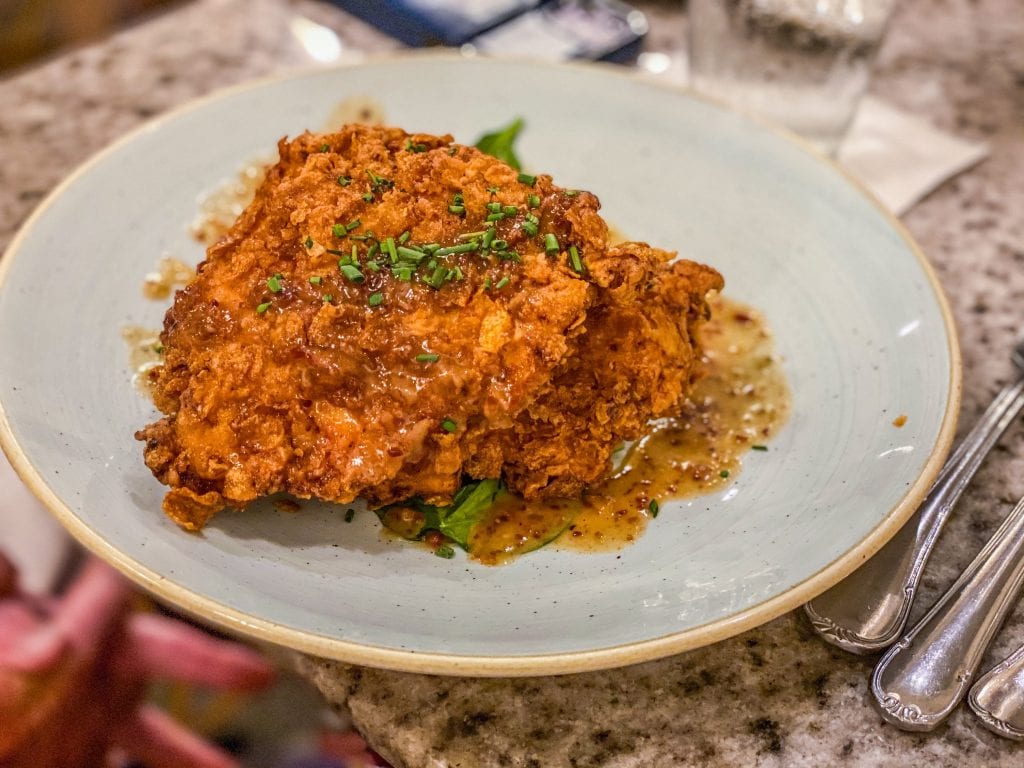 Hollywood Studios
Rosie's All- American Cafe $

My favorite "fast-food" in this park, you can find some really good GF chicken strips and GF burgers.  Use the mobile-ordering on the app.  
When mobile ordering, you'll place your order and then you'll need to say "I'm here" with another app button.  This is when they START making the food, so click the "I'm here" button while walking there for faster food!

Hollywood Derby $$$

Another of our favorite restaurants in all of WDW, this one has FANTASTIC food.  Their GF menu is amazing and you can even get warm, GF rolls while the rest of the table gets regular.
Epcot
Cafe de France $$-$$$

To be upfront, this is the ONLY restaurant we've eaten at in Epcot. I'm sure there are many! However, we wanted a taste of France again and this place did not disappoint. We were able to get GF rolls (while the rest of the table got French baguettes!) and use the GF menu here too. It was very good!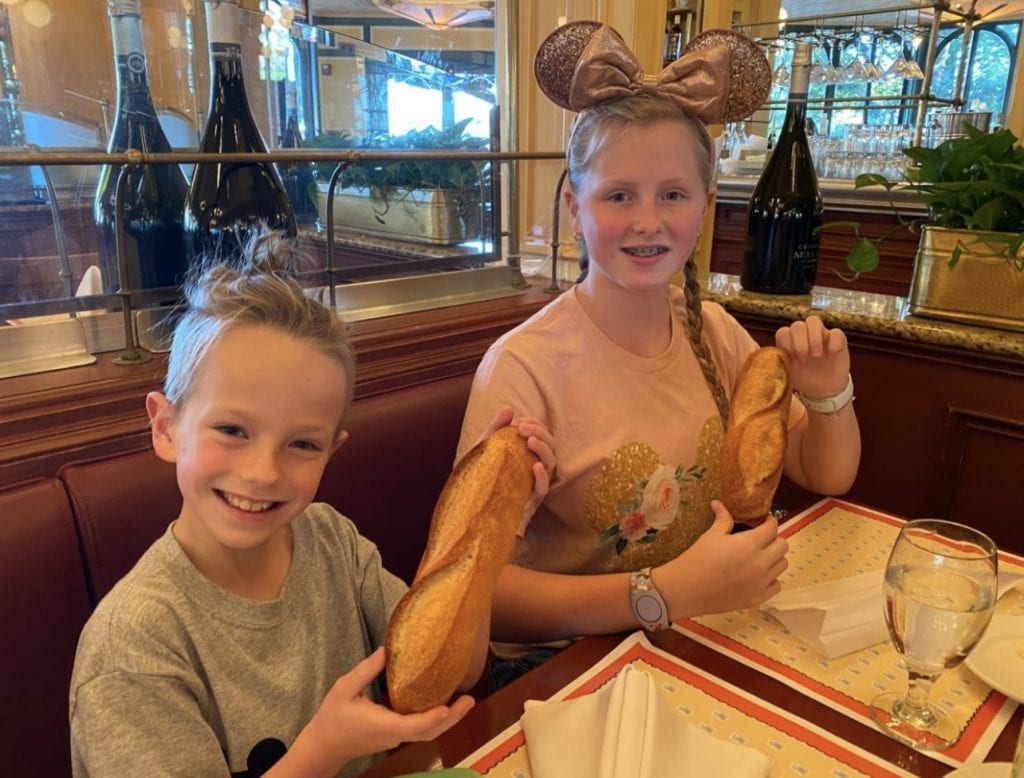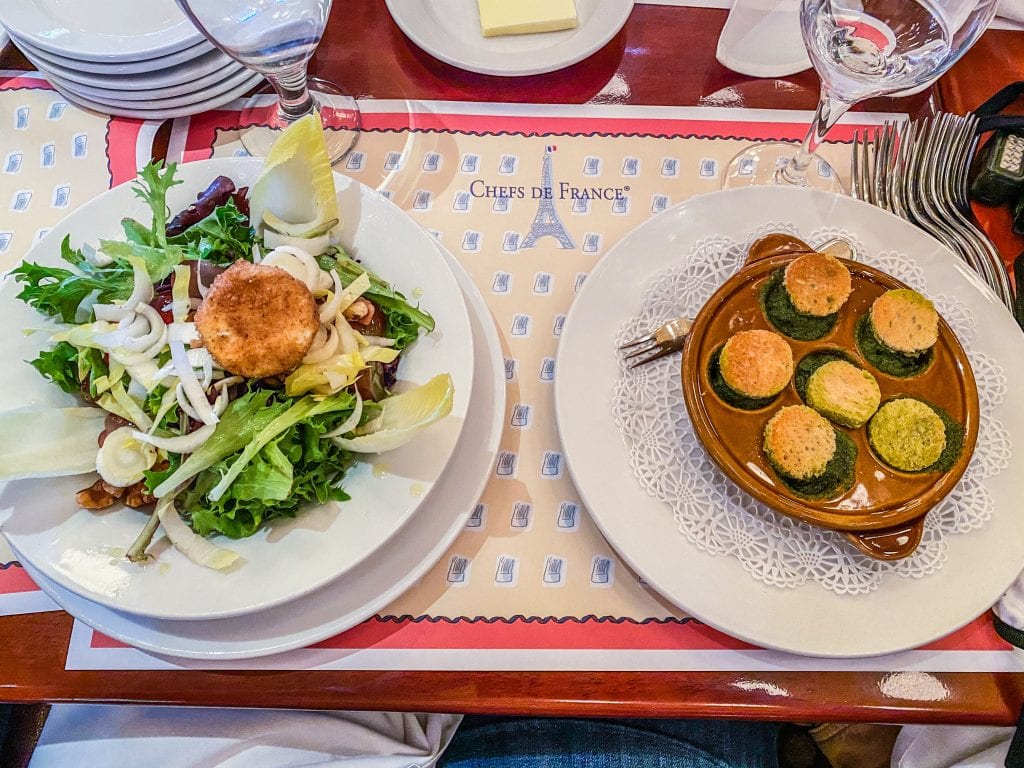 Other Disney Parks
While it's been a while since we've been to any other Disney parks (Disneyland Paris in the end of 2019 being the last), I haven't seen much GF availability at the other parks.  I remember finding a GF treat at Disneyland California and nearly jumping for joy!  It was a simple sweet found at a cart, but I had never seen any gluten-free at Disneyland before.  I imagine when they open again, they will have the same menu options as WDW.
As for the international parks, my bet is that it could be a while before any of the Asian Disney parks hop on the gluten-free bandwagon.  It's just not really a thing to be gluten-free there!  
If you need to be gluten-free, I'd definitely recommend Disney World.
Enjoy!
I hope this helps in planning your next Disney vacation. Any questions? Leave them in the comments below!
Xoxo,
Leslie
Additional Reading
SPENDING HALLOWEEN AT DISNEYLAND
Disney World VIP Tour: Worth The Extravagance or Not?