Reading Time:
5
minutes
If you plan to visit Rio Celeste during your time in La Fortuna, here are some important things to know:
Getting To Rio Celeste
When we started our journey, Google maps took us to the wrong place at first. In order to get where you want to be, search for "Rio Celeste Official Parking." Be sure to get your GPS going before you leave your accommodation, as service can be hard to find while driving.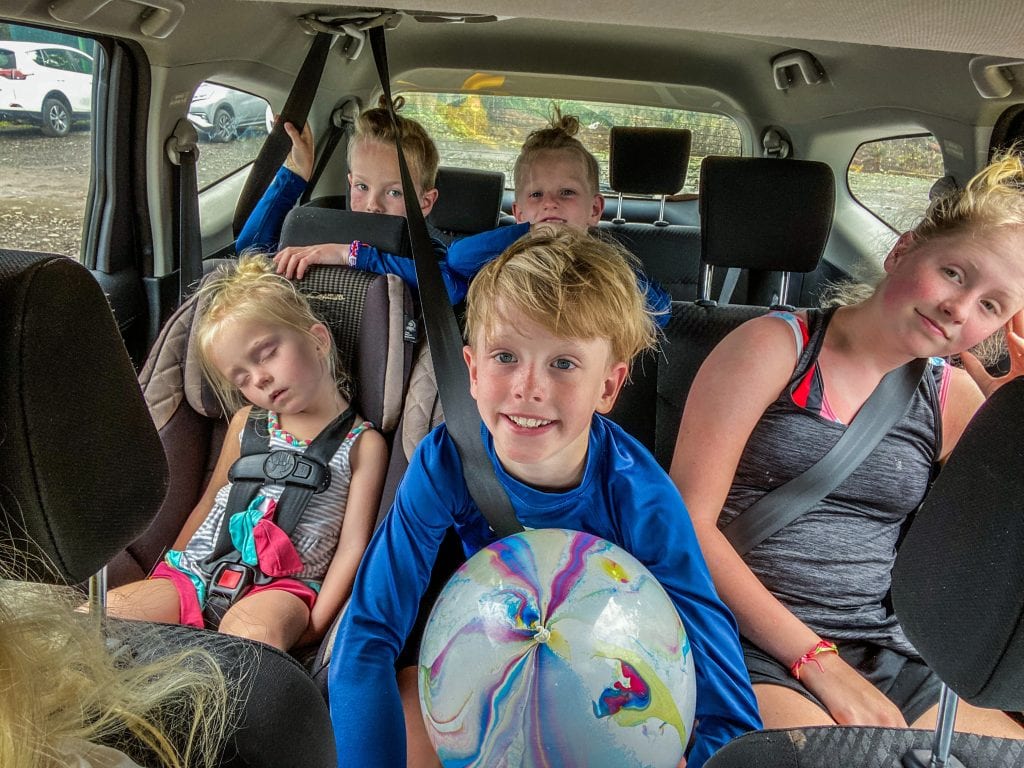 Most of the road to Rio Celeste is paved and easy to navigate. You do pass through one town where you can get gas on your way there.
If you happen to schedule your trip on a day when it is raining, be careful on the roads as they can get slippery.
Rio Celeste Parking
You'll need to pay for parking when you arrive, which is normal in Costa Rica. We paid about $4 USD or 2,000 colones.
Display your parking ticket on your dash and be sure not to leave valuables visible in your car.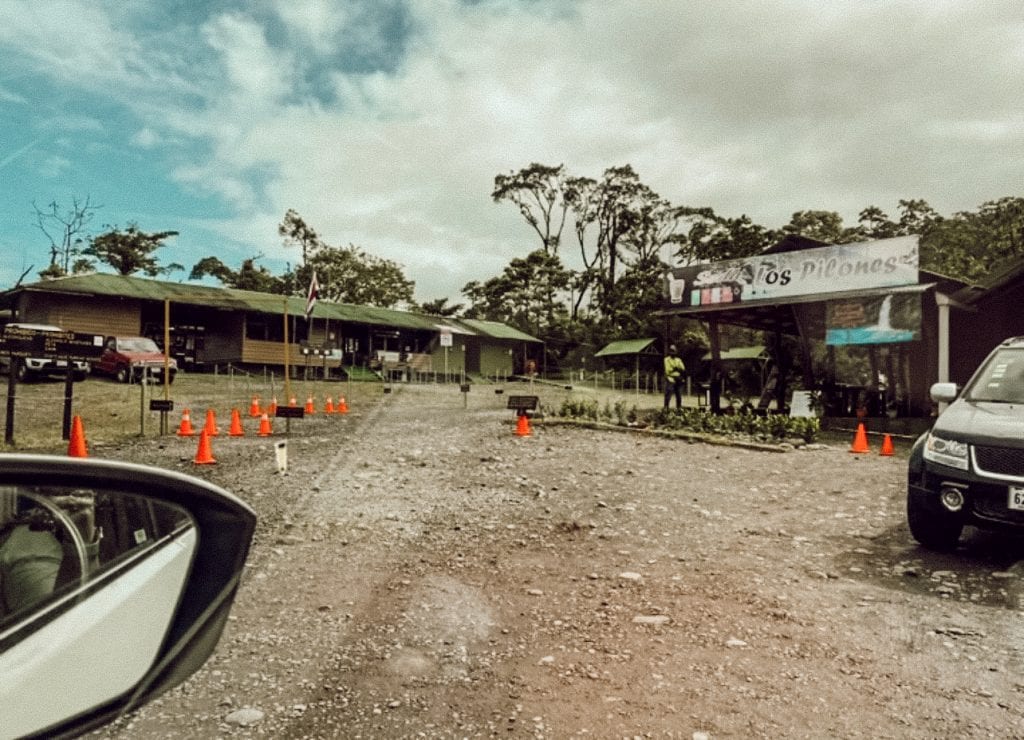 The parking lot has a restaurant and a soda (small cafe), Soda Parque, across the street. Tour guides for other activities can be found scattered around the parking lots as well.
Entrance To Rio Celeste and the Tenorio Volcano National Park
You'll have to pay to enter the park. Our family was around $35 USD. You'll need masks to enter and bathrooms are available at the ticket entrance.
One thing to note is that the park closes its entry at 2 pm daily. We didn't know the first time we went and had to come back the next day!
This is mostly due to safety precautions. It gets dark between 5-6 pm year-round in Costa Rica and the entire experience can take close to 3 hours. Additionally, we were told some of the reason for the early closure is due to snakes. Costa Rica has over 144 varieties of snakes with 23 species being poisonous. About half of these are nocturnal, coming out around 5 pm and later.
You'll want to arrive in plenty of time to safely enjoy the many beautiful viewpoints, scattered along the trail on the way to the famous waterfall.
Hiking Rio Celeste With Kids
The trail is well marked and well maintained. The beginning of the hike is relatively flat and easy. As you get closer to the waterfall, there are some steeper parts and obstacles. However, our young kids did wonderfully.
Overall, the Rio Celeste trail is pretty easy and enjoyable for kids.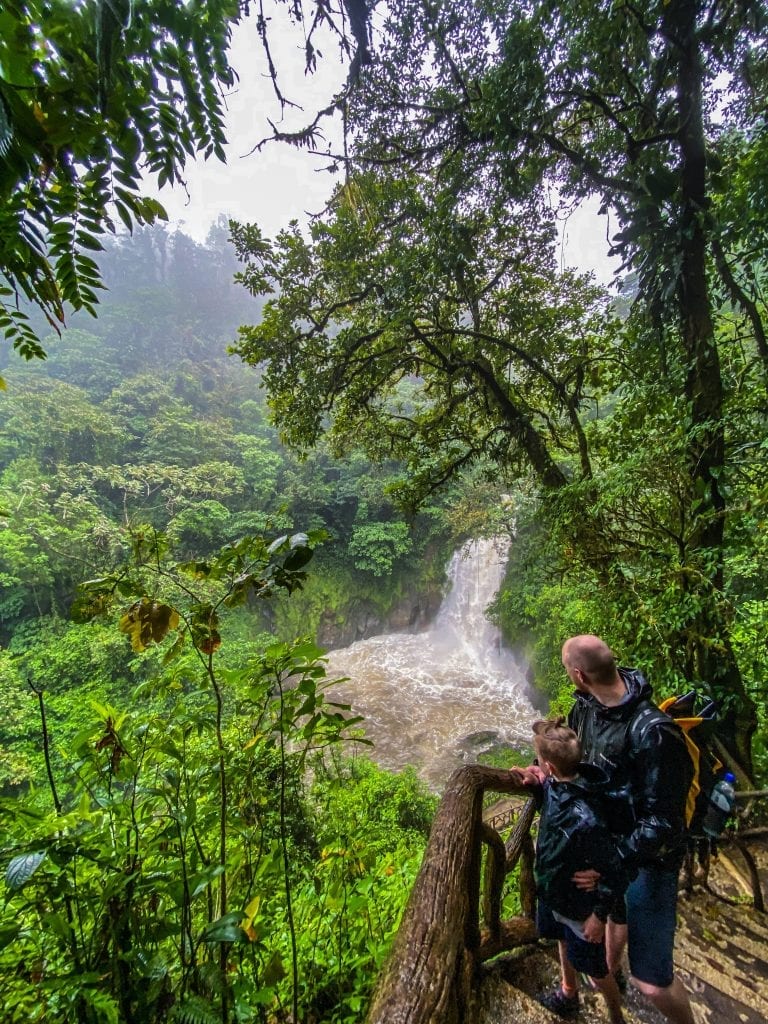 If you are looking to get down to the waterfall itself, be advised that steep stairs are part of the terrain. When we visited in the rain, these were a bit slick and tricky. It's also a leg burner!
Visiting just the waterfall took us about 1.5 hours round trip.
The Waterfall of Rio Celeste
Rio Celeste is well known for it's stunning blue water. This phenomenon is due to the minerals of the volcanic soil reacting to the pH of the water and reflecting blue. While the waterfall was brown due to rain when we visiting, it is still an impressive waterfall well worth the hike!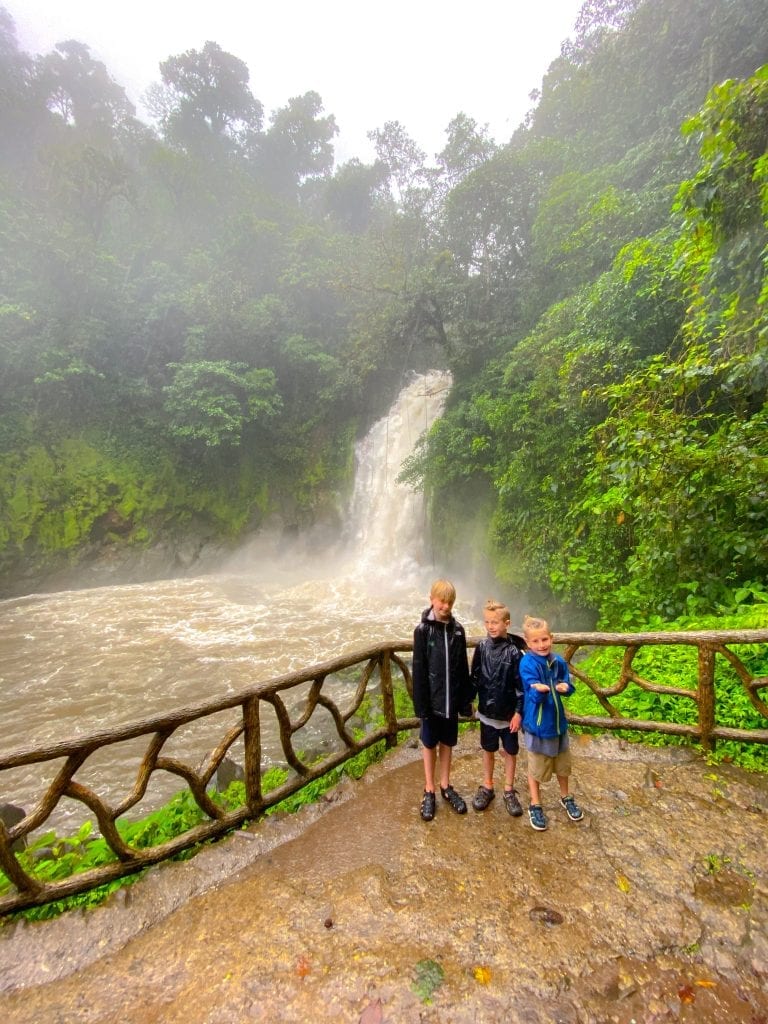 Swimming is not allowed at the waterfall and the trail does not allow access. While driving to Rio Celeste, you will cross a bridge that spans the river; you will most likely see people swimming here.
Other View Points in the Tenorio Volcano National Park
In addition to the waterfall, you can also see the lagoon, different viewpoints, and the famous location where to two rivers mix, producing an amazing blue color.
Tubing Down the Rio Celeste
Since we were too late to go into the park on our first day to Rio Celeste, we opted for a tubing experience instead. The nice guide from Rio Celeste Adventuras approached us in the parking lot and we followed him to the tubing location.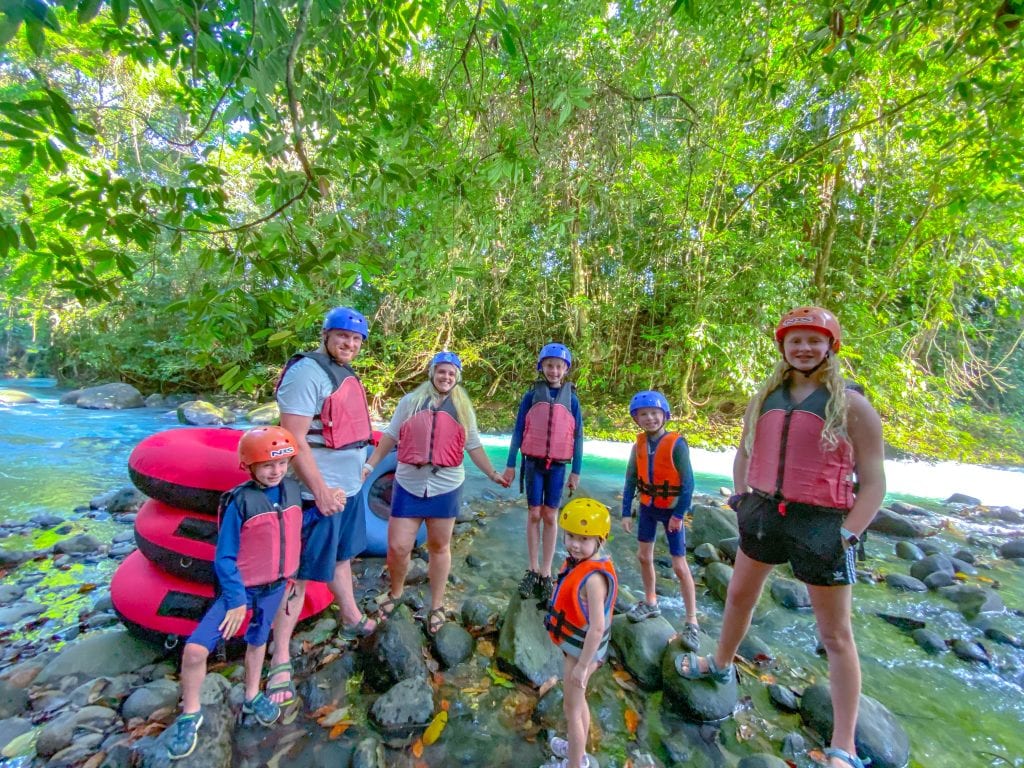 All seven of us, including our 3-year-old, were outfitted with helmets and lifejackets. Three guides took us down the Rio Celeste and through the mild rapids.
There are several swimming spots along the river and the guides even helped the older kids do some rock jumping.
Tubing along the Rio Celeste in the amazing blue water is quite the magical experience! Don't forget to look around, you might spot animals or birds in the trees as you float by.
Weather at Rio Celeste
It's important to note if it is raining when you visit, the water will not be blue. You might also get soaking wet! You are still able to go in a hike.
What to Bring to Rio Celeste
Good walking/hiking shoes or sandals. I love these sandals.
Clothes that can get wet if it rains. It's always a good idea to bring some poncho's along, just in case.
Bug spray
Sunscreen
Baby carrier for young children. Strollers will not work on this trail past the very begining.
Waterproof bag for camera gear. We love this one.
Other Things to Note About Visiting Rio Celeste
There is no wifi available anywhere near, or in the park. You'll need to get to a larger town before you can connect again.
There are a few small hotels to stay in around the park itself. If you are worried about the rain, it'd be best to spend a night there.
Enjoy!
Leslie
Additional Reading