Reading Time:
5
minutes
Have you ever been to Taipei? Have you heard of it? Honestly, I hadn't really heard of it until we had an overnight layover on our way to Bali. However, we loved our night there so much we actually changed plans to come back to Taipei. The real push over the edge was the Pingxi Sky Lantern Festival. When we found out our timeline lined up with this lantern festival, we made the switch to come. We were not disappointed.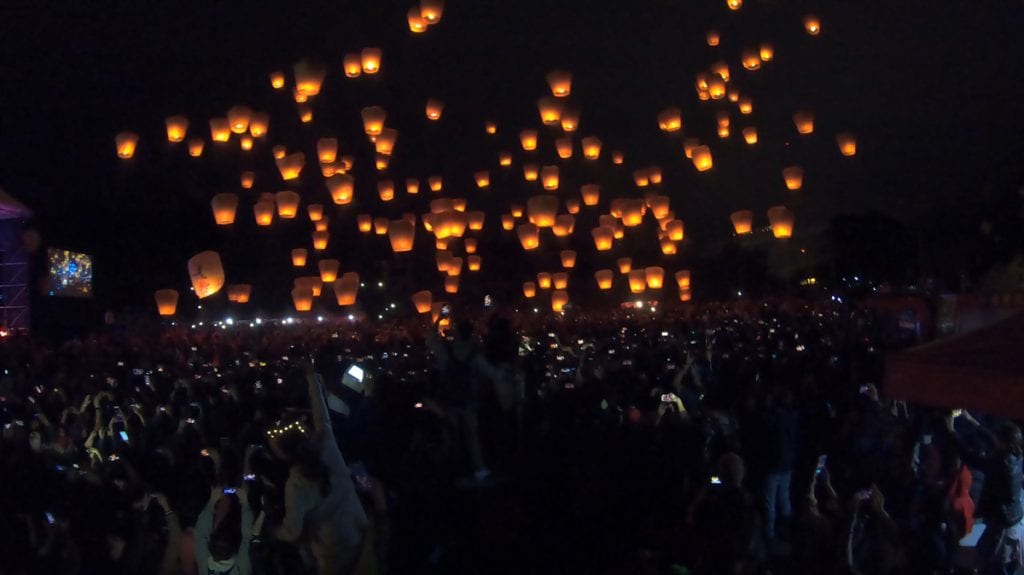 Head to New Taipei. We took an Uber, but you can also do a taxi or the train. The train is 2-3 times longer, but A LOT cheaper. There is a ton to do in New Taipei! We visited "Ceramics Street" and did a pottery lesson at Shu's Pottery, watch our Youtube video on it! We also had lunch and looked at all the beautiful pottery.
Hike Elephant Mountain. The best times to go are either sunrise or sunset. It's a rigorous 15-20- min hike with lots of stairs. However, the views are worth it. Before or after? Go explore a mall. Find some delicious food at a food court, explore some shopping, and maybe hit a movie. Just make sure to get an English showing. (Or, consider it a cultural lesson).
Da'an Park. This park is easily accessible by the train and is HUGE. It is the "Central Park" equivalent of Taipei and has lots and lots of area to cover. The playground is fantastic. Remember to go to the little dispensers in the park and grab some mosquito repellant.
Beitou Hot Springs. Super easy to get to by train with a ride of about 45 min. This sounds like a lot with kids, but they love watching out the window and the ride goes quickly. There are many, many resorts here with hot spring access. We chose not to go to the "public" pool for a few reasons: it can be mega crowded, it is separated by gender and is clothing optional. We chose a small resort with its own hot springs pool that requires suits and is gender-mixed. It had 9 small pools for the kids to run around and try, all of varying temperatures. You'll receive a robe, slippers, and shower cap. Hot springs in Taiwan (and maybe Asia in general?) require a swim cap. You can also bring your own or even buy one that matches a swimsuit. So fashionable! Shower facilities were great after and we ordered lunch right next to the pools. It was a fantastic day. If you want to see more of this day click here!
Pingxi Sky Lantern Festival. If this coincides with your time frame, jackpot! It's worth planning your time in Taipei with this alone. For us, it was mid-February. Head out from Taipei at about 3 pm. You can take the train and then a bus, or a taxi and then a bus. There is a TON of street vendors with the most amazing food. You'll buy lantern, decorate them, and send them off into the sky! To be a part of the group sessions, buy tickets in advance (we didn't, so we just set them off with a vendor from the street and had a great time).
Taipei Zoo and Cable Car to Maokong. Both of these could take the whole day or you can combine them. They are the same stop on the train. You can take the cable car up to a little town and enjoy the sights and the food.
Taipei 101. Visit for incredible views of the city. Note: you are looking through large glass windows, not outside. There is an outdoor option, but the safety guards are so high we couldn't see over them anyway. We went at night and agreed the view would have been better during the day. Try to also go on a less-cloudy day. In the same building is another fun mall to explore.
Day and Night Markets. The markets around the city are incredible! There are both morning and night markets. We went to the Dongmen morning market. This is where the locals shop each morning for their groceries and you can get killer deals. There are loads and loads of fresh produce, as well as meats. There are also some clothes and trinkets to buy and prepared food for a snack or meal. We loved taking in the locals and how they were amazed by our blonde hair 🙂The night markets in Taipei can't be missed. Try the Shilin night market for a crazy, busy good time. Claw machines, the kind of vending machine where a claw drops down to grab a prize, are HUGE here. You'll see them everywhere and they are quite popular with adults. You'll also find carnival games to play with the kids and, of course, amazing food options.
Weekend Markets. Speaking of markets, hit the Jianguo Weekend Flower Market and the Weekend Art Market. These are huge weekend markets with so much to see. It's like a Home Depot Garden Center, but better.
Jifen Old Street Day Trip. Take a day trip to this cute, touristy town. Head on a weekday and go early to beat some crowds. Although, we also heard it is wonderful at sunset. You can access it by train or hire a car to get you there.
Get out in nature. We had no idea that Taiwan is home to some incredible natural wonders. We actually changed our plans mid-way into our stay in Taipei and went to stay a couple of nights in Hualien. We did a day trip of Takoro Gorge, which knocked our socks off with its natural beauty. If you go to the Taipei Main Station, buying tickets to the high-speed train to Hualien was pretty easy. Or, hire a car for a couple of days. Or make it a day-trip! Plenty of options. Check out: Takoro Gorge, Tunnel of Nine Turns, or Geopark for outdoor options.
Science Museum. The Science Museum in Taipei will entertain for hours and is very affordable. You can easily spend a day here and may even have the place to yourself.
Changing of the Guards. Head to Chiang Kai-Shek Memorial Hall, which has its own stop on the train line. Explore the grounds and catch the changing of the guard on the hour. It's about 15 minutes long and supposed to be a fun thing to see! We didn't end up getting to this (see our last-min change of plans to see Takoro Gorge), but I heard great things about it.